Moment 'litter police' try to fine man £120 for dropping rubbish but get slapped down – here are the rules | The Sun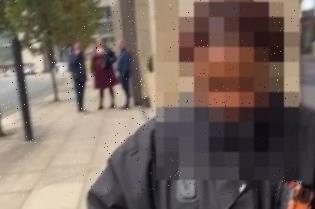 THIS is the moment litter police try to fine a man £120 for dropping rubbish – but get slapped down.
The enforcement officers were captured attempting to hand out a fixed penalty notice (FPN) on the streets of Manchester.
In a video posted to TikTok, user @dangleeballsyoutube intercepted the private company, who fine members of the public for littering.
Dan's account slams the "cigarette police" in the city centre as he prevents people having to pay hundreds.
He approached the situation while recording and said: "Wait don't give any details these guys work for a private company, 3GS, if you give details you're consenting to a £120 fine.
"She's going to fine you £120 you give details.
READ MORE ON TIKTOK
People are realising the right way to get an avocado seed out without a knife
People are only just realising that famous door knock has a name
"If you walk away, ask them to leave you alone, they will try and follow, just walk away.
"They've got no powers to detain you, you've also got the freedom to walk away and say nothing."
They guy, who was about to be fined, then took his drivers license off the officer before walking off.
Dan captioned the vid: "I do not condone littering but £120 is far too much, especially during the cost of living crisis.
Most read in The Sun
Major 90s pop band reforming for blockbuster reunion and huge tour
Guest at Will's wedding pours cold water on Harry's claim that he wasn't best man
Ex-Bake Off host Sue Perkins reveals shock diagnosis
Harry branded 'disrespectful' towards women 'during ski trip with younger girl'
"Say nothing and walk away."
The comment section was flooded with hundreds of users praising the TikToker for making a stand.
One person said: "Love it. Great work mate."
A second added: "You are a legend."
Meanwhile another commented: "Smashed it."
According to the government website, 3GS enforcement officers are employed on behalf of Manchester City Council to issues FPNs for environmental offences.
These include:
Littering (food, cigarette butts and chewing gum)
Graffiti offences of fly posting
Unauthorised leafleting
Not clearing up dog waste or controlling a dog
Read More on The Sun
Cleaning fan uses fabric softener in reed diffusers to make homes smell heavenly
Where Mary Poppins cast are now – from tragic death at 21 to £35m fortune
Their powers are limited to issuing fines and don't seem to have much authority if someone doesn't hand over their details.
They are currently in place in cities such as Manchester, Bristol and Gloucester.
Source: Read Full Article