More teacher strikes 'inevitable' after 'failure to make pay offer'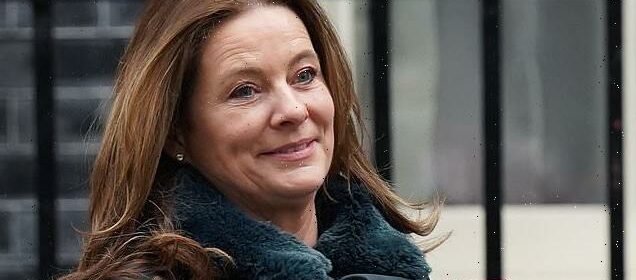 More teacher strikes are 'inevitable': Union warns of further disruption after Education Secretary failed to make a pay offer at crunch meeting
Gillian Keegan met with leaders of the NEU in bid to end the ongoing pay row
Union ASCL reported there has been no new offer to improve 'inadequate pay'
Further strikes by teachers are 'inevitable' after the Education Secretary failed to make a pay offer in the latest talks, a school leaders' union boss said.
Earlier today, it was reported Education Secretary Gillian Keegan was set for crunch talks with teaching unions as 70,000 university staff continue a three-day strike.
Ms Keegan met with leaders of the National Education Union (NEU) in a bid to end the ongoing row over pay and prevent more walkouts.
Geoff Barton, general secretary of the Association of School and College Leaders (ASCL), said: 'While the tone of today's talks signalled a greater sense of urgency on the part of the Government, we have to report that once again there is no new offer to improve the inadequate pay settlement which has sparked the ongoing dispute.'
He added: 'We cannot go on like this. Unless there is tangible progress towards an improved offer, the prospect of further strike action by NEU members is inevitable.
Education Secretary Gillian Keegan (pictured) met with leaders of the National Education Union (NEU) in a bid to end the ongoing row over pay and prevent more walkouts
Schoolchildren joined the National Strike Action Rally in Birmingham city centre on February 1
'[It] will lead to members of our union, and other education unions, also concluding that industrial action is the only option left.'
READ MORE: THE DEMANDS OF 500,000 WORKERS HOLDING BRITAIN TO RANSOM
It was the first time Ms Keegan has met with the union since it launched devastating strikes that crippled the country two weeks ago.
Kevin Courtney, joint general secretary of the NEU, said today's meeting with Gillian Keegan had a 'better tone' than previous talks but there was 'no movement' from the Government.
He said: 'The meeting had a better tone that meetings we've had recently so that gives us some hope that there might be some change in the future.
'But I have to say that in terms of actual outcomes, the meeting was disappointing.
'Whilst there has been movement in Wales and a forecast movement in Scotland, there has been no movement at all on this year's pay from that meeting, nor any discussion on next year's pay.
'So there is nothing in it that could persuade us not to go ahead with the action that we've got scheduled for the week after half-term.' 
Tens of thousands of teachers left their posts and stood on picket lines in a general strike in all but name on February 1.
Dubbed 'Walkout Wednesday', they joined 100,000 civil servants, 70,000 university staff and thousands of train drivers and Border Force officers in staging industrial action.
The disruption has prompted ministers to urgently examine whether to tighten the law to close a loophole that prevents headteachers from knowing which staff are taking part in strikes.
The action caused misery for parents, many of whom were left in limbo after the union encouraged teachers to refuse to tell heads in advance whether they would turn up for work.
READ MORE: SCHOOLS STRUGGLE TO PLAN FOR STRIKE AS TEACHERS 'KEPT IN THE DARK' 
It meant some schools were forced to close unnecessarily, disrupting their pupils' education and forcing parents to take unpaid leave or pay for extra childcare.
Mr Courtney apologised for the disruption caused by striking teachers earlier this month but vowed to fight on in his union's call for higher wages.
He added: 'I say to parents, we disrupted their children's education on February 1 and we disrupted their home lives and we disrupted their work lives. We genuinely apologise for that.
'But we think that they know, like our members know, that their children's education is being disrupted every day by the fact that special needs assistants leave the job and go and work in supermarkets because they are better paid.
'By the fact that they know that their children are quite often taught by people who are not qualified in the subject they are teaching.
'That parents know that their child often has temporary teachers because we can't hold on to permanent teachers.
'Parents know that their children's education has been disrupted every day and our action has a higher moral purpose because we are trying to get the Government to invest in this generation of children.'
Yesterday, tens of thousands of University and College Union (UCU) members walked out again, beginning the first of three successive days of industrial action across 150 universities.
On Monday, the union announced that it will reballot its members to allow university staff to take further industrial action through the rest of the academic year if their demands are not met by employers.
The Universities and Colleges Employers Association (UCEA), which represents 144 employers, has made a pay offer of between 5 per cent and 8 per cent, which has been rejected by the union.
A child with a whistle marches with striking teachers in central London on February 1
READ MORE HERE: Education Secretary Gillian Keegan risks a fresh row with unions as she doubles down on her claim teachers are among 'top earners' across Britain
UCU general secretary Jo Grady said: 'Staff are striking because they are sick of being denied a decent pay rise, secure employment, and proper pensions.
'And students are standing with us because they know that staff working conditions are their learning conditions.
'Our union is determined to reach a negotiated settlement which allows staff to get back to work and students to continue their studies uninterrupted.
'But that can only happen if vice chancellors come out of hiding and use a fraction of the sector's vast wealth to make serious, well-rounded offers to staff.
Around 100 members of the PCS union at the British Museum working in visitor services and security teams are also striking this week as part of a dispute over pay, pensions, redundancy terms and job security.
A Universities UK (UUK) spokesperson said: 'We understand that missed teaching time is unsettling and universities are working hard to ensure they can continue to provide a high-quality learning experience.
'If students feel their studies have been negatively impacted and alternative arrangements are inadequate, they should contact their university in the first instance. All universities have complaints procedures in place and the processes will be explained on their websites.
'If students are not satisfied with the response from their university, they are able to escalate things.'
Dr Patrick Roach, General Secretary of the NASUWT, said: 'Whilst we welcome the opportunity to meet again with the Government to discuss our ongoing pay dispute, we now need to hear specific proposals from the Education Secretary which will address our members' concerns.
'After a number of meetings, it is unacceptable that Ministers have still failed to come forward with any proposals for our members to consider.
Yesterday, tens of thousands of University and College Union (UCU) members walked out again
UCU general secretary Jo Grady said: 'Students are standing with us because they know that staff working conditions are their learning conditions'
'Our members' patience is being sorely tested. Further dithering and delay will only deepen the anger of teachers who are enduring excessive workload pressures coupled with the largest real-terms cuts to their pay on record.
'Resolution of our dispute can only be achieved if Ministers are prepared to put proposals on the table which can provide a basis for negotiation and agreement.
'Ministers cannot continue to play for time. We need to see concrete proposals from the Government which can form the basis for a negotiated settlement of this dispute.
'The NASUWT will again be pressing Ministers on measures to address the significant real terms decline in teachers' pay and to address the underlying causes of the continuing teacher recruitment and retention crisis which is blighting children's education.'
Mr Courtney said Keegan must make a 'concrete' pay offer for teachers in talks to avert further strikes.
He added: 'We would like for there to be an offer which would put us in a position of being able to suspend the action on February 28, March 1 and March 2. That would be great.
'That's what we think the Secretary of State should be doing. That's where our hopes are.
Source: Read Full Article