Mr Kipling Angel Slices and Birds Eye Potato Waffles soar in price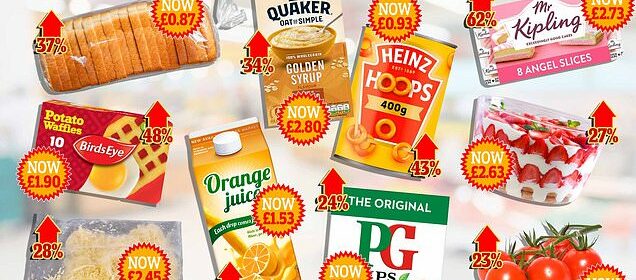 Family favourites SOAR in price: Birds Eye Potato Waffles rise 48% to £1.90, Heinz Spaghetti Hoops up 43% to 93p and Mr Kipling Angel Slices climb 62% to £2.73 over year amid cost-of-living crisis
Big risers include white loaf up 37% to 87p, and Quaker Oats up 34% to £2.80
Others are orange juice up 32% to £1.53, and grated cheddar up 28% to £2.45
The prices of Mr Kipling Angel Slices, Birds Eye Potato Waffles and Heinz Spaghetti Hoops have soared more than any other product in an industry magazine's survey.
The Grocer said its weekly mystery shopping study found an eight-pack of the Mr Kipling cakes had gone up 62 per cent year-on-year to an average of £2.73.
Its latest 'Grocer 33' survey also found a 567g ten-pack of the Birds Eye original product was an average of 48 per cent pricier than in March 2022, now at £1.90.
The tracker – of prices at Asda, Morrisons, Sainsbury's, Tesco, Waitrose and Iceland – also revealed Spaghetti Hoops had gone up 43 per cent to an average of 93p.
Other big risers include an 800g soft white loaf of bread which is up 37 per cent to 87p, while Quaker Oat So Simple porridge sachets are up 34 per cent to £2.80.
Also in The Grocer's top ten were one litre of own-brand orange juice, up 32 per cent to £1.53; and 250g of grated mature cheddar, up 28 per cent to £2.45.
Grocer's top ten price risers in food and drink
Data from Grocer 33, with year average price and year-on-year change 
Completing the top ten were strawberry trifle (up 27 per cent to £2.63), 80 PG Tips teabags (up 24 per cent to £2.35); and six salad tomatoes (up 23 per cent to 82p).
The data included a year average price across the six supermarkets, as well as the year-on-year change. 
The magazine also found that Sainsbury's basket of goods came to £72.35, making it the cheapest for the first time since the start of February – beating Asda by £1.23.
Morrisons was third at £74.58 and Tesco at £75.44 although Clubcard holders would get £2.58 off to take it to £72.86. Iceland was £79.26 and Waitrose £80.64.
It comes after UK retailers had a stronger-than-expected month in February as some diners skipped restaurant visits and got food from the supermarket instead.
The Office for National Statistics also said there was evidence that the cost of living crisis had helped some shops such as discount department stores.
Meanwhile consumer group Which? revealed earlier this month that thousands of shopping basket essentials have risen sharply in price, with some products doubling in just one year.
The figures came from a study of more than 25,000 products and make clear that budget items, which many have turned to in the crisis, are rising fastest.
The research also showed the annual inflation rate for popular food and drink in February was 16.5 per cent across eight big supermarkets.
On average, Which? said budget range prices are up by a higher 22.9 per cent with own-brand up 19.7 per cent, premium supermarket lines by 13.8 per cent and big brands by 13.3 per cent. 
The Grocer found that Sainsbury's basket of goods came to £72.35, making it the cheapest for the first time since the start of February – beating Asda, Tesco, Morrisons, Waitrose and Iceland
This is adding hundreds of pounds to annual food bills, with the rises far ahead of those in salaries, pensions and benefits. 
The Office for Budget Responsibility is currently predicting that inflation will eventually fall below 3 per cent this year from its current level of 10.4 per cent.
At the start of March, shop price inflation was revealed to have hit a record high amid warnings that consumers would not see prices dropping again for months.
Shop prices are now 8.4 per cent higher than they were a year ago, up from an 8 per cent increase in January and well above the three-month average of 7.8 per cent, according to the British Retail Consortium (BRC)-NielsenIQ Shop Price Index.
Food inflation accelerated to a record 14.5 per cent in February, up from 13.8 per cent in January, while fresh food prices are also now a record 16.3 per cent higher than a year ago, up from 15.7 per cent in January.
Source: Read Full Article