Over 39,000 fans queue online tickets to get Stranger Things play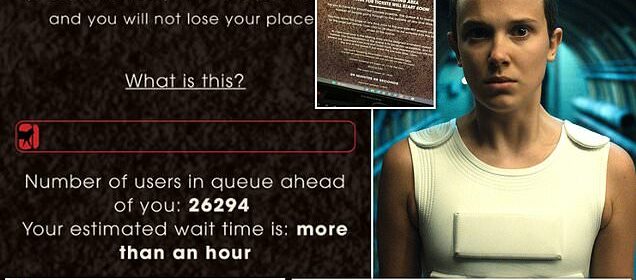 They'll be waiting until Eleven! More than 39,000 fans queue online to get their hands on tickets for Stranger Things West End stage show
Tickets for a Stranger Things play in London's West End went on sale today
More then 35,000 fans were in the ticket queue for the presale event
Tens of thousands of Stranger Things fans waited in online queues for more than an hour today to get their hands on tickets to its West End show.
With prices as low as £20, many were dismayed to see more than 39,000 people ahead of them in the queue, with hardcore fans remaining there for over an hour.
The upcoming play – called Stranger Things: The First Shadow – is set 20 years before the first series of the Netflix sci-fi phenomenon.
The 2023 production will follow existing characters Jim Hopper, Bob Newby and Henry Creel when they were younger.
The website stated that it was 'experiencing high demand' for the presale event, but reassured Stranger Things enthusiasts that there were 'plenty of tickets' available. 
Tickets for Stranger Things: The First Shadow – which is set 20 years before the first series of the Netflix sci-fi phenomenon – went on sale today causing tens of thousands fans to try their luck 
More than 26,000 people were waiting for tickets just two minutes after they were released
Fans were booking tickets for performances between November 17 2023  and June 30, 2024.
To prevent ticket touters for the in-demand show, people were only allowed to purchase a maximum of six tickets.
Fans took to Twitter to document their progress at securing tickets to the highly-anticipated play.
Rene Power tweeted: '17,000th in presale queue for @STOnStage. No idea when or how much but still…'
User @ashleybxtr appeared to be less than confident after remarking that there were 30,000 people ahead of them.
One social media user said they had never waited in a ticket queue before and threatened to 'flip a table' if they were unsuccessful. 
Unsuccessful fans today will be able to try and get tickets when they go on general Sale from 12pm on Thursday, March 30. 
The new play is written by series writer and co-executive producer Kate Trefry and directed by The Crown 's Stephen Daldry with co-director Prima Facie's Justin Martin.
The producers said the play will open in 1959 in Hawkins as a young Hopper's car fails to start, Newby's sister does not take his radio show seriously and Joyce Maldonado tries to graduate and leave.
Fans who were desperately trying to get their hands on tickets to the Stanger Things play took to Twitter to share their shock at the number of people in the queue
Teasing the new play, the producers said a new student, Creel arrives, and his family find 'a fresh start isn't so easy… and the shadows of the past have a very long reach'.
They teased that the beginning of Stranger Things 'may hold the key to the end'.
Matt and Ross Duffer, who are the creators of the Netflix series, said: 'You will meet endearing new characters, as well as very familiar ones, on a journey into the past that sets the groundwork for the future of Stranger Things.
'We're dying to tell you more about the story but won't – it's more fun to discover it for yourself. Can't wait to see you nerds in London.'
It is produced by Netflix and Sonia Friedman Productions as the Duffer Brothers act as creative producers.
Sonia Friedman, whose company produced the hit play Harry Potter And The Cursed Child, said London will host the 'incredible story' for now.
A 'world class creative team' has built on the Duffer Brothers 'boundless imagination to dream up an unbelievably exciting theatrical event for our audiences'.
Greg Lombardo, VP Live Experiences for Netflix said: 'Stranger Things has captured the imagination of fans around the world and we are incredibly thrilled to expand this exciting universe with Netflix's first live stage production.'
Source: Read Full Article