Plane with 72 people on board crashes near airport in Nepal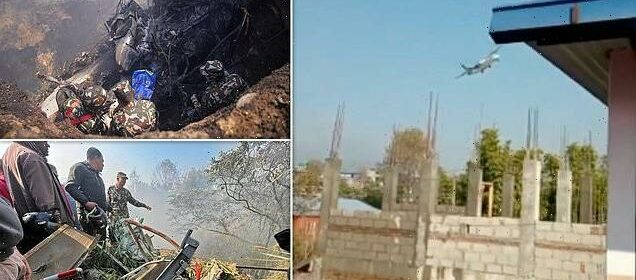 Horrifying final moments of plane carrying 72 passengers seconds before it crashed in Nepal: At least 40 dead as ATR 72 Yeti Airlines flight from Kathmandu with 15 foreigners on board turns sharply in midair before smashing into ground near tourist town
At least 40 people have been killed in an airplane crash in Pokhara in Nepal 

There were 72 people on the twin-engine ATR 72 aircraft run by Yeti Airlines
Local television showed thick black smoke billowing from the crash site
Hundreds of rescuers scoured the hillside where the 15-year-old plane crashed
At least 40 people were killed today when a domestic flight crashed into a gorge while landing at a newly opened airport in the central resort town of Pokhara, a Nepal aviation authority official said.
Harrowing footage showed the plane moments before the disaster – which is the small Himalayan country's worst crash in nearly five years.
Hundreds of rescue workers continued to scour the hillside site where the plane of domestic carrier Yeti Airlines, flying from the capital Kathmandu, went down.
'Rescue operations are on,' said Jagannath Niroula, spokesman for Nepal civil aviation authority. 'Weather was clear.'
Local television showed thick black smoke billowing from the crash site as rescue workers and crowds of people gathered around the wreckage of the aircraft.
There were 72 people on the twin-engine ATR 72 aircraft operated by Nepal's Yeti Airlines, including two infants and ten foreign nationals
Rescuers gather at the site of a plane crash in Pokhara today
The plane was attempting to land into the newly opened airport in Pokhara when it crashed into the gorge
A spokesman for Nepal's army said they expected to find more bodies in the wreckage
The crash is Nepal's deadliest since March 2018, when a US-Bangla Dash 8 turboprop flight from Dhaka crashed on landing in Kathmandu, killing 51 of the 71 people on board, according to Aviation Safety Network.
In May 2022, all 22 people died on board a plane operated by Nepali carrier Tara Air – including 16 Nepalis, four Indians and two Germans – when it crashed o a slope.
There were 72 people on the twin-engine ATR 72 aircraft operated by Yeti in today's disaster, including two infants and four crew members, said airline spokesman Sudarshan Bartaula.
The plane had five Indians, four Russians, one Irish, two South Korean, one Australian, one French and one Argentinian national onboard, a Nepal airport official said.
The plane was 15 years old, according to flight tracking website FlightRadar24.
'We expect to recover more bodies,' said army spokesman Krishna Bhandari. 'The plane has broken into pieces.'
Russian Ambassador to Nepal Alexei Novikov confirmed the death of four Russians aboard the crashed plane.
'Unfortunately, four citizens of the Russian Federation died. We are in constant contact with the Nepalese authorities and will provide all necessary assistance to the relatives of the dead Russians,' he said.
A South Korean embassy official said: 'Two South Koreans are on the list of passengers. We are trying to confirm whether they were actually on board and their identities.'
40 bodies are reported to have been recovered from the wreckage of the plane
Locals watch the wreckage of a passenger plane in Pokhara
Hundreds of onlookers rushed to the crash site, where the remains of the plane were engulfed in flames
Rescue workers near the charred wreckage of the Yeti Airlines plane in Pokhara 
The plane crashed into a gorge after takeoff from the Pokhara International Airport
Nepal's Prime Minister Pushpa Kamal Dahal said he was 'deeply saddened by the sad and tragic accident.'
Nepalese Aviation Minister Jyotiraditya Scindia tweeted condolences.
'The loss of lives in a tragic plane crash in Nepal is extremely unfortunate. My thoughts & prayers are with the families of the bereaved,' said the official.
The ATR72 is a widely used twin engine turboprop plane manufactured by a joint venture of Airbus and Italy's Leonardo. Yeti Airlines has a fleet of six ATR72-500 planes, according to its website.
Air accidents are not uncommon in Nepal, home to eight of the world's 14 highest mountains, including Everest, as the weather can change suddenly and make for hazardous conditions.
Nepal Prime Minister Pushpa Kamal Dahal has called an emergency cabinet meeting after the plane crash, a government statement said.
Nepal's air industry has boomed in recent years, carrying goods and people between hard-to-reach areas as well as foreign trekkers and climbers.
But it has been plagued by poor safety due to insufficient training and maintenance.
The European Union has banned all Nepali carriers from its airspace over safety concerns.
The Himalayan country also has some of the world's most remote and tricky runways, flanked by snow-capped peaks with approaches that pose a challenge even for accomplished pilots.
Aircraft operators have said Nepal lacks infrastructure for accurate weather forecasts, especially in remote areas with challenging mountainous terrain where deadly crashes have taken place in the past.
The weather can also change quickly in the mountains, creating treacherous flying conditions.
Source: Read Full Article