Policeman assaulted by Jessie Wallace 'quit' after being 'unsupported'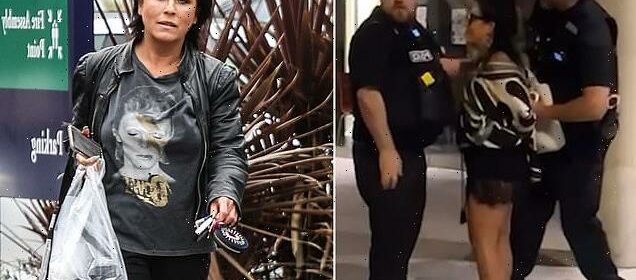 Police officer kneed in the groin by EastEnders star Jessie Wallace 'has quit the force' and was left feeling 'unsupported and exposed' after she was let off with a caution and 'failed to apologise'
The Suffolk cop said Jessie Wallace 'got away with it because she's famous'
It follows her arrest in 2022 for allegedly assaulting him on a drunken night out
A police officer kneed in the groin by EastEnders star Jessie Wallace has quit the job after feeling 'unsupported and exposed' when she was let off with a caution, it emerged last night.
The officer, who was allegedly assaulted by the drunk actress last year, reportedly left after six years at Suffolk Police due to a lack of support from his colleagues. 
An anonymous source told The Sun that the man in question believed the star, best known for playing Kat Slater in the BBC soap, 'got away with it because she's famous'.
They added: 'The PC would rather she had been through court and held to account — even if she walked free with no conditions — at least justice would have been done.'
Footage emerged last year showing the moment that Wallace was arrested following a night out, with some witnesses claiming she was kicked out of a nightclub for being 'gobby'. 
As well as kneeing an officer, it was alleged that the actress also said 'f*** off you fat c***', before being placed into a police van. 
At the time, a witness said Wallace was 'out of control' with 'truly shocking behaviour'.
Another said: 'She was acting very drunken disorderly, assaulting police officers and swearing constantly.
Shock: Footage showed the moment Jessie Wallace was arrested following a 'drunken' night out, with witnesses claiming she had been kicked out of Flex nightclub for being 'gobby' 
Nightclub: The EastEnders actress, 50, allegedly told a police officer to 'f*** off you fat c***' outside a nightclub
'She then went on to shout out, "I hope this is all entertainment for you c***s", whilst barging through the middle of our group. She then ended up banging on the door of the police wagon she was in.
'Bouncers had chucked her out due to how gobby and annoying she was being to others.'  
The 51-year-old was detained on suspicion of assaulting a police officer as well as drunk and disorderly conduct in Bury St Edmunds. 
Wallace was later cautioned without charge for the alleged assault but was reportedly given 16 weeks to write an apology letter to the officer.
However, the soap star was said to have missed this deadline and the following deadline which was set for her. 
BBC chiefs also issued a 'clear warning' to Wallace about the incident.
Jessie was later cautioned without charge for the alleged assault but was reportedly given 16 weeks to write an apology letter to the officer (file picture)
A spokesman previously told MailOnline: 'Senior bosses have spoken to Jessie Wallace about the incident and issued a clear warning that this kind of behaviour is unacceptable. Jessie has expressed her deep regret.'  
However, it is not the first time Wallace has had a run-in with the law. She was banned from driving for three years and fined £1,000 in 2003 for an offence of drink driving.    
Actress: Jessie Wallace is known for playing Kat Slater in the BBC soap EastEnders
Police stopped the then 32-year-old in Chelmsford, Essex, in March last year after she was caught breaking the speed limit in her £32,000 silver Mercedes.
She was one and a half times the legal limit, with tests revealing 51mg of alcohol in 100ml of breath. The legal limit is 35.
A three-year ban was imposed because it was her second drink-related driving offence.    
In 2017, Wallace was also filmed launching an expletive-ridden tirade after being reportedly kicked out of a pub. 
Video filmed by the Old Eagle in Camden, north London, showed the soap star with a friend shouting 'f**** you' at a man who had accused her of creating a disturbance inside.  
In early 2020, Wallace was also suspended from EastEnders by the BBC, with a two-month suspension incurred due to an 'incident while filming'.
It was reported that she was summoned to a meeting with bosses of the show who ordered her to 'sort herself out' before returning. 
MailOnline has approached Suffolk Constabulary and Jessie Wallace's agent for comment. 
Source: Read Full Article