Powerball winner claims his FATHER was served with bombshell lawsuit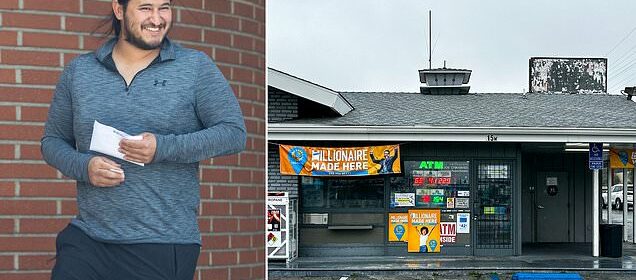 Powerball winner Edwin Castro hits back at claims man suing him over $2BN win was blackmailed – and says his FATHER was mistakenly served with bombshell lawsuit
Powerball winner Edwin Castro is fighting back against the man who is suing him, claiming that he is the rightful owner of the winning lottery ticket 
Jose Rivera says that after the ticket was stolen from him, a man named 'Reggie,' tried to blackmail him and refused to give it back 
Castro also says he was never served with the appropriate paperwork in relation to the suit as a process server gave the paperwork to his father by mistake  
Powerball winner Edwin Castro is trying to get a lawyer to quash the lawsuit he's facing from a man who says the $2 billion lottery ticket was stolen from him and that the thief tried to blackmail him in exchange for returning it.
Castro's lawyers also say that the summons relating to Jose Rivera's suit was given to the millionaire's father by mistake. Both Castro and Rivera say that they bought the winning ticket at Joe's Service Center in Altadena, California. 
Edwin H. Castro Sr. said in a sworn declaration that a process server came to his Altadena home on April 25 to present the summons and the lawsuit. The Powerball winner shares a name with his father but has a different middle initial.
'I told the process server that he was serving the wrong Edwin Castro, but he displayed little concern,' the elder Castro says. The Powerball winner says that he never received a summons.
Castro's lawyers say there are no details in the legal documents about how the ticket wound up in his possession. On this basis, Castro's attorney's are asking a judge to quash the complaint. 
Edwin Castro is facing a lawsuit that alleges his $2billion winning Powerball lottery ticket was stolen
Joe's Service Center in Altadena, California, where the ticket was purchased in November 2022
Castro has been spotted leaving a bank in a vintage Porsche and purchased two California homes for $29million since taking home nearly $1billion after taxes from his lottery win
In the suit, Rivera says he bought the ticket on November 8, the day before the drawing.  The ticket was then stolen by a man named as Reggie. Reggie's real name is Urachi F. Romero. 
Rivera does not say when exactly Romero is thought to have stolen the ticket.  In legal terms, his lawyers say that the accusers 'fails to allege facts that create a nexus between Edwin G. Castro and 'Reggie.'
'There are no facts as to how Edwin Castro came into possession of the winning Powerball ticket from 'Reggie,' the complaint continued.  
Rivera says that Romero repeatedly refused to return the ticket. Romero said he would split the winnings with Rivera if he could find the ticket. He later told Rivera that the ticket was a loser. 
Shortly after Castro was announced as the winner on February 14, Rivera made complaints to the California Lottery in both Chatsworth and Santa Fe Springs. The Santa Fe office accepted his complaint. 
He alleges that up until Castro was announced as the winner, Romero threatened to destroy the ticket unless he agreed to split the winnings equally. 
His lawyers are demanding that any and all surveillance video from Joe's Service Center from the day the ticket was bought be preserved.
The winning ticket – 10, 33, 41, 47, 56, and Powerball 10 – was sold at the Altadena store, which also saw a $1million payout for the historic win. 
Castro's new $25million California home, lottery officials in the state maintain that he is the rightful owner of the ticket
Castro's new $4million in Altadena, California, comes with its own home theater and expensive artwork
Castro has been living large since his winning, buying two separate California mansions for a total of $29 million
The sprawling 13,578-square-foot hillside estate, which comes complete with a full outdoor kitchen, gym, wine cellar and infinity pool
Rivera is demanding $2.04 billion in his suit, the jackpot amount. 
Workers at the Service Center told DailyMail.com there was little evidence to support claims the ticket was stolen.
'California Lottery have strict regulations about how they choose a winner, this guy is crazy, he came in here with his attorney yelling about it and there's nothing we can do,' a worker said.
The employee added lottery officials obtained surveillance video and went through it frame by frame for the vetted winner.
'When it comes to the vetting process for big winners, California Lottery has the utmost confidence in its process for doing so,' the California lottery said in a statement to DailyMail.com.
'California Lottery remains confident that Edwin Castro is the rightful winner of the $2.04billion prize stemming from the Powerball drawing in November of 2022.'
At the time of the win, lottery director Alva Johnson said Castro wanted to remain private and had declined an invitation from lottery officials to attend the press conference.
In a prepared statement Castro said: 'As much as I am shocked and ecstatic to have won the Powerball drawing, the real winner is the California public school system.'
Public schools in California act as a beneficiary to the state's lottery.
After months of anticipation, California Lottery director Alva Johnson announced Edwin Castro was the winner of November's historic jackpot win. He opted to take a lump sum payment option of $997.6million
Castro purchased his two homes down the street from his humble one bedroom house in Altadena
It means the education system received over $156 million as a result of the record-breaking win.
After winning, Castro took the lump sum payment that totaled $997.6million after taxes.
Workers at the center that sold the winning ticket were not as private as they celebrated their $1million windfall.
Joe Chahayed, won $1million for selling the record-breaking $2.04billion Powerball ticket.
At the time, Chahayed said he would share the winnings with his entire family.
Chahayed – the father-in-law of former NFL player Domata Peko – held up a huge check outside his gas station alongside family wearing a 'millionaire made here' shirt.
'We are excited,' he said at a press conference with California Lottery in November last year.
'I'll share it with family, with whatever is needed, with my kids, my grandchildren. I have 11 grandchildren and I'll share with them.'
His son, who was at the press conference, said 'no one else deserves it more than this man.'
Castro has been living large since his winning, buying two separate California mansions for a total of $29 million. He was also seen driving away from a bank in a vintage Porsche.
One of his new homes is a $4million mansion in the Los Angeles area. The home comes with its own home theater, private office and expensive artwork, which is sure to be improved given Castro's hefty new bank balance.
The Altadena home is only a short drive from where Castro grew up.
If Castro tires of the $4 million estate, he is only around 20 miles from his second California complex, which he bought for $25 million just eight days prior.
The sprawling 13,578-square-foot hillside estate, which comes complete with a full outdoor kitchen, gym, wine cellar and infinity pool.
Source: Read Full Article