Private expert searching for missing Nicola says he will find her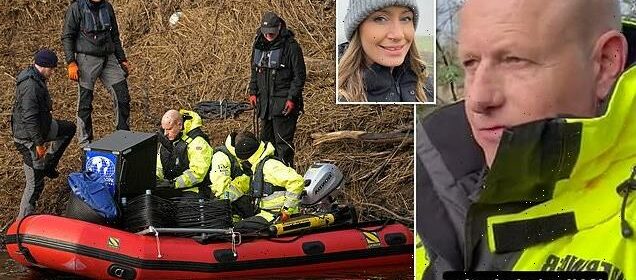 Private diving expert brought in by family to search for missing Nicola Bulley says he will find her if she fell in river as he works into the night – after branding police investigation a 'mess'
Expert diving team will help police in search of missing Nicola Bulley today 

Leading the group, Peter Faulding says: 'We always locate within the hour'

The diving team are working into the night to try to locate her body in the water 
A private forensic expert brought in by police in the search for Nicola Bulley has said that if there is a body in the river, he will find it, after describing the police search as 'a mess'. 
Peter Faulding, founder of the Specialist Group International search and rescue organisation, brought in 'high-spec' sonar equipment worth around £55,000 that has a 'very high hit rate' to the search in St Michael's on Wyre on Monday morning.
The search expert, who has assisted on hundreds of similar missing persons cases said the sonar would 'pick her up straight away' if Ms Bulley was in the river. 
He branded the police investigation 'a mess' over the weekend and slammed their claim that there is no third-party involvement.  
Police say their primary theory is that the mother-of-two – who disappeared while walking her dog in the village of St Michael's on Wyre in Lancashire more than a week ago – fell into the River Wyre, yet have found no evidence of this. 
CGI Search teams, including Peter Faulding (right), search the River Wyre for missing 45-year-old mother Nicola Bulley
Nicola Bulley, 45, was last seen over a week ago walking next to the River Wyre in St Michael's on Wyre in Lancashire
Dive teams are working into the evening to try and locate the missing woman but family and friends remain unconvinced that she was ever in the water. 
Mr Faulding told The Mirror: 'If Nicola is in there, we will find her. If she's there, our sonar will pick her up straight away. I will see a body on the bottom. We are dealing with about ten drownings every summer. We always locate within the hour. It's that quick, it's that good.'
He said he thinks Ms Bulley, 45, would not have gone far if she did fall in due to the shallow depth, but the shock of the cold water could have 'taken her breath away'. 
However, he believes she could have been able to get herself out and that she would not be dragged down. 
'Normally people would scream out and I don't know if there was other people in the area but you'd scream out, you'd flap around and the dog would normally maybe stay with the owner. There's something, in my opinion, not quite right here,' he added. 
The forensic expert told MailOnline over the weekend that there were a number of anomalies in the search which could be hindering progress. 
'It should have been sealed off immediately as a potential crime scene," Mr Faulding said. 
'That area is critical. Critical forensics could have been found in that location.
'I don't know how the police can say there's no evidence of third-party involvement in this disappearance when they haven't actually checked. I think this is a mess, really.'
The expert said he had spoken to Ms Bulley's partner Mr Ansell earlier on Monday and told the BBC: 'I mean, Paul's extremely distraught. I've just spoken to him just now where we're staying.
'And you know, my thoughts go out to the family and friends. It's a very difficult time.'
It comes after Ms Bulley's partner Paul Ansell doubled down on comments from Ms Bulley's friends and other relatives warning police have very little basis for their theory that she fell in the river.
Mr Ansell said there was 'no evidence yet to suggest any scenario over another and all options must be kept wide open'. 
In a new statement released on Monday, he said he was grateful for Mr Faulding's support but that the family was struggling with the ongoing search. 
'It's been ten days now since Nicola went missing and I have two little girls who miss their mummy desperately and who need her back. 
'This has been such a tough time for the girls especially but also for me and all of Nicola's family and friends, as well as the wider community and I want to thank them for their love and support.
READ MORE: The 'Human Mole' leading the hunt for missing Nicola Bulley
'We are also really grateful to Peter and his team from SGI for coming up and helping support the work of Lancashire Police as they continue their investigation. If anyone has any information which could help find Nicola, I urge them to get in touch with the police and help us provide the answers we all so badly need.' 
Detective Superintendent Rebecca Smith, of Lancashire Police, added: 'The team working on this investigation are completely dedicated and determined to find Nicola.
'As a mother myself, I can't even begin to imagine what her two children are going through.
'Please be reassured that our sole focus is Nicola and that we are doing everything we can to find her.
'It is not possible to provide every piece of information to the public because to do so would detract from the investigation, but I'd like to thank everyone who has assisted us so far and for the support provided to Nicola's family at this extremely difficult time. They are being supported and updated throughout.'
A friend of the missing mother said this morning she hopes the specialist underwater teams will uncover nothing – because then it rules out the police's theory that she fell into the river.
Emma White said they were pleased Mr Faulding's team are assisting police – but are keeping everything crossed that they don't find anything. 
She told ITV's Good Morning Britain: 'We hope they uncover nothing, like the police have done for the last ten days, and we hope Nicola is not in that river.'
Ms White said she believes Mr Faulding's equipment is more sophisticated than the kit police have. 
'Peter's here, working with Lancashire Police, and we just have to have everything crossed that the search continues and Nicola is not in that river,' she said. 
'We don't want to undermine all the work police have done but when you get that glimmer of hope and you look at what the company does, his records and what he has achieved then you think we need to get this expert here – and we can't thank you enough for bringing the team down.'
Search team members unload equipment on February 6 in St Michael's on Wyre
A helicopter is seen in the search for the missing mother of two this afternoon
CGI Search teams arrive at the River Wyre this morning in the search for the missing mother
An independent underwater rescue team, Specialist Group International, join police in the search
Peter Faulding, chief executive of private underwater search and recovery company Specialist Group International (SGI)
A police officer near the search location today 
Specialist teams will use a high-spec sonar 'which can see every stick and stone lying on the riverbed'
Missing person signs have been put up in the local area appealing for information
Ms White, who has known Ms Bulley for ten years, said the police theory that she fell into the Wyre 'is based on a theory, with no actual evidence to support it'.
She told Radio 4's Today programme: 'The hypothesis is based on limited information – I've said before it's a theory, and we sadly can't base life on a theory.'
She thanked the public for their support and kindness shown towards Ms Bulley's family, and said at the core of their rescue campaign are 'two little girls who want their mummy'.
Mr Faulding, speaking from his helicopter en route to the scene this morning, said: 'We are having a briefing at 8.30am, and then going to the location to set up. They are getting a briefing at a farmhouse and then they'll move to the scene.
'We are working closely with the police to provide extra support. We are going to be using a high-frequency side scan sonar. That's going to be used to search down the river, past the weir.
The bench where Ms Bulley's mobile phone and dog were found next to the River Wyre
The search continues for Ms Bulley, who went missing while walking her dog next to the river
Emma White said: 'We just have to have everything crossed that the search continues and Nicola is not in that river'
Read more: How dog behaviour can disclose hidden clues to mysteries
Dogs are believed to be able to find the last location of their owners through their sense of smell.
Experts advise those searching should go back to where the dog was last spotted because it will backtrack to its owner and their scent. 
A dog's sense of smell is 10,000 times more powerful than a human and can pick up locational scent. 
If its home is far away and the dog can't find its owner, it will get worried and try to return home to somewhere familiar. 
In certain cases, some dogs will return home along or attempt to follow their missing owner, according to Colin Tennant, director of the Cambridge Institute of Dog Behaviour and Training, who wrote in The Sunday Times.
Dogs cannot, however, process what is happening if a human falls into water. In this case, the dog might run along the bank looking for eye-contact or stop on the bank as the last place of detection. 
'That will give us a crystal clear image of anything on the river bed. It shows every rock and every stone.
'On a straight river, we can do about ten miles of river a day. But this is a very windy, changeable river, up and down in depth. So we will do the best we can.'
He added: 'I'm confident with my expertise over 20 odd years that if she is there, I will find her with that sonar. I will be operating that sonar.'
Mr Faulding, who will also survey the route of the river by helicopter, earlier told Sky News: 'We're assisting with our dive team. We carry out all the underwater operations in the South East for the police anyway, but we're bringing a particularly high-spec piece of equipment, 1,800-kilohertz specialist side-scan sonar.
'Each year we deal with a lot of drownings and we locate them extremely quickly. The difference with this sonar is that it's very, very high frequency.
'It's about £55,000 and it scans the river and I can see every stick and stone lying on the river bed. We've got a very high hit rate with this.'
He added: 'Our sonar is probably a bit more superior but I've got a lot of specialist search expertise and I've worked on hundreds of these cases and we always generally find people within the hour in lakes etc.'
It comes as a former detective described Lancashire Police's decision to publicly reveal its belief that Nicola fell into a river as 'extremely unusual and concerning'.
Martyn Underhill, who was a senior officer in the police probe of the abduction and murder of Sarah Payne in West Sussex, told The Times that there are several possibilities as to what may have taken place in the vital ten-minute window identified by police.
Ms Bulley is seen on security footage at her home wearing a long dark coat, leggings and ankle boots with her hair tied in a ponytail
Pictures showing Ms Bulley just hours before she vanished have been released by a friend in a bid to find her
The 11 key details written by Nicola Bulley's friend: 
He also warned that detectives are risking 'boxing themselves into a theory'.
Mr Underhill added: 'If the public is told that they think it's a terrible accident, it risks people switching off. It can deter someone coming forward with crucial evidence.
'Coming out with such a definitive narrative publicly will make it hard to row back if the circumstances change. And they've offended the family and friends at the same time. It is really bizarre.' 
Poignant footage earlier emerged of Ms Bulley's young daughter spotting search teams looking for her missing mother.
The six-second video shared by friends showed daughter Sophia, six, pointing towards a search team and saying: 'Them helicopters, they're looking for mummy.'
Meanwhile, friends say Ms Bulley's two daughters attended a school disco on Friday evening as part of efforts among parents to 'keep things as normal as possible' for the children.
It comes as reports say Ms Bulley was due to watch one of her children perform in a show this weekend which went ahead without her. 
Jill Peck, who attended a vigil to light candles at St Michael's Church on Sunday, told Sky News: 'If something was in the diary, it's been kept in the diary. They are aware that something is happening but we're trying to keep it away from the school.
'They just desperately want her home and that is all they are asking all the time, "where is she and is she coming home?".'
The girls' school is said to have told pupils of the situation and teachers have put on yoga sessions to help them stay calm and relaxed. 
Meanwhile, pictures from cameras at Ms Bulley's home, showing her on her driveway just hours before she vanished, have been released by a friend as part of the desperate search to find her.
The mother can be seen in a long jacket, leggings and walking boots with her hair tied in a pony tail prior to driving her two daughters to school in St Michael's on Wyre on January 27.
Friends of the couple have urged members of the public to stop making 'disgusting accusations' at her partner Paul Ansell and say images from the cameras at their home show why he has never been a suspect.
They also said he is suffering 'hurt and pain', but is 'completely focusing' on their two daughters.  
Workers from a private underwater search and recovery company, Specialist Group International
Peter Faulding, a world-renowned forensics expert who is a diver for the police and has worked on hundreds of cases across the south east, confirmed his specialist rescue and underwater team has been called in to help with the search 
A picture taken from a camera at Ms Bulley's house shows the mother on her driveway on the morning she went missing 
Ms Bulley is seen wearing a long jacket with leggings and walking boots 
Ms Bulley was walking her spaniel Willow, pictured, at the time she went missing 
A family friend thanked those who had offered their support and shared a list of details about Ms Bulley's disappearance 
Search team members load sonar equipment aboard a boat on February 6 
READ MORE: Forensic expert claims missing Nicola Bulley did not fall into river
Mr Faulding also said yesterday that he believes it is unlikely that Ms Bulley fell into the river, as the police believe. 
The forensics expert told GBNews: 'The amount of searching that's gone on in this river, I would have thought she would have been found by now. Normally when a person drowns, if they are left a number of days they don't move very far.
'This is not a fast tidal river. So I would have expected her to be found by the police divers by now… It's as clear as that. And you know, none of this rings right to me. My belief is she's not in not in the river at all.'
Mr Faulding said that not enough factors added up in his opinion, suggesting that Ms Bulley's phone could have been left on the bench as a 'decoy'. 
He continued: 'I personally think this phone could be a decoy.
'We dealt with a drowning a couple of years ago where a gentleman went into a river and Ripley, his dog, was screaming by the riverbank when we got there.
'When we arrived it was howling, and literally pointing exactly where he was. He stayed with his owner.
'The phone on the bench, I mean, you have to ask, normally someone would have a phone in their hand especially if they were walking around.'
The expert said it 'feels odd' that no one spoke of the fact that Ms Bulley was not wearing clothes that would have absorbed water quickly, there were no marks at the scene and that not one person heard screams.
Additionally, he criticised the fact that the location has not remained cordoned off.
He said: 'People have been walking past the bench. There's no police tape up. This would normally be sealed off as a crime scene so potentially crime scene investigators can go in and see if there are any microfibres, evidence, slip marks down the bank etc and I don't believe that has actually happened here.'
Following an urgent police appeal for a woman wearing a yellow rain jacket to contact them, the force said it was 'pleased to say that the woman came forward very quickly' 
Meanwhile, a friend of Ms Bulley shared 11 key details about her disappearance in a Facebook post following the 45-year-old's disappearance. 
In the list, Tilly Ann wrote that the only CCTV camera at a residential caravan park 'that would have seen Nikki' is not working.
She also said Ms Bulley is 'an incredibly strong swimmer', and that her dog Willow who she was walking at the time was completely dry when found. 
She wrote that the dog would never have a harness on during the familiar walk, after speculation about why Willow's harness was removed. When the dog was found, it was very close to the bench with the harness on the floor. 
She added that her friend would often put her phone on loud-speaker when talking. Ms Bulley's phone was discovered close to the river bank and she had been on a conference call before she vanished.
The family friend thanked those who had shared their support and contributed to the search for Nicola – saying it had 'created such a comfort to Nikki's family'.
Detailing the impact on Paul, she wrote that he is struggling to hold back his pain, but is focusing on his children and does not want to worry them 'more than they already are'.
After detectives confirmed Ms Bulley's dog was found dry, a canine expert said the dog could have panicked and gone into 'fight or flight' mode. 
Another expert explained that dogs, who cannot find their owner, will often circle the area they were last present. 
Writing in The Times, Colin Tennant, director of the Cambridge Institute of Dog Behaviour and Training, said: 'A dog can help you find the last location of its owner through its sense of smell. If people lose their dog, the advice I always give to them is to stay in the exact position you were when you last saw the dog, because it will always backtrack to you. 
'So if somebody fell in a river, the dog would always tend to circulate in that area, because that's where all the owner's scents are, on the ground and vegetation.' 
He added: 'It will often migrate back to the last spot where it was with the owner because they're its pack leader.' 
The expert added that usually if the dog can't find its owner, and the home is nearby, it will often run back home. 
Addressing speculation that the fact Ms Bulley's dog was found dry meant that the mother did not fall into the river, dog behaviour expert Ross McCarthy says that is not necessarily the case. 
He told the Express: 'It all depends on the dog's association with water, and their relationship with the owner and so on, as to whether they would jump in.
'Some would through play or investigation and others would just mooch about on the side and some would panic at the strange situation.'
He said that, just like humans, dogs go into fight or flight mode.  
'Presumably this dog has been walked along the canal and water often and been discouraged from going in or naturally just avoided going in,' he added. 
On Saturday, police released an image of a potential witness, wearing a yellow rain jacket and pushing a pram, who was in the area at the time of Ms Bulley's disappearance.
Lancashire Police officers work near the River Wyre in St Michael's on Wyre, near Preston, north west England on February 6
Specialist Group International joins police in looking for missing woman Nicola Bulley
Police inspecting the river bank before searches began this morning
That evening they said they were 'pleased to say that the woman came forward very quickly' and were treating her as a 'key witness' in the investigation. 
Officers believe she was in the same area as Ms Bulley on Friday January 27. 
Within minutes of the appeal being made public, a relative confirmed the woman was 'on the phone' to police.
The Facebook post by Lancashire Police added: 'Our enquiries to find Nicola are extensive and will include speaking to as many members of the public as possible.'
Photos of police scouring the River Wyre have been released as they continue to search. 
A new line of inquiry relates to a Fitbit Ms Bulley was wearing on the morning she vanished. Police hope to use technology to help track her whereabouts via the smart watch.
Fitbits are also capable of monitoring a heart rate and could provide vital clues relating to Ms Bulley's last known movements before she disappeared. 
Specialist crews will return to the river today to continue scouring the area for clues. 
Speaking to The Sunday Times, Lancashire Police Superintendent Sally Riley said there is 'no evidence of a slip or fall' in the area at the centre of the investigation.
'I think if it had been a sloping bank, a commonsense view would be that you would expect to find scuff marks.
'If it is sheer and you lose your footing, you might not have any marks left on the grass. All of that has been subjected to a detailed search.' 
Supt Riley said on the balance of probabilities, it is 'highly unlikely' criminal activity took place in such a tiny window of time which is currently unaccounted for.
Police are still trying to piece together about ten minutes from the morning Ms Bulley disappeared. 
Paul Ansell, 44, said his partner's disappearance feels 'no more real now' than it did when he first learned she was missing 
She said: 'This is a low-crime area. It's genuinely a safe, tight-knit area, people look out for each other. A third-party [being] involved that we haven't yet had sightings of, we haven't caught on CCTV or dash-cam or all the other things I've mentioned, is just not likely.'
This does not mean they've entirely ruled out other scenarios. 
Officers are still desperately appealing for witnesses to come forward, particularly near a CCTV black spot near Garstang Lane.
And Ms Bulley's distraught partner has not given up hope of finding her alive, stating he 'will not entertain any other outcome' as the search continues.
MrAnsell, 44, said Ms Bulley's disappearance feels 'no more real now' than it did when he first learned she was missing.
 He wrote online: 'The agony continues… the hope is stronger than ever of finding you. We need her home… we need a happy ending to this nightmare.' 
Mr Ansell also reiterated warnings from that friends and family that police have very little basis for their theory that Ms Bulley fell in the river 
The police have said they 'want to find her and provide answers to her family' 
Ms Bulley's loved ones question police theory that she entered river: READ MORE
Amid reports of a widening difference of opinion between Ms Bulley's family and detectives, Mr Ansell echoed police's pleas for potential witnesses who might have dashcam footage to come forward. 
Police are particularly interested in speaking with people who may have been travelling near Blackpool Lane and Garstang Lane between 9am and 10am on Friday 27 January, the day Ms Bulley vanished. 
'Whilst you may not think that you hold any relevant information, it is really important that we gather as much footage as possible from the area that morning so we can review every piece meticulously to establish whether Nicola can be seen,' police said.
'We know from the footage we are currently reviewing, that this is a busy road, particularly at that time in the morning.
'There will be many people who were in that area at the time who may not think they can help, however we would urge you not to make that decision yourself and to come forward so we can have as much material as possible to assist the investigation.'
The appeal for footage from Garstang Lane comes after police said that while their lead theory is that the missing mother fell into the river, they're still exploring other possibilities.
Substantial CCTV in the region has all but ruled out she exited the park from most of the surrounding gates, but the path leading to Garstang Lane toward the A5/A6 has thus far proven to be a camera black spot.
Supt Riley told the Lancashire Post: 'Several exits of the riverside area have CCTV covering them or exits are locked and therefore couldn't have been passed through by Nicola. 
'There's only a very small area onto Garstang Lane toward the A5/A6 which is not covered by CCTV and that's why we're appealing today for dashcam footage or for people who may have been walking on Garstang Lane or driving in the area to come forward if they can.' 
The owners of a caravan park close to the riverbank where Ms Bulley is believed to have fallen into the water have already had their CCTV tapes seized by police.  
Nicola Bulley's sister (pictured together) warned there is 'no evidence whatsoever' that suggests the missing mother fell in the river, despite police confirming it is their lead theory 
Paul Ansell issued a public appeal through the media in the week, vowing not to give up hope
Police expressed concerns the missing mother-of-two may have fallen in the icy cold water on River Wyre while trying to retrieve her dog Willow's tennis ball.  Specialist search crews have not recovered the ball – or anything of note – at this stage.
If Ms Bulley did fall into the water, she may have been weighed down by the heavy clothing she was wearing .
But her sister Louise Cunningham has urged the public to keep an open mind. 
'Off the back of the latest police media update, please can I add there is no evidence whatsoever that she has gone into the river, it's just a theory,' she said.
'Everyone needs to keep an open mind as not all CCTV and leads have been investigated fully, the police confirmed the case is far from over.'
Anyone with information or footage is asked to call 101, quoting log 565 of January 30. For immediate sightings, please call 999.  
Police are said to be looking into how to access data from Ms Bulley's Fitbit in a bid to track her movements. Friend Emma White said on Saturday that the Fitbit had not been synced to a device since Tuesday. 
Speaking close to the spot where Ms Bulley was last seen, Ms White said: 'The police are trying to use the data from her Fitbit to find her. The watch can receive data, but cannot connect to the internet.
'However, we hope they can somehow locate it using Bluetooth signals from people's phones. We are clinging to hope. Nicola falling into the river is just a hypothesis.'
She added the Fitbit has not 'synced' with its servers since the Tuesday before Ms Bulley's disappearance. 
Police are said to be trying to trace data from Nicola Bulley's Fitbit (pictured on her right arm)
Nicola, 45, disappeared shortly after dropping her two daughters off at school on January 27
'Lady in red' who police hoped might hold crucial information tells officers she didn't see the missing mother-of-two: READ MORE
There are ways to access a Fitbit's data using the app on the owner's phone or third-party tracking apps, which can allow any smartphone to sync with the device if it is within a 100ft radius.
But this only lasts for as long as the Fitbit still has battery left. 
Search teams from Lancashire Constabulary are continuing to trawl the River Wyre, along with specialist crews from around the country.
Friends of the family said on Friday that Ms Bulley's daughters had been asking: 'Where's Mummy? How is Mummy?'  
Their father is trying to put on a brave face for the sake of the children, and is being supported by Ms Bulley's distraught parents and sister.
The missing mortgage adviser, 45, sent a text to a friend organising a playdate for their children minutes before she vanished, it emerged at the weekend. 
A resident of St Michael's on Wyre said: 'She booked a playdate, 8.57am, she sent a text message to a friend whose mortgage she had just recently signed off on to arrange for the girls to go for tea this week.'
The local, who did not want to be named, said this was more evidence that she had no intention of voluntarily disappearing, adding: 'You wouldn't have done that if you were going to get up and go missing.' 
Nicola Bulley's disappearance: A timeline 
January 27 
The 45-year-old dropped her daughters – aged six and nine – off at school in the morning before walking her dog, Willow, in St Michael's on Wyre, Lancashire. 
Lancashire Police have said the mortgage adviser, from nearby Inskip, had been walking along a path beside the River Wyre just before 9am. 
She was seen by a dog walker who knew her at around 8.50am, and their pets interacted briefly before they parted ways, according to the force. 
At 8.53am, Ms Bulley sent an email to her boss, before logging on to a Microsoft Teams call at 9.01am. She was seen by a second witness at 9.10am – the last known sighting.
By 9.30am, Ms Bulley's Teams call had ended, but her phone stayed connected to the call. Approximately five minutes later, another dog walker found her phone on a bench beside the river, with Willow darting between the two. 
At 10.50am, Ms Bulley's family and the school attended by her children were told about her disappearance. 
Lancashire Constabulary launched an investigation into Ms Bulley's whereabouts and appealed for witnesses.
 January 28 
Lancashire Constabulary deployed drones, helicopters and police search dogs as part of the major missing person operation. 
They were assisted by Lancashire Fire and Rescue Service, as well as Bowland Pennine Mountain Rescue team and the North West Underwater Search Team. 
January 29 
Local residents held a meeting at the village hall to organise a search for Ms Bulley at 10.30am on Sunday, according to reports from The Mirror, and around 100 people joined the search.
Police urged volunteers to exercise caution, describing the river and its banks as 'extremely dangerous' and saying that activity in these areas presented 'a genuine risk to the public'. 
January 30 
Superintendent Sally Riley from Lancashire Constabulary said police were 'keeping a really open mind about what could have happened', and that they were not treating Ms Bulley's disappearance as suspicious. 
January 31 
Lancashire Constabulary spoke with a potential witness – a man who had been walking a small white fluffy dog near the River Wyre at the time of Ms Bulley's disappearance. 
Her family released a statement saying they had been 'overwhelmed by the support' in their community, and that her daughters were 'desperate to have their mummy back home safe'. 
February 1 
Ms Bulley's parents, Ernest and Dot Bulley, spoke to The Mirror about the 'horror' they faced over the possibility of never seeing her again. 
Her father told the newspaper: 'We just dread to think we will never see her again, if the worst came to the worst and she was never found, how will we deal with that for the rest of our lives.' 
February 2 
Lancashire Constabulary spoke with a second witness who they had identified with the help of the public using CCTV – but they told police they did not have any further information to aid their inquiry. 
Officers from the North West Police Underwater and Marine support unit searched the area close to where Ms Bulley's mobile phone was found, while police divers scoured the River Wyre. 
Ms Bulley's family appealed to the public for help tracing her. Speaking with Sky News, her sister Louise Cunningham said: 'There has got to be somebody who knows something and all we are asking is, no matter how small or big, if there is anything you remember that doesn't seem right, then please reach out to the police. Get in touch and get my sister back.' 
Ms Bulley's father said that his family hoped their interview would 'spark a light' that would lead to her being found. 
February 3 
Lancashire Police said they were working on the hypothesis that Ms Bulley may have fallen into the River Wyre. 
Supt Riley urged against speculation, but said it was 'possible' that an 'issue' with Ms Bulley's dog may have led her to the water's edge. 
She urged the public to look out for items of clothing Ms Bulley was last seen wearing, and gave an extensive list. 
Ms Bulley's friends also shared heartfelt appeals via television interviews, including Emma White, who told the BBC that Ms Bulley's daughters were continually asking where she was. 
February 4
Friends reveal police are hoping to utilise Ms Bulley's Fitbit data to help track her.
A new appeal is issued for a 'woman in yellow' to come forward. The woman was pictured walking in the same area as Ms Bulley, pushing a stroller with a young child. The woman came forward shortly afterwards.
Ms Bulley's partner cast doubt over the police theory she had fallen in the river. Mr Ansell says he will never give up hope of finding her. 
Police confirm there is 'no evidence' Ms Bulley fell in the river, despite maintaining it is their lead theory. 
A close family friend, named Tilly Ann, shared 11 key facts about her friend's disappearance to Facebook. 
Police are pictured scouring the riverbank as they continue to search for Ms Bulley. 
Source: Read Full Article