Putin replacement could be more dangerous, expert warns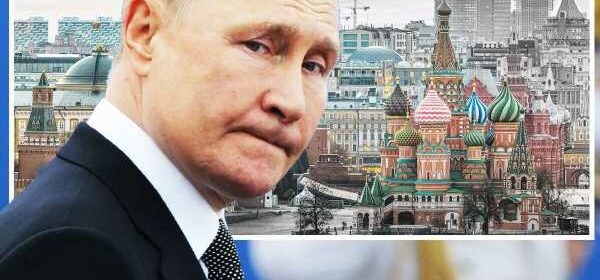 Ukraine must not be complacent as Putin struggles says expert
We use your sign-up to provide content in ways you've consented to and to improve our understanding of you. This may include adverts from us and 3rd parties based on our understanding. You can unsubscribe at any time. More info
As Putin's war in Ukraine rumbles on and reports of a rigged referendum circulate, speculation about the Russian president's future is increasing. Earlier this year, an MI6 agent predicted he'd be gone by the end of 2023. Others have said his health could give out long before then, despite Kremlin insistence that Putin is healthy. Now, however, a source has told Express.co.uk that what awaits Russia on the other side of Putin could, in fact, be worse.
Ben Hodges, who served as commanding general of the United States Army Europe, told Express.co.uk that it may be better if Putin does remain Russian president.
Mr Hodges argues that, while Putin has a track record of extreme aggression, someone even more violent could replace him should be removed from power.
The military expert said: "There is no shortage of super-hawk right-wing nationalists in Russia who are completely in sync with what Putin says, which is why I personally don't advocate for regime change because you never know who is coming up behind him.
"This is why I think total defeat of Russians on the battlefield is what it is going to take. If there is a negotiated outcome and you have the same sort of people in control in Moscow, we will be having this conversation again next year.
"I'm no Kremlinologist, but I'm sure there's no shortage of people like him out there, or maybe even worse."
Mr Hodges believes that Putin could be removed from power if his forces suffer a major defeat in Ukraine.
He continued: "It could do, but that will be up to the people around him. These are not people you negotiate with until they are defeated. I would imagine it will be very difficult for Putin because this war is entirely the fault of him."
Given Putin's vice-like grip on power, there are no major names who are in line to replace him. Figures in the Kremlin must be loyal to the Russian president.
But former Kremlin advisor Sergei Guriev recently said that Russia could become like "North Korea on steroids" when Putin is one day replaced because he too believes an ultra-nationalist would rise to power.
He told CNBC: "Regimes like this change in very unpredictable ways. It's very hard to predict what will come after Putin. The reason for that is Putin has built his regime in a way nobody can replace him.
"He built the regime in a way that without him, the system will not function. People around him don't trust each other, sometimes hate each other, so if he is gone the system will change somehow.
"So, probably initially it will be some kind of ultra-nationalist guy or military junta, but it will not last for long exactly because the system is built around Putin. And eventually, I think the system will collapse.
DON'T MISS
Putin hints at locking Russian border as lawmakers want travel ban [INSIGHT]
Putin's mobilisation tactic dismantled as new recruits lack training [ANALYSIS]
Macron and Scholz shamed as EU chiefs urged to stand up to Putin [INSIGHT]
"It could be months, it could be several years, it could be North Korea on steroids, who knows? But it could also be a situation where the system collapses and somebody who wants to rebuild the economy reaches out to the West,"
Other experts are warning that the chances of Putin using nuclear weapons are increasing. Ex-CIA officer Robert Baer told CNN on Tuesday: "I think the chances of his de-escalating are close to zero … he simply cannot give up so much ground and be seen to be losing and continue as leader of Russia.
"The chances of his using nuclear weapons — at least tactical nuclear weapons — is going up by the day."
Source: Read Full Article