'Russian military blogger' is killed in St Petersburg café explosion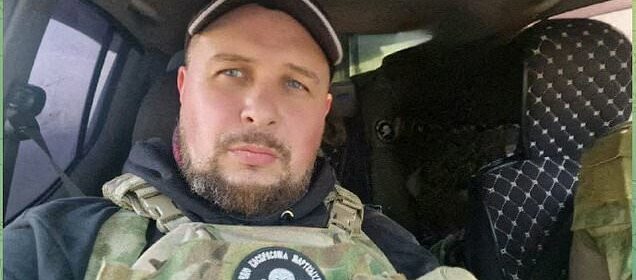 'Russian military blogger' is killed and 16 others are injured in explosion at cafe in St Petersburg
A well-known Russian military blogger was killed and 16 others have been wounded in a bomb blast in a cafe in St Petersburg on Sunday.
The interior ministry confirmed the death of Vladlen Tatarsky, Russian news agencies reported. He is understood to have been meeting with members of the public and that a woman presented him with a statuette that apparently exploded. 
Officials say the 'causes and circumstances of the incident are being established,' according to Russian Telegram messages reviewed by MailOnline. 
There is no indication who was behind the blast and Ukraine has denied involvement.
Well-known Russian military blogger Vladlen Tatarsky (pictured) was killed in a bomb blast in a cafe in St Petersburg on Sunday
The explosion took place at the Street Bar cafe in Russia's second largest city, killing Tatarsky and leaving at least 16 injured. Pictured: Officials with the Russian Emergency Situations Ministry working the scene
The explosion took place at the Street Bar cafe in Russia's second largest city on Sunday. The building's facade was reportedly damaged.
The restaurant once belonged to Yevgeny Prigozhin, founder of the Wagner private army that is fighting for Russia in Ukraine.
Investigators from Russia's Ministry of Internal Affairs, local police and paramedics are working the scene. 
Officials have confirmed that Tatarsky, whose real name was Maxim Fomin, has died in the blast.
Tatarsky had more than 560,000 followers on Telegram and was one of the most prominent of the influential military bloggers who have provided an often critical running commentary on Russia's war in Ukraine.
He was among hundreds of attendees at a lavish Kremlin ceremony last September to proclaim Russia's annexation of four partly occupied regions of Ukraine, a move that most countries at the UN condemned as illegal.
'We'll defeat everyone, we'll kill everyone, we'll rob everyone we need to. Everything will be as we like it,' he was shown saying in a video clip on that occasion.
If Tatarsky was deliberately targeted, it would be the second assassination on Russian soil of a high-profile figure associated with the war in Ukraine.
Russia's Federal Security Service accused Ukraine's secret services last August of killing Darya Dugina, the daughter of an ultra-nationalist, in a car bomb attack near Moscow that President Vladimir Putin called 'evil'.
Various fires and explosions have occurred in Russia since the fighting in Ukraine began on February 24 2022, without any clear indication of a connection to the conflict. 
This is a developing story. Check back for updates. 
Source: Read Full Article