Starmer: Labour has changed despite Rosie Duffield heckling uproar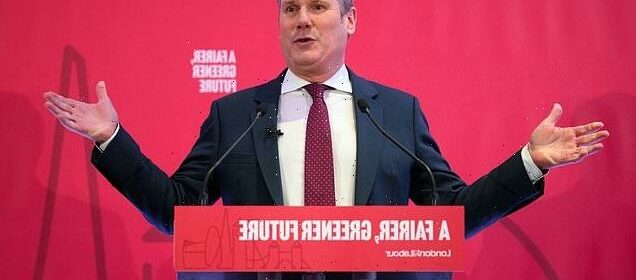 Keir Starmer tells Labour faithful that the party has changed under his leadership despite uproar over Rosie Duffield heckling
Labour leader Keir Starmer said party has changed since letting hate 'spread'

But Baroness Hayter said misogyny within the party is 'a bit like anti-Semitism'

Comes after Rosie Duffield shouted down by male MPs during trans debate
Sir Keir Starmer claims his party has changed since it 'allowed hate to spread unchallenged' – despite one senior female MP being heckled by male colleagues in a recent debate on gender.
Speaking on Saturday, the Labour leader alluded to the anti-Semitism scandals which had plagued his predecessor Jeremy Corbyn.
'Never again will Labour allow hate to spread unchallenged,' Sir Keir told London Labour's annual conference. 'We have changed our party and we're ready to change Britain.'
However, yesterday Labour peer Baroness Hayter claimed misogyny within the party is 'a bit like anti-Semitism'.
Sir Keir Starmer (pictured) claims his party has changed since it 'allowed hate to spread unchallenged'
Rosie Duffield recently despaired at being 'shouted down' by male colleagues during a House of Commons debate on Scotland's gender identity reforms
Her comment came just over a week after Rosie Duffield was shouted down by male colleagues during a debate on Scotland's controversial Gender Recognition Reform Bill.
The MP for Canterbury, who has suffered domestic abuse at the hands of a former partner, later wrote a piece for online comment website Unherd titled 'Labour has a woman problem'.
She said: 'In 2019, it was hard enough trying to convince my constituents that Labour wasn't anti-Semitic. In the next election, when they inevitably ask whether Labour is sexist, I'm not sure I'll be able to do the same.'
Baroness Hayter, a former shadow deputy leader of the Lords, told The Sunday Times that Labour MPs were often worried about the abuse they and their staff suffered.
'I see this as being a bit like anti-Semitism when it was first called out in the party and people were saying it was all being exaggerated and overblown,' she said. 'They are trying to squash us and stop us from raising it. But this is misogyny.'
Labour peer Baroness Hayter (pictured) claimed misogyny within Labour is 'a bit like anti-Semitism'
Meanwhile, another peer told the newspaper that the treatment of Ms Duffield during the debate had prompted some to see the 'bullying and misogynistic behaviour for what it is'.
They added: 'This is women being aggressively silenced by men.' Labour backbencher Lloyd Russell-Moyle was among those who shouted down Ms Duffield and Tory MP Miriam Cates as they spoke out on transgender law.
He also moved to the Tory side of the house to apparently stare down Ms Cates.
Later the party's chief whip ordered Mr Russell-Moyle to apologise for his behaviour.
But last week Ms Duffield told TalkTV that Sir Keir would not 'show public support' for her and that she had 'no idea' what he personally believed on the topic.
The Labour leader made tackling hatred and prejudice against Jewish people a priority when he took over from Mr Corbyn in April 2020.
Six months later a report found the party to have been in breach of the Equality Act under Mr Corbyn's leadership. He acknowledged anti-Semitism in Labour but claimed it was 'overstated'.
The Left-winger was suspended from the parliamentary party after these remarks and sits as an independent.
A Labour spokesman said: 'As Keir Starmer has said, our debates should always be conducted with respect and tolerance. That means listening to all points of view.
'There can be no tolerance for misogyny in any form.'
Source: Read Full Article