Teen 'dies in her sleep' at £35,000-a-year British boarding school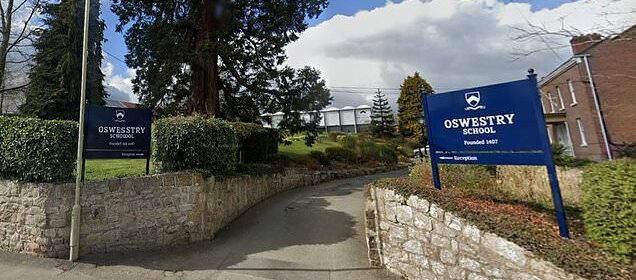 Teenage girl pupil dies in her sleep at £35,000-a-year boarding school that is one of the oldest in the country
The Year 13 girl was found dead in a dormitory at Oswestry School in Shropshire
The tragedy rocked the school, founded in 1407, with pupils receiving support  
A teenage girl has died in her sleep while studying at one of Britain's oldest boarding schools.
The Year 13 pupil was found dead in her dormitory on Saturday morning at Shropshire's Oswestry School on March 18.
The tragedy has rocked the Upper Brook Street institution, which can charge up to £35,310 a year for senior boarders. 
The girl has not been named but it is believed she is aged between 17 and 18. 
The Oswestry described the mourning period as an 'incredibly difficult and painful time' and said staff and pupils are receiving support following the teen's death. 
The teenage girl died 'peacefully in her sleep' a spokesperson from the Oswestry School (pictured) claimed. She was reportedly found in her dormitory at the boarding school on Saturday
A spokesperson for the independent institution, which was founded in 1407 and claims to be one of the country's oldest, told the Shropshire Star: 'It is with immense sadness that we confirm the tragic news that a Year 13 pupil from Oswestry School passed away peacefully in her sleep on the morning of Saturday, March 18
'This is an incredibly difficult time for the whole school and our thoughts and prayers are especially with her family.
'Our priority is supporting our pupils and staff, and her family.
'We respectfully ask for privacy and compassion for the family and the school community during this painful time.'
MailOnline has approached West Mercia Police for comment about the teenager's death.  
The school is set in 50 acres of its own grounds and caters for children aged from four to 18. 
Among the school's alumni is former fastest man on Earth, John Godfrey Parry-Thomas. He set a world land speed record in 1926 racing his car 'Babs' along the beach of Carmarthen Bay, South Wales, reaching a speed of almost 170mph. 
He died in a crash in 1927 attempting to repeat his record-breaking run. 
Source: Read Full Article