Trump grand jury probes SECOND 'hush-money' payment to Playboy model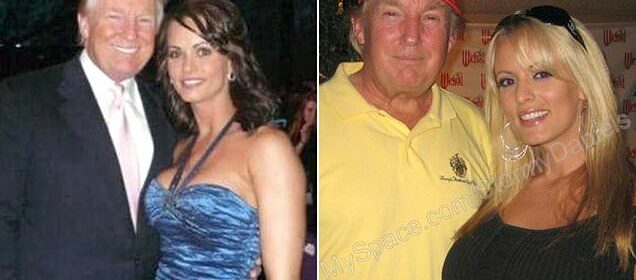 Trump grand jury investigates SECOND 'hush-money' payment to Playboy model Karen McDougal who claimed she had an affair with the former President – alongside $130,000 paid to Stormy Daniels
The Manhattan District Attorney's office has questioned witnesses in the Daniels case about another payment to a Playboy model, it is claimed
Playboy magazine's 'Playmate of the Year 1998' Karen McDougal was paid $150,000 after she claimed she had a 10-month affair with Trump
Prosecutors could reportedly use evidence about that to bring fresh charges against Trump or establish a pattern of conduct 
New York prosecutors looking to charge Donald Trump over 'hush money' paid to Stormy Daniels are also probing a $150,000 payment made to a former Playboy model, it is claimed. 
Manhattan District Attorney Alvin Bragg's team has questioned grand jury witnesses about cash given to Karen McDougal, who was Playboy magazine 'Playmate of the Year' in 1998.
McDougal claims she had a ten-month affair with Trump which began in 2006. Trump's office released a statement on Thursday branding the development a 'hoax'.
A grand jury is currently deciding whether Trump should be charged after handing $130,000 to Daniels, a porn star, to keep quiet about their alleged fling. The money was paid in the run up to the 2016 presidential election.
Evidence about payments to McDougal could either be used to bring new charges or establish a 'pattern of behavior' for the Daniels case, sources told the Wall Street Journal, which revealed the development.
McDougal said she met Trump in 2006 at the Playboy mansion when he was filming an episode of Celebrity Apprentice. She said she broke off the affair because she felt guilty. Trump has always denied the relationship
Manhattan District Attorney Alvin Bragg's team has questioned grand jury witnesses about cash paid to Karen McDougal (pictured), who was Playboy Magazine 'Playmate of the Year' in 1998. She said she had an affair with Trump in 2006
A grand jury in New York is considering whether to charge Trump over hush money he paid to porn star Stormy Daniels over an alleged affair
A spokesman for Trump said: 'It is sad to see radical Democrats and their partners in the media try to resurrect a dead witch hunt.
'Just like with every other hoax that President Trump has been targeted with, there is no crime, except for election interference through weaponization of our justice system against President Trump and his supporters.'
Bragg's office and McDougal's lawyer hadn't commented on the latest development on Thursday afternoon.
American Media Inc, the owner of the National Enquirer, paid $150,000 to McDougal in 2016 for exclusive rights to the story about her alleged affair with Trump, which he denies. But the purchase was a 'catch and kill' tactic to prevent the story being made public.
The Federal Election Commission later ruled that the company and its former president, David Pecker, struck the deal with Trump officials in order to suppress the story and 'prevent it from influencing the election'.
The FEC ruling detailed how Pecker and AMI met with Trump's former fixer Michael Cohen to help make negative stories about Trump and his relationships go away.
And it concluded that AMI 'coordinated' with the Trump campaign in paying $150,000 to McDougal.
Pecker gave evidence to the Trump grand jury on Monday.
The revelation about the McDougal payment being a part of the grand jury's process comes as Trump's team grows increasingly confident that Bragg will drop his case.
Trump's hopes to be let off the hook were bolstered after the grand jury started a month-long break in hearing evidence earlier this week. The former president and his team believe this is the 'first step' in the process.
Bragg impaneled a grand jury earlier this month in the hope of indicting Trump on campaign finance violations.
The jurors have been tasked with considering whether Trump broke the law when his attorney Michael Cohen gave $130,000 to keep quiet about claims she had slept with Trump.
The grand jury is considering whether Trump broke the law when his attorney Michael Cohen gave $130,000 to porn star Stormy Daniels to keep quiet about claims she had slept with Trump in 2016
Manhattan DA Alvin Bragg has been widely criticized for his handling of the case. Many say it has no legs and is driven by his own political hatred of Trump
Former National Enquirer publisher David Pecker (far right) is shown trying to hide from the press as he leaves the Lefkowitz State Office Building on Monday after giving testimony
But on Wednesday it was announced the jury will not hear any evidence in the case for a month.
On the few days a week that they are convened this week and next, they'll hear evidence on different cases. Then, they will enjoy a two-week 'scheduled hiatus'.
The hiatus is believed to have been scheduled to cover a NYC public school break, Easter and Passover, but no one from the DA's office has confirmed it.
Sources close to Trump told DailyMail.com on Wednesday afternoon that they believe the stall is the first step in a walk-back by Bragg's office.
'The case is going nowhere and Bragg knows it,' said one.
In a Truth Social video, Trump said it was an attempt by Democrats to interfere in the election.
'Election interference through prosecutors is the new ballot stuffing for the Democrat party. It's bad, it's dangerous, it's third world and this is the way they're going to do it. They are a disgrace to our nation,' he said.
Bragg has made no secret of his disdain for Trump and his family, previously boasting about suing them over 100 times in past roles.
Source: Read Full Article