Turkey-Syria earthquake: NEW earthquake hits Turkey in early hours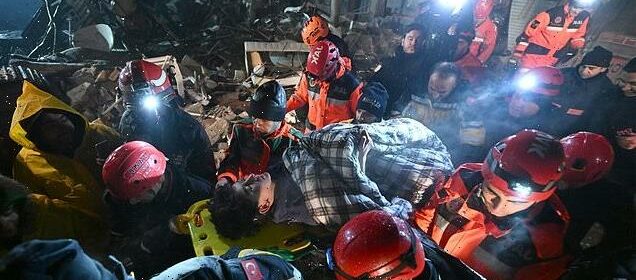 NEW earthquake hits Turkey in early hours as death toll nears 5,000: Screams of survivors freezing to death beneath rubble fill the air as rescue teams battle the elements through the night to save lives
The 5.8-magnitude quake struck at a depth of 1.2 miles in central Turkey
Came as death toll in Turkey alone rose past 3,300 early on Tuesday morning 
Another earthquake hit Turkey early Tuesday morning after two others devastated the country and its neighbour Syria a day earlier which killed at least 4,800 people and trapped scores more under the rubble of collapsed buildings.
The 5.8-magnitude quake struck at a depth of 1.2 miles in central Turkey, the European Mediterranean Seismological Centre (EMSC) said, as rescue efforts continued and as the death toll in Turkey alone rose past 3,300.
A winter storm causing near-freezing temperatures has been hampering those working desperately to free people from the rubble of destroyed buildings, with the cold weather making the need to reach trapped survivors even more urgent.
In the badly hit Turkish city of Hatay, residents helplessly called out as the screams and shouts of those freezing under the rubble filled the air. Desperate to reach them in time, rescuers have been digging with their bare hands.
Meanwhile, tens of thousands have been left homeless and sleeping in their cars or searching for temporary accommodation after thousands of buildings were brought down on both sides of the border, pouring misery on an area already plagued by war, insurgency, refugee crises and a recent cholera outbreak.
A third earthquake hit Turkey early Tuesday morning after two others devastated the country and its neighbour Syria a day earlier, killing at least 4,800 people and trapping scores more under the rubble of collapsed buildings. Pictured: A 14-year-old boy is seen being taken out of the rubble of a collapsed building approximately 24 hours after the first quake during search and rescue efforts in Kahramanmaras, Turkey
The US Geological Survey said Monday's first 7.8-magnitude earthquake struck at 4:17 am (0117 GMT) at a depth of about 11 miles.
The initial earthquake was so powerful it was felt as far away as Greenland and was followed by a series of aftershocks, including a 7.5-magnitude tremor that struck in the middle of search and rescue work on Monday.
Another earthquake of 5.6 magnitude struck central Turkey on Tuesday, the European Mediterranean Seismological Centre said. While it was not as powerful as the two on Monday, it was recorded at a depth of 1.2 miles. While shallower quakes cause more damage, it was initially unclear how much damaged it caused.
In Turkey, the death toll climbed to 3,381 people, Turkey's Disaster and Emergency Management Authority (AFAD) said on Tuesday morning.
The death toll in Syria stands at more than 1,500, according to the Syrian government and a rescue service in the insurgent-held northwest.
AFAD has said nearly 8,000 people have been rescued from 4,758 buildings destroyed in the Monday tremors. It said 13,740 search and rescue personnel were deployed and more than 41,000 tents, 100,000 beds and 300,000 blankets had been sent to the region. 'The delivery of personnel and vehicles continued uninterrupted during the night,' it said.
The devastation from the quakes has sparked a global response, with dozens of nations from Ukraine to New Zealand vowing to send help. Several international rescue missions rushed to Turkey and Syria after both countries called for aid.
Only a vast international response will be able to tackle the growing humanitarian crisis. But a winter blizzard has covered major roads into the area in ice and snow and officials said three major airports have been rendered inoperable.
This has complicated deliveries of vital aid.
Pictured: An aerial view of collapsed buildings inKahramanmaras, Turkey on Tuesday morning
Pictured: A woman cries while embracing another person, near the rubble of a destroyed building, following an earthquake in Hatay, Turkey
Pictured: People gather on the rubble as the search for survivors continues, in the aftermath of the earthquake, in Aleppo, Syria, February 7, 2023
The situation in north-west Syria is even more complicated, with the challenge of getting aid across the frontlines between rebel and government forces. 
Much of the quake-hit area of northern Syria has already been decimated by years of war and aerial bombardment by Syrian and Russia forces that destroyed homes, hospitals and clinics.
The conflict is already shaping the emergency response, with Syria's envoy to the United Nations Bassam Sabbagh seemingly ruling out reopening border crossings that would allow aid to reach areas controlled by rebel groups.
The Syrian health ministry reported damage across the provinces of Aleppo, Latakia, Hama and Tartus, where Russia is leasing a naval facility.
Even before the tragedy, buildings in Aleppo – Syria's pre-war commercial hub – often collapsed due to the dilapidated infrastructure.
Through the night in Turkey, survivors used their bare hands to pick over the twisted ruins of multi-storey apartment blocks – trying to save family, friends and anyone else sleeping inside when the first massive quake struck early Monday. 
'Where is my mum?' asked a distraught seven-year-old girl who was pulled from a collapsed building in Hatay, on the Turkish side of the border. The sense of disbelief was widespread, as residents struggled to comprehend the scale of the disaster. 
Some of the heaviest devastation occurred near the quake's epicentre between Kahramanmaras and Gaziantep, a city of two million where entire blocks now lie in ruins under gathering snow.
As residents tried to clear a mountain of masonry, plasterboard and furniture that had been a multi-story building, another collapsed nearby – sending crowds screaming and clamouring for safety.
With aftershocks continuously rattling the area, many terrified and exhausted survivors spent the night outdoors, too afraid to go home.
Some huddled under bus shelters, some wrapped themselves in plastic to repel the freezing rain and others burned debris to keep warm.
In the Turkish city of Antakya near the Syrian border, where 10-storey buildings crumbled onto the streets, Reuters journalists saw rescue work being conducted on one out of dozens of mounds of rubble.
The temperature was close to freezing as the rain came down and there was no electricity or fuel in the city. 
Elsewhere, a woman's voice was heard calling for help under a pile of rubble in the southern Turkish province of Hatay. Nearby, the body of a small child lay lifeless. 
Pictured: 24-year-old Rumeysa Yalcinkaya is rescued from underneath the rubble in Kahramanmaras, Turkey on Tuesday morning – more than 24 hours after the first quake
Pictured: An aerial view of a destroyed building in seen in Adiyaman, Turkey on Tuesday
Pictured: A man stands infront of a destroyed building in Malatya, Turkey as rescue workers continue their search for survivors
Pictured: People take rest next to a bonfire in the rubble in Kahramanmaras, Turkey
Weeping in the rain, a resident who gave his name as Deniz wrung his hands in despair. 'They're making noises but nobody is coming,' he said.
'We're devastated, we're devastated. My God … They're calling out. They're saying, 'Save us' but we can't save them. How are we going to save them? There has been nobody since the morning.'
Families slept in cars lined up in the streets.
Ayla, standing by a pile of rubble where an eight-storey building once stood, said she had driven to Hatay from Gaziantep on Monday in search of her mother.
Five or six rescuers from the Istanbul fire department were working in the ruins – a sandwich of concrete and glass.
'There have been no survivors yet. A street dog came and barked at a certain point for long, I feared it was for my mother. But it was someone else,' she said.
'I turned on the lights of the car to help the rescue team. They took out only two bodies so far, no survivors.â
In Kahramanmaras, north of Antakya, families gathered around fires and wrapped themselves in blankets to stay warm.
'We barely made it out of the house,' said Neset Guler, huddling with his four children. 'Our situation is a disaster. We are hungry, we are thirsty. It's miserable.'
Rescuers search for victims and survivors amidst the rubble of a collapsed building late on February 6, 2022 in the town of Sarmada, in Syria's rebel-hold northwest
Pictured: An aerial view of destroyed buildings in Kahramanmaras, Turkey are seen on Tuesday
Pictured: Thick black smoke rises from a fire at the Iskenderun port after an earthquake in Iskenderun, Turkey February 7, 2023. Hundreds of toppled shipping containers can be seen
The earthquake, which was followed by aftershocks, was the biggest recorded worldwide by the U.S. Geological Survey since one in the remote South Atlantic in August 2021. It is the deadliest in Turkey since one of similar magnitude in 1999 that killed more than 17,000. Nearly 16,000 were reported injured in Monday's quake.
Poor internet connections and damaged roads between some of the worst-hit Turkish cities, homes to millions of people, hindered efforts to assess the impact and plan help.
Turkish President Tayyip Erdogan, preparing for a tough election in May, called the quake a historic disaster and said authorities were doing all they could.
In the Turkish city of Iskenderun, rescuers climbed an enormous pile of debris that was once part of a state hospital's intensive care unit in search of survivors. Health workers did what they could to tend to the new rush of injured.
'We have a patient who was taken into surgery but we don't know what happened,' said Tulin, a woman in her 30s, standing outside the hospital, wiping away tears and praying.
In Syria, the effects of the quake were compounded by the destruction of more than 11 years of civil war.
In the rebel-held northwest, the death toll stands at more than 740 people, according to the Syrian civil defence, a rescue service known for digging people from the rubble of government air strikes.
The civil defence said hundreds of families were trapped under the rubble and time was running out to save them.
A top U.N. humanitarian official in Syria said fuel shortages and the harsh weather were creating obstacles to its response.
'The infrastructure is damaged, the roads that we used to use for humanitarian work are damaged, we have to be creative in how to get to the people … but we are working hard,' U.N. resident coordinator El-Mostafa Benlamlih told Reuters in an interview via video link from Damascus.
The Syrian health ministry said the death toll in government-held areas stood at 764 people.
This is a breaking news story. More to follow… 
Source: Read Full Article