Ukraine denies any involvement in Nord Stream pipeline blast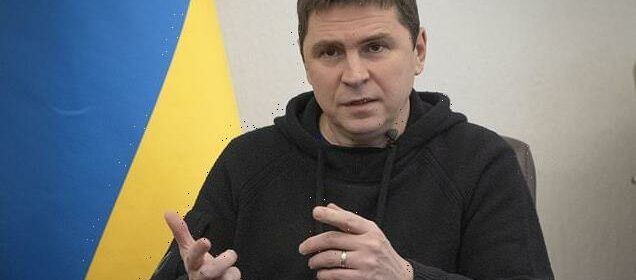 Ukraine denies any involvement in Nord Stream pipeline blast after US officials say 'pro-Kyiv' group were behind the explosion: Russia pours scorn on American claim
Senior aide to Ukraine's President said Kyiv has no information 
Kremlin said media reports on attacks are coordinated effort to divert attention 
Ukraine has denied any involvement in the Nord Stream pipeline blast after US officials said a 'pro-Kyiv' group were behind the explosion. 
A senior aide to Ukraine's President Volodymyr Zelensky, Mykhailo Podolyak, said that Kyiv was 'absolutely not involved' in the blasts and has no information about what happened.
'This is not our activity,' Defence Minister Oleksiy Reznikov told reporters in Stockholm ahead of a meeting with EU defence ministers, in response to a report in The New York Times on Tuesday that US officials had seen new intelligence indicating a 'pro-Ukrainian group' was responsible for the sabotage. 
Meanwhile, the Kremlin said today that media reports on the Nord Stream pipelines attacks are a coordinated effort to divert attention and the Kremlin is perplexed at how US officials can assume anything about the attacks without investigation.
Kremlin spokesman Dmitry Peskov told the state RIA news agency that Nord Stream shareholder countries should insist on an urgent, transparent investigation.
Image released by the Danish Defence Command shows the gas leak at the Nord Stream 2 gas pipeline as it is seen from the Danish Defence's F-16 rejection response off the Danish Baltic island of Bornholm, south of Dueodde
A senior aide to Ukraine's President Volodymyr Zelensky, Mykhailo Podolyak (pictured), said that Kyiv was 'absolutely not involved' in the blasts and has no information about what happened
'We are still not allowed in the investigation. Only a few days ago we received notes about this from the Danes and Swedes,' Peskov said.
'This is not just strange. It smells like a monstrous crime.'
New intelligence reviewed by US officials suggests that a pro-Ukraine group – likely comprised of Ukrainians or Russians – attacked the Nord Stream gas pipelines in September, but there are no firm conclusions, the New York Times reported on Tuesday. 
In a cautious report that did not identify the source of the intelligence or the group involved, the publication said the US officials had no evidence implicating Zelensky in the pipeline bombing.
But the attack benefitted Ukraine by severely damaging Russia's ability to reap millions by selling natural gas to Western Europe.
At the same time, it added to the pressure of high energy prices on key Ukrainian allies, particularly Germany.
The US intelligence review suggested those who carried out the attacks opposed Russian President Vladimir Putin 'but does not specify the members of the group, or who directed or paid for the operation,' the New York Times wrote.
The September 26 explosions on the pipelines connecting Russia and Germany occurred in the exclusive economic zones of Sweden and Denmark. Both countries have concluded the blasts were deliberate, but have not said who might be responsible
'Obviously, the authors of the attack want to divert attention. Obviously, this is a coordinated stuffing in the media,' Kremlin spokesman Dmitry Peskov (pictured) told the state RIA news agency
'Officials who have reviewed the intelligence said they believed the saboteurs were most likely Ukrainian or Russian nationals, or some combination of the two US officials said no American or British nationals were involved,' according to the New York Times report.
Russia's deputy UN envoy said on Tuesday that the New York Times report 'only proves that our initiative on launching an international investigation under the auspices of the UN Secretary-General is very timely'. 
Russia plans to call a vote in the UN Security Council by the end of March on its draft resolution asking Secretary-General Antonio Guterres to establish such an inquiry, Deputy Russian UN Ambassador Dmitry Polyanskiy told Reuters.
A week after the Nord Stream pipeline blast, staff at a Scandinavian delegation in Brussels walked out of their embassy intelligence briefing, impressed by the level of detail they had been given so shortly after the attack, The Times newspaper reports.
It had been carried out by a private venture originating in Ukraine, rather than by the Americans, the Russians or the Poles, their intelligence service is reported to have told them. 
They were told this would not be made public and to avoid questions about why the official investigation into the destruction of the pipeline was moving at such a slow pace.
The name of the suspected private sponsor, a Ukrainian not linked to Zelensky's government, has been circulating in intelligence circles for months but has not been revealed, according to The Times.
Nato officials appear to have wanted to protect Ukraine from a public dispute with Germany, which had been procrastinating over whether to provide crucial military aid, including IRIS-T air defence systems and Leopard 2 tanks.
Russian President Vladimir Putin speeches during the plenary session of the Russian Energy Week 2022, on October 12, 2022 in Moscow
Pictured: A satellite image shows gas from the Nord Stream pipeline bubbling up in the water following incidents in the Baltic Sea, in this handout picture released September 29, 2022
The September 26 explosions on the pipelines connecting Russia and Germany occurred in the exclusive economic zones of Sweden and Denmark. 
Both countries have concluded the blasts were deliberate, but have not said who might be responsible.
The United States and NATO have called the pipeline attacks 'an act of sabotage,' while Moscow has blamed the West. Neither side has provided evidence.
Denmark, Germany and Sweden said last month that their investigations have not yet concluded. The United States and Britain said on Tuesday they were waiting on those findings.
'We need to let these investigations conclude and only then should we be looking at what follow-on actions might or may not be appropriate,' said White House spokesperson John Kirby.
Germany said on Tuesday it had taken note of the New York Times report but that its own investigation had not yet produced results. 
NATO Secretary-General Jens Stoltenberg and Swedish Prime Minister Ulf Kristersson both declined to comment on the report during a news conference in Stockholm.
Russia's Foreign Ministry spokeswoman Maria Zakharova said the media reports on Tuesday underscored the need for Moscow's questions about what happened to be answered. 
The pipelines were built by Russia's state-controlled Gazprom. 
In the year since Russia invaded Ukraine, Europe has drastically cut its energy imports from Russia. Moscow this week called for all Nord Stream stakeholders to decide its fate.
Nord Stream 2 pipeline construction in Russia (file photo)
A picture taken with a drone shows pipes at the landfall facilities of the 'Nord Stream 2' gas pipeline in Lubmin, Germany, September 7,  2022
Germany's ARD broadcaster and Zeit newspaper reported on Tuesday, without citing sources, that German authorities were able to identify the boat used for the sabotage operation.
A group of five men and one woman, using forged passports, rented a yacht from a Poland-based company owned by Ukrainian citizens, the German media outlets reported. The nationality of the perpetrators is unclear, they reported.
Investigators found traces of explosives on the yacht, which the group took from Rostock, Germany on September 6, according to ARD and Zeit. 
They also reported that intelligence indicated that a pro-Ukrainian group could be behind the attack, but German authorities have not yet found any evidence.
Russia last month gave the UN Security Council a draft resolution which – if adopted – would ask UN Secretary-General Antonio Guterres to establish an international, independent investigation into the attack and who was responsible.
The owner of Russia's Wagner Group military company claimed Wednesday that his troops have extended their gains in the key Ukrainian stronghold of Bakhmut as fierce fighting continues in the war's longest battle.
Yevgeny Prigozhin said Wagner troops have taken full control of the eastern part of Bakhmut. He claimed that they now control all districts east of the Bakhmutka River that crosses the city in the eastern Donetsk region. The center of Bakhmut is located west of the river.
Ukrainian authorities haven't commented on Prigozhin's claim. The Institute for the Study of War, a Washington-based think-tank that closely monitors the fighting in Ukraine, said in its latest analysis that 'Russian forces have likely captured the eastern part of Bakhmut, east of the Bakhmutka River, following a controlled Ukrainian withdrawal from eastern Bakhmut as of March 7'. 
The Wagner Group has spearheaded the Russian offensive in Bakhmut that has lasted for six months and reduced the city with a prewar population of more than 70,000 to a smoldering wasteland.
Ukrainian soldiers in a trench under Russian shelling on the frontline close to Bakhmut, Donetsk region, Ukraine, Sunday, March 5, 2023
Ukrainian soldiers fire a self-propelled howitzer towards Russian positions near Bakhmut, the site of the heaviest battles, Donetsk region, Ukraine, on March 7, 2023
Russian troops have enveloped the city from three sides, leaving only a narrow corridor leading west. The only highway west has been targeted by Russian artillery fire, forcing Ukrainian forces defending the city to rely increasingly on country roads, which are hard to use before the ground dries.
Ukrainian authorities have hailed the defenders of the 'fortress Bakhmut,' and Zelensky vowed Monday not to retreat from Bakhmut after chairing a meeting with his top generals.
Western officials have emphasized that even if Ukrainian troops eventually retreat from Bakhmut, its capture will not have strategic significance or change the course of the conflict.
The Ukrainian military has already strengthened defensive lines west of Bakhmut to block the Russian advance, including in the nearby town of Chasiv Yar that sits on a hill a few kilometers west. Further west are Kramatorsk and Sloviansk, the heavily fortified Ukrainian strongholds in Donetsk.
For the Kremlin, capturing Bakhmut is essential for achieving its stated goal of taking control of the whole of Donetsk, one of the four Ukrainian regions that Moscow illegally annexed in September.
Russian Defense Minister Sergei Shoigu said Tuesday that the seizure of Bakhmut would allow Russia to press its offensive deeper into the region.
EU defence ministers will discuss Wednesday plans to raid their stockpiles to rush one billion euros' worth of ammunition to Ukraine and place joint orders for more to ensure supplies keep flowing.
Ukraine's Western backers warn that Kyiv is facing a critical shortage of 155-millimetre howitzer shells as it fires thousands each day in its fight against a grinding Russian offensive.
Ministers meeting with their Ukrainian counterpart Oleksiy Reznikov in Stockholm will debate a three-pronged push to meet Kyiv's immediate needs and bolster Europe's defence industry for the longer term.
The first part of the plan, as laid out by the EU's foreign policy service, envisions using a billion euros ($1.06 billion) from the bloc's joint European Peace Facility to get member states to send shells in their stocks to Kyiv within weeks.
Ukraine's European allies have already depleted their shelves, committing some 12 billion euros of military support, with 3.6 billion euros coming from the joint fund.
Ministers meeting with their Ukrainian counterpart Oleksiy Reznikov (pictured) in Stockholm will debate a three-pronged push to meet Kyiv's immediate needs and bolster Europe's defence industry for the longer term
Officials say they are confident there are enough 155-mm shells still in storage that Europe's own defences will not be made too vulnerable. The defence ministers are expected to provide details during their meeting.
The second part of the plan is to pool together EU and Ukraine demands to place massive joint orders that would incentivise ammunition producers to ramp up their capacity.
The move represents an important shift for the 27-nation bloc as Russia's war has sped up the push to work more in unison on defence.
Officials say the money to cover Ukraine's needs could come from another one billion euros already in the joint kitty.
Estonia, the ex-Soviet republic that initially proposed spending four billion euros on a million shells for Ukraine, wants more new funds committed.
'According to Ukrainian needs, they would need at least 350,000 155-mm rounds per month,' Madis Roll, a senior official at Estonia's defence ministry, told AFP.
'Therefore, Estonia has proposed the initiative to jointly procure at least one million 155-mm ammunition rounds to Ukraine, which is the absolute minimum military requirement for Ukraine.'
EU countries are weighing whether the bloc's central defence agency or member states with more experience should negotiate contracts.
There is a strong desire to avoid seeing the process slowed down by bureaucracy.
There is also a thorny debate about buying ammunition from outside the bloc as some argue the priority should be speed, not helping European industry.
More broadly though, there is a clear sense that after years of lower investment after the Cold War, more needs to be done to get EU defence firms to step up their output fast.
'European industry is not adapted for the needs of a high-intensity conflict,' European internal market commissioner Thierry Breton told journalists Tuesday.
'Our defence industry must quickly switch to 'war economy' mode.'
Breton was to tell ministers that, beyond just placing a major joint order, the EU needs to unlock stalled funds to bolster industrial capacity and to ensure firms got easier access to loans.
Officials say they hope to agree on a firm plan to send the ammunition to Ukraine at a meeting of EU foreign ministers on March 20.
Source: Read Full Article