'Vaccine sceptic' who quit Sadiq Khan taskforce loses lawsuit bid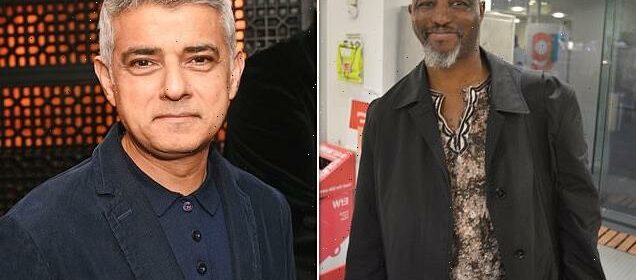 Hard-left 'vaccine sceptic' who resigned from Sadiq Khan's statue commission after he was accused of anti-Semitism loses bid to sue for discrimination
Dr Toyin Agbetu quit the taskforce following the backlash over his appointment
He has failed in lawsuit over claims of unfair dismissal and race discrimination
A hard-left 'vaccine-sceptic' who quit as an adviser to Sadiq Khan's diversity workforce following accusations of anti-Semitism has failed in a bid to sue the Mayor's office for discrimination.
Dr Toyin Agbetu, 55, who once compared Britons to Nazis and confronted the late Queen during a ceremony at Westminster Abbey, was appointed to sit on the Mayor's Diversity Commission in 2021.
But his appointment to the anti-racism taskforce, which was dedicated to overseeing landmarks in London such as statues, raised eyebrows after critics in the Jewish community highlighted 'anti-Semetic remarks' he made linked to the Holocaust.
Dr Agbetu also previously attracted controversy after he publicly disparaged the Pfizer Covid jab when health chiefs were trying to boost the uptake among ethnic minorities – sarcastically calling it a 'magical vaccine from Viagra specialists'.
Dr Toyin Agbetu, who once compared Britons to Nazis and confronted the late Queen during a ceremony at Westminster Abbey
Sadiq Khan issued a statement saying he was takes allegations of racism the 'extremely seriously' prior to Dr Agbetu stepping down
When the Commission for Diversity became aware of the backlash over his appointment, Dr Agbetu resigned, and Mayor Khan issued a statement saying he takes allegations of racism 'extremely seriously'.
Dr Agbetu has admitted he jumped before being pushed, before accusing critics of 'Afriphobia' and conspiring with Priti Patel's Home Office to discredit him and damage the BLM movement because they wanted dozens of monuments across Britain toppled.
Following a failed bid at the High Court for a judicial review, Dr Agbetu tried to sue Greater London Authority (GLA) at an employment tribunal.
The social rights activist brought claims of unfair dismissal and race discrimination, but lost both after the tribunal ruled he was not technically employed by the GLA.
Dr Agbetu, who founded Pan-African group Ligali in 2000, first made headlines in 2007 when he confronted the Queen at a ceremony to mark the 200th anniversary of abolition of slavery.
He demanded an apology from the late monarch and Government for its role in the slave trade, adding that it is an 'insult' to Africans, before he had to be escorted from Westminster Abbey.
He also once accused Labour MP Diane Abbott of being 'disloyal to her own community' and called Shadow Foreign Secretary David Lammy a 'poor example of Africans'.
Toyin Agbetu (pictured when he stormed to the front of Westminster Abbey during a service attended by the Queen in 2007), 53, where he yelled at the monarch
He demanded an apology from the late monarch and Government for its role in the slave trade during the event
A Jewish News investigation later found he claimed victims of the Holocaust were 'served well by Nazi hunters' compared to African victims of the slave trade.
His employment tribunal in Croydon, south London, heard he first had ties with the GLA in 2019, when he acted as an adviser for its slave trade abolition event for two consecutive years.
In January 2021, he was subsequently invited to form part of Mr Khan's Commission for Diversity.
A tribunal report said: 'The aim of the Commission is to increase diversity across London's public realm and ensure that the landmarks across the city reflect its diversity and achievements, focusing on increasing representation among Black, Asian and minority ethnic communities, women, the LGBTQ+ community and disability groups.'
His appointment as one of the Commission's 15 members was announced in February 2021, but quickly attracted criticism.
The report added: 'The announcement of his appointment was picked up by the media and politicians, some of whom questioned the appropriateness of his appointment and the robustness of London Greater Authority's vetting process.
'That was because of his prior public comments on various topics. The media coverage included an allegation… that he had made anti-Semitic remarks in the past.'
Dr Agbetu accused Diane Abbott of being 'disloyal to her own community' in an online blog post
Dr Agbetu also called Shadow Foreign Secretary David Lammy (pictured) a 'poor example of Africans'
Dr Agbetu is said to have previously claimed online that there was an 'immoral hierarchy of suffering' which victims and survivors of the Holocaust benefit from but black people do not.
He told the Commission 'he was not a racist, anti-Semite or holocaust denier as was being alleged', it was heard.
But just days later, on February 24, he quit the role.
Announcing his resignation, he wrote: 'I voluntarily decided to step back from the post before being asked, to help reduce the attacks on the important work of the commission, but I have no intention of letting such outrageous lies stand against me.'
Meanwhile, the Commission said: 'Toyin Agbetu has today resigned from the Commission for Diversity in the Public Realm and the Mayor believes this is the right course of action.'
Mr Khan added: 'I have a zero-tolerance policy towards racism and prejudice in any form, and all allegations of this nature are taken extremely seriously. Toyin Agbetu has resigned from the Commission.'
 In a post alongside the video he labelled the Pfizer coronavirus jab a 'magical vaccine from the Viagra specialists'
Shaun Bailey published an open letter in which he accused Mr Agbetu of spreading 'deeply dangerous information'
Dr Agbetu represented himself at the tribunal, claiming he had been discriminated against on grounds of race and unfairly dismissed.
But Employment Judge Paul Klimov dismissed his case.
he said: 'There was simply no contract of any kind' between Dr Agbetu and Greater London Authority.
'Just because a person is expected to abide by certain rules of conduct does not by itself give raise to contractual relations.
'There are thousands of similar informal common interest groups, pressure groups, associations and clubs operating across the country, from political debating societies and environmental pressure groups to neighbourhood watch groups and book clubs.
'To suggest that members of such informal groups are "workers" and the organiser is their "employer" is nonsensical.'
Judge Klimov went on to say Dr Agbetu's case failed as he was not an employee.
Source: Read Full Article