'War criminal' Putin launches drone strike on Kyiv school dorm killing at least three as others left trapped in rubble | The Sun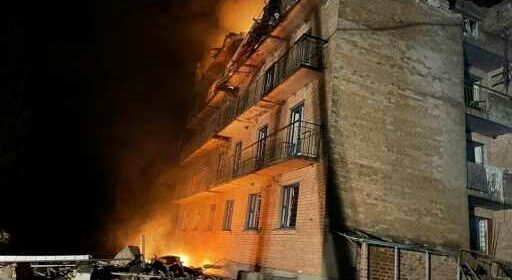 RESCUERS are desperately searching for survivors among the rubble of a Ukrainian high school after a Russian drone strike left three dead.
Another seven were wounded in the horror attack on the dormitory in the city of Rzhyshchiv near Kyiv in the early hours of the morning.
The first explosions rang out at around 3am, as Vladimir Putin reportedly launched 21 kamikaze drones in a mammoth air attack.
An 11-year-old was among the victims, rescue services announced.
It comes just days after the International Criminal Court issued an arrest warrant for the President over his alleged involvement in the abductions of children from Ukraine.
Two dormitories and an educational facility bore the brunt of Russia's latest bombardment in the Kyiv region, "partially destroying" the structures.
READ MORE ON RUSSIA
Russia suffers up to '30,000' losses in ONE city as Putin meets with Xi Jinping
Gloating Russia gives MEDALS to reckless fighter pilots who downed US drone
The State Emergency Service announced a series of drones slammed into the school in an update on the Telegram messaging app.
It read: "Three people died, two people were injured and one person was rescued. Four people are probably under the rubble."
The military administration of Kyiv later confirmed the numbers.
Authorities were forced to evacuate hundreds of people in the dead of night as the blasts rocked the region – just hours after Japanese Prime Minister Fumio Kishida departed Ukraine after his surprise visit.
Most read in The Sun
Bond casts Daisy May Cooper to play MI5 boss M as they replace Ralph Fiennes
I'll never take drugs again after pal Jamal Edwards' death, says Ed Sheeran
'Real reason' why Gino D'Acampo quit show with Gordon Ramsay and Fred Sirieix
Xi tells Putin 'change is coming' in most ominous threat to West yet
The leader toured the capital and paid tribute to fallen soldiers, saying he was "outraged by the cruelty".
The strike on the school, situated around 50 miles south of Kyiv, destroyed two floors of student residences and a study building.
A fire quickly broke out as a result, which engulfed more than 3,200 square feet of the building.
Chilling images published by the emergency services show the ominous glow of the blaze looming over one of the surviving structures.
Another showed how the school had been reduced to piles of rubble as the inferno continued to rage.
Firefighters battled to douse the flames and eventually extinguished them shortly before 7am local time.
A search and rescue operation then immediately followed, with teams pictured rummaging through the rubble for victims.
Officials said 20 people were taken to hospital, while another five currently remain unaccounted for, according to Ukrinform.
Andriy Nebytov, the head of Kyiv's regional police force, slammed Russia in wake of the deadly drone attack on the school.
"We see that the enemy once again attacked the civilian infrastructure, innocent people were killed, including the ambulance driver who came to save citizens," he said.
"This is another shameful war crime of the occupier.
"Significant casualties can be avoided in case of timely response for air raid and shelter signals, so don't neglect safety, it saves lives."
Ukraine claims to have shot down 16 out of 21 drones that were hurtled towards the nation in the early hours of Wednesday.
Reports suggest they were dealing with an onslaught of Iran-made self-destroying Shahed-136 UAVS, also known as Heran 2.
They were developed as suicide crafts that could loiter above targets before attacking them and have recently been hammering Ukrainian cities.
The drones, which are guided by satellite navigation, come equipped with an explosive warhead and can fly at a range of up to 2,500km at 185km/h.
President Volodymyr Zelensky said in a tweet: "Over 20 Iranian murderous drones, plus missiles, numerous shelling incidents, and that's just in one last night of Russian terror against Ukraine."
Residential buildings in Zaporizhzhia were also targeted by S-300 missiles, forcing people to hide in basements.
Zelensky suggested Russia is still refusing to consider a ceasefire after nearly 13 months of war.
He added: " Every time someone tries to hear the word 'peace' in Moscow, another order is given there for such criminal strikes."
His words came just hours after Chinese President Xi Jinping had left Russia after a landmark meeting with Putin.
The leaders discussed the the "no-limits friendship" between their countries during the two-day visit.
Xi barely mentioned Putin's shambolic invasion of Ukraine – but insisted China had an "impartial position".
Xi said he signed an agreement with Putin – bringing their ties into a "new era" of cooperation and "deepening" their partnership.
Their first meeting was followed by a luxurious meal ahead of peace talks about Ukraine.
Beijing has proposed a 12-point peace plan to end the Ukraine war that would see ceasefire on both sides – but would mean a territorial loss for Ukraine.
Putin praised Xi for a peace plan he proposed last month, and blamed Kyiv and the West for rejecting it.
But the West sees the peace plan as a ploy to buy the Russian dictator time to regroup his troops and cement his grip on occupied land.
In a chilling threat to the West as he left Moscow, Xi told Putin: "Change is coming that hasn't happened in 100 years.
"And we are driving this change together."
Footage shows how a Russian fighter jet intercepted a pair of US nuclear bombers after Putin ordered his own planes into the sky.
Video from the Su-35 shows it flying beside one of two massive B-52s while Russian Tu-95 Bear nuclear bombers were seen taking off in a show of force from the Russian tyrant.
Read More on The Sun
I'm an interior designer – what you need from H&M to make your home look posh
I'm a rat expert – here's why giant 'super rats' are taking over our homes
The encounter between the US and Russian planes was the first between the sides since the drone clash.
Before the B-52s were intercepted by Vladimir Putin's planes, a photo shows them being escorted by Polish F-16 jets over the Baltic Sea.

Source: Read Full Article