We're The Smithy Family… our house was torched but that was only the start – trolls accused us of the worst crime ever | The Sun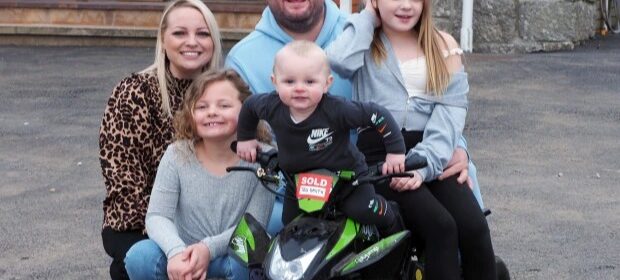 A SOCIAL media star has said that his family's home was torched before trolls accused them of the worst crime ever.
The Smithys, as they are known to their 3.3million followers, had their South London home petrol-bombed by thugs as they slept in July 2021.
Fire crews put out the blaze and police launched an investigation with cops releasing CCTV images of a suspect's car.
Dad Nick Smith, told The Sun that despite leaving London and moving from home to home, the family are still being targeted by cruel trolls and have been left with "nothing in the bank".
He says: "Our house was firebombed and we spent a year moving around and Airbnbing because I had an Osman warning issued to me by police – a serious threat to life. I had to take the kids out of school.
It was all a hoax to try and get the police to send a SWAT team."
Read More in News
Relief for commuters as rail union votes to accept pay offer
Man charged after woman, 85, mauled to death in dog attack
But a few weeks ago, Nick said that his family were accused of a horrible crime.
The dad revealed he was contacted by cops again after an anonymous caller in Manchester claimed there were firearms hidden in the family's new home, in rural Devon.
He says: "Less than four weeks ago I had the police at my door at 3am because someone had given them info that there was going to be an imminent attack on me.
"They wanted armed response teams to raid the house. It's something trolls do, it's called swatting."
Most read in The Sun
Fergie's billionaire pal sued for 'bankrolling sex-trafficking ring'
Cheryl pulls out of West End show 'at the last minute' leaving fans devastated
Gregg Wallace quits BBC series and admits 'it's not easy'
Emma Willis poses in her 'birthday suit' as she marks milestone
Following the house-fire supporters started a GoFundMe appeal to raise money for the family. It eventually topped £47,000.
But it also led to more trolling online, when Nick later posted two TikTok videos of him riding a jet ski and criticising "negative people".
It sparked controversy with some speculating it had been bought from the donations. But Nick insists that is untrue.
He says: "What I did on the jet ski was to stick two fingers up at the haters to say 'look what we've been through and we're still here'.
"It was me addressing the trolls and it was taken out of context.
"We don't earn as much as people think, we have nothing in the bank now, especially with the costs of moving the family around."
The Smithy Family are one of Britain's most popular influencers after becoming famous for their TikTok account, where they share funny and heartwarming videos of their madcap pranks enjoyed by their three million followers.
Nick's videos became so popular that he was able to quit his day job, with the family setting up a clothing range with personalised 'Smithy' branding.
But their success also gave rise to trolling, with the horrific firebombing marking the escalation of a six-month hate campaign.
After their address was leaked online, they received more than hundred takeaway deliveries they hadn't ordered – and a prostitute even once showed up at their door.
Nick, who reported the matter to the police, says: "We ended up paying for quite a few of the deliveries because we felt bad for the people who had been hoaxed. It was people's livelihoods.
"My car window was smashed. People called social services to make fake accusations against us.
"It was all people we didn't know who were doing it to get some kind of reaction from us. It was the dark side of social media."
MOVING FORWARD
Nick says it all began when forums devoted to their TikTok and Facebook sites started to include comments such as 'he needs taking down' and 'I hate this family'.
These then became more abusive with people calling the family 'filth and scum'.
Nick has ADHD and a compulsive personality disorder, which led to a gambling addiction when he started his successful building company.
He regularly discusses these issues online to help others.
Despite the difficulties of the past few years, Nick, who was working seven days a week to provide for his family before finding TikTok fame, admitted that he wouldn't change a thing because their internet fame has allowed him to spend more time with Jess and their children.
He says: "I don't regret anything because before all this I was working as a builder all day and the kids weren't getting the attention from me they get now.
"I believe that you use everything in life to move forward and better yourself.
"Everything that knocks you is an opportunity to learn. Surviving makes you stronger.
Read More on The Sun
I bought a tiny fluffy poodle but he kept evolving…he's now like a 15st horse
Coronation Street Maxine Peacock actress Tracy Shaw looks unrecognisable
"I've never shied away from speaking about these things because there are a lot of people who have been abused and gone through the foster system who we have helped.
"If I could move forward and make a life for myself then others can."

Source: Read Full Article