Why ministers MUST crack down on the UK's 'sex for rent' scandal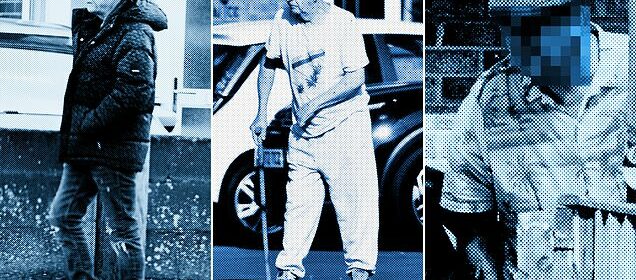 Why ministers MUST crack down on the UK's 'sex for rent' scandal: A Mail On Sunday investigation exposes the nauseating practices of landlords preying on young women by offering cheaper accommodation in exchange for sexual favours
Paul Holloway  said he was a supermarket worker from Bristol  
Geoff Walker, 70, told our reporter he was 45 and worked at an airport
Thousands of young women are victims of a 'sex-for-rent' scandal as landlords exploit the cost-of-living crisis and spiralling accommodation costs, The Mail on Sunday can reveal. 
Our undercover investigation has exposed how men are advertising rooms on sites such as Facebook and Craigslist for 'free' or a reduced rent on condition that the tenant participates in sex acts.
The MoS findings come just weeks before the end of a Home Office consultation period to consider tougher laws against landlords who offer cheaper rent in exchange for sex.
Even though such arrangements are illegal – with offenders facing up to seven years in prison – only one man has ever been convicted in a sex-for-rent case.
Undercover reporters who posed as 18-year-old students were offered free and reduced accommodation in exchange for sexual acts – with all the men contacted claiming that they had successfully fixed such deals in the past with other young women.
Paul Holloway, who said he was a supermarket worker from Bristol, advertised a room on Craigslist 
Geoff Walker, 70, from Manchester, told our reporter he was 45 and worked at an airport
A man on police bail for sex offences offered reduced rent to our undercover reporter, which could be negotiated depending on what she was willing to 'offer' him
Our reporters found adverts on Facebook offering cheap rent for 'single women' and 'females only'. When we got in contact with one advertiser to ask what would be expected if she moved in, the man replied: 'A girlfriend, talk, listen, smile, walk together… share bed.'
He continued: 'If you have a boyfriend or married, there is no point we continue this conversation.'
The landlord, who was 42, said he had a wife and children but lived alone.
His public advert said he was looking for a 'clean and honest female tenant', but over private messages he admitted: 'I look for a girlfriend who can stay with me in my house, free accommodation.'
Two months ago, Home Secretary Suella Braverman called for evidence from the public in order to better understand the scale and nature of the abhorrent 'sex for rent' exchange. The review will look at whether laws go far enough or if new measures are needed.
Research from the charity Generation Rent found that, during their lifetime, more than 200,000 female private renters could be offered discounted fees by landlords in exchange for sexual acts.
It expects the problem to worsen due to the cost-of-living crisis. In a poll conducted for the research it also found that eight per cent with a household income of £35,000 or less reported that their landlord or letting agent had propositioned them with a 'sex for rent' arrangement, with this figure rising to one in ten when respondents had an income of £20,000 a year or less.
Last night, Jess Phillips, Labour's Shadow Minister for Domestic Violence and Safeguarding, said: 'No one should feel pressured into sex because they can't afford rent. Sadly, predators are being emboldened by the Conservatives' continued failure to act, and The Mail on Sunday's investigation shows how entrenched this practice is and how ineffective the law is. Labour pushed for this vile practice to be a specific offence and all the Government would offer is a review.'
Ms Braverman said: 'Exploitative so-called "sex for rent" arrangements are a horrendous abuse of power that put people, especially young women, in desperate situations.
'I welcome this investigation by The Mail on Sunday, which sheds light on this harmful practice. It's vital that we listen to victims and consider whether new measures are needed to protect them, which is why I launched a public call for evidence to gain more evidence.'
The Crown Prosecution Service issued revised guidance in 2018 on 'prostitution and exploitation of prostitution offences' to include 'sex for rent' cases.
It suggests such arrangements could be illegal under Section 52 of the Sexual Offences Act 2003 that cover the offence of causing prostitution for gain.
However, many women may understandably be reluctant to report such offences as under the current law, victims must be legally defined as prostitutes.
Ben Brown, a member of the Law Society Criminal Law Committee, says: 'Existing legislation is not satisfactory.
'To box off this lurid behaviour, I would envisage new legislation that specifically targets unscrupulous landlords. Something ought to be done to close what is a very grey, murky loophole.'
A spokesman for Facebook's parent firm Meta said it had strict policies to remove harmful content, adding: 'This is abhorrent behaviour and we'd encourage anyone who encounters it to contact the police and report these private messages through the tools we provide.'
But Craigslist does not appear to have such strict policies. We also found adverts on the US-based website that asked for 'escorts' and 'female company'.
One said: 'Hiya. If you are able to come to Oxford once off or on regular basis I can offer discreet meetings always cash in hand. Basically I am young white shy guy that seeks for mistress for fun. Apply with picture and lets arrange.'
Craigslist, which is thought to be worth up to £7.5 billion, has been accused of not taking down suspect ads quickly enough and profiting from the exploitation of young women.
In 2010, The New York Times reported Craigslist was set to earn £23 million from sex-related revenue that year, nearly a third of its estimated annual sales of £80 million.
Craigslist did not respond to a request to comment about our findings. Last night, our reporters were still able to find adverts on the site advertising for 'female flatmates'. 'Small bedroom cheap rent,' one in Swansea said.
'I have a small spare bedroom which I'd like to rent cheap for the company, female company.
'I'm a single slim male 35 self- employed.'
Tilly Smith, Campaigns and Partnerships Officer for Generation Rent, said: 'A new "Sex for Rent" law, through which victims of this exploitation can seek justice, would be a positive step.'
Case study One
Paul Holloway, 58
Paul Holloway, who said he was a supermarket worker from Bristol, advertised a room on Craigslist. It said: 'Looking for a housemate, prefer female, rent to be discussed, could be free if willing to help.' When contacted by our undercover reporter, Holloway's first question was, 'How old are you?'
When she said '18', he replied: 'OK that's good, could be free rent if your [sic] willing [to] share my bed.' Our reporter then asked to explain bed-sharing and Holloway said: 'If you like your men older sex be good [sic]. Sex that's up to you but I think you want more once we do [sic].' Asked if he had made similar arrangements before, he said: 'I'm 50 but frisky lol, and yes I've had sex with younger before. And depends what your [sic] into sexually. I do like oral giving and receiving.' He said that an 18-year-old moved in and had stayed for four years.
Unsolicited, Holloway then sent nude images of himself. When later approached by The Mail on Sunday, he said: 'It's not me. I live alone. I don't even know what graiglist [sic] is.' The Craigslist ad was deleted minutes later. Holloway later emailed to say that his 'ex-partner' was responsible as she was trying to control him 'through fear'. A spokesman for Avon and Somerset police said: 'It's worrying that anyone believes it to be appropriate to advertise accommodation in return for sex.'
Case Study Two
Geoff Walker, 70
Geoff Walker, 70, from Manchester, told our reporter he was 45 and worked at an airport. His advert said he was offering free accommodation in exchange for 'cleaning & assistance'. He told our undercover reporter that she would be paid for any 'extras'. He then requested we call him. 'My name is Dave,' he said inviting us to visit him. 'I've got nothing to hide. I've had someone here before. She moved away to Scotland. You don't [get] charge[d] rent and bills are… already paid for you.'
Our reporter asked what he meant by 'assistance'. 'Are you OK to do anything on the sexual side?' he replied. 'Don't worry, it's not going to be like sex. Probably more like a play around.' He then mentioned a sexual act. When our reporter asked him how often he would expect this, he said: 'Twice a week.'
Our reporter asked Walker if she could see a photo of him and the room. He sent photos of a young man riding a quadbike. Next, Walker told our reporter he would pay for any 'sexual extras'. When she asked how much, he said: '£50 for 30 mins. Anything else like roleplay… uniforms… will be more money.'
When approached after we revealed ourselves as reporters, Walker said: 'I'm disabled so I can assure you it wasn't me.' The advert was deleted minutes after the call ended. The MoS presented the evidence to Greater Manchester Police.
Case Study Three
A man on police bail for sex offences offered reduced rent to our undercover reporter, which could be negotiated depending on what she was willing to 'offer' him. The landlord, who cannot be named for legal reasons, was arrested earlier this year on suspicion of sexual assault and prostitution offences and was on bail when he advertised a 'nice furnished room' on Craigslist.
The man, who is in his 70s, added that he was looking for a 'fun easygoing open-minded attractive female aged 20s to 40s'.
The advert also said: 'No bills or deposit to pay just look after the landlord['s] need[s] a few times a week for reduced rent.' Our reporter emailed and asked if the room was available and what he meant by 'reduced rent'. After asking for a photo and to message on WhatsApp, he gave our reporter a false name and said he was 50.
'I only have one large double now available and I have a few interested so now's your chance to tell me what your [sic] happy to inform [sic] a reduced rent and show me,' he said. 'I don't need a cleaner or a gardener…'
Our reporter then asked if the rent would be cheaper if she did more sexually.
The man then sent unsolicited nude images. 'If you can play with this occasionally that would be good,' he said. 'Twice (a week) would be better. I haven't promised you anything but a room for rent 110 pounds, up to you to negotiate.' When approached, the landlord declined to comment.
Source: Read Full Article