Wild moment rogue excavator driver goes on a rampage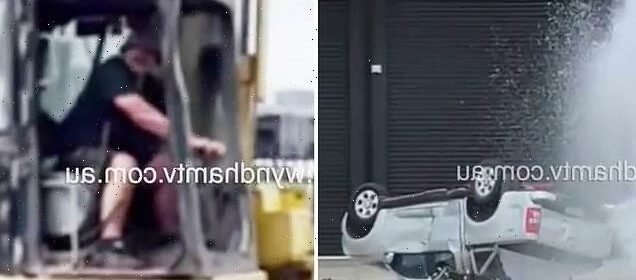 Wild moment rogue digger operator in a bucket hat goes on a rampage in Melbourne flipping cars, smashing a fence and sending water gushing metres into the air – and why he did it
Excavator driver damaged a fence, water main and two cars 
A witness filmed the entire incident 
It is unclear what the driver's motive was
The man calmly drove away after rampage  
The wild moment a man in a bucket hat went on a wild rampage behind the wheel of an excavator in Melbourne has been captured on video. 
The footage, taken by a stunned witness, shows the driver plough through the fence of a Truganina business, in Melbourne's west, before running amok in the eight-tonne monster. 
It remains unclear why the man attacked the business, although it has been speculated it was payback for unpaid wages.
A vehicle was flipped upside down during the excavator rampage on Saturday 
The burly driver was wearing a bucket hat when he carried out the rampage
The video, which appeared on Wyndham TV on Sunday, shows the driver smash through a water main, sending a geyser metres into the sky. 
He can then be seen turning his attention to cars parked outside an office building, pounding down the the excavator's bucket onto a vehicle multiple times before scooping it up and turning it over.
Witnesses could be heard screaming at the driver from afar as he continued his rampage unhindered. 
The burly driver can then be seen turning his attention to a white vehicle parked behind the geyser, smashing it from above before turning it over as well. 
The incident is believed to have happened on Saturday in an industrial estate in Truganina.
It remains unclear what sparked the attack, with many speculating online that it may have been a 'revenge' attack over unpaid bills. 
The excavator can later be seen parked safely behind locked gates just across the road from where the attack took place. 
An excavator (right) pounds a car parked outside an office in Melbourne's west
Daily Mail Australia contacted Victoria Police for information on Monday morning, but has not received a response. 
It is not the first time a person has used an excavator to go on a rampage over unpaid bills. 
In 2021, a digger driver in the United Kingdom smashed up £700,000 worth of trucks, vans and offices during a rampage at a recycling yard because of a 'work row'.
The suspect – a long term employee – was later charged with criminal damage, using a motor vehicle on a road or public place without third party insurance, and driving a motor vehicle otherwise in accordance with a licence.
A jilted employee in the United Kingdom used an excavator to go on a rampage, tipping ovber a truck (pictured) 
The UK excavator rampage left a trail of destruction (pictured) 
Last year, another UK man stole a digger smashed it into a house and two cars before continuing to McDonald's for a burger. 
That attack was allegedly over a bitter dispute. 
In September 2021, a Turkish digger driver went on a rampage at a coal mine causing significant damage.
In July 2021, a German construction worker used a large Volvo excavator to cause more than £400,000 worth of damage to an apartment complex in a row over wages.
In September 2019, drunken Darren Verity used his excavator to smash up his employer's £100,000 Range Rover and a nearby HGV truck. The shocking incident was captured on the firm's CCTV system which was later played in Bradford Crown Court before Verity was jailed for 14 months in November 2020.
Source: Read Full Article