DaBaby Shoots His Shot With Lizzo After She Shares Racy Bikini Pics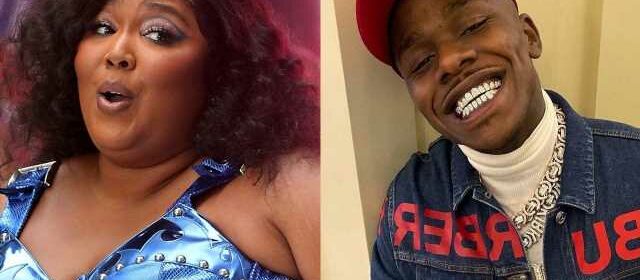 The 'ROCKSTAR' rapper can be seen getting flirty with the 'About Damn Time' hitmaker once again as he reacts to a cheeky Instagram photo of her showing off her derriere while having fun in the ocean.
AceShowbiz –DaBaby is persistent. The "SUGE" rapper could be seen getting flirty with Lizzo once again as he reacted to a cheeky Instagram photo of the "Juice" hitmaker showing off her derriere while having fun in the ocean.
In one of the pictures that Lizzo shared on Wednesday, August 10, the musician was featured putting her derriere in full display as she was bending over in ocean water. "Middle of the ocean," so the "About Damn Time" singer wrote in the caption.
Not stopping there, Lizzo shared some other snaps from her sunny outing. This time, it saw her gripping her bottom in her hands in one of the photos. "HE LUH THIS BIG FAT A** MUAHAHAHAHA," she captioned the picture.
DaBaby caught wind of the racy posts and made sure to show his love to Lizzo. Taking to the comments section, the North Carolina native left two emojis that indicated that he wanted to smack her on the behind. In the second post, meanwhile, the MC insinuated that he loved the shape of her rump by commenting with a peach emoji.
This wasn't the first time for DaBaby and Lizzo to have a flirty interaction. Back in 2019, Lizzo flirted with DaBaby, whose real name is Jonathan Lyndale Kirk, after his nudes leaked online. Without hesitating, she slid in his comments and wrote, "Hey big head.. [eyes emoji]."
As for the "ROCKSTAR" rapper, he also had become a regular in the comments section underneath Lizzo's social media posts. Last December, he dropped a peach and hand wave emoji under a video of Lizzo showing off her backside in a pair of short shorts. He also left three peaches in response to a picture of Lizzo promoting Rihanna's Savage x Fenty lingerie line.
Rihanna even jokingly called him out after noticing DaBaby's flirty comment. "Don't be looking at my good sis too hard now," so the "Umbrella" hitmaker told him.
Source: Read Full Article