Jeffree Star Jokes About Tom Bradys Retirement After His NFL Boo Teasers

The makeup guru denies being behind the seven-time Super Bowl champion's retirement, which he announced just days after the YouTube star began teasing about his new boyfriend.
AceShowbiz –Jeffree Star wants everyone to know that he has nothing to do with Tom Brady's decision to hang his uniform "for good." The Internet personality has joked about the athlete's retirement announcement which seemed to coincide Jeffree's social media posts about his NFL boo.
Taking to Twitter on Wednesday, February 1, Jeffree reposted Tom's video and wrote along with it, "This is not my fault… Repeat: This is not my fault." He claimed, "I've never met Tom, but congratulations on retirement! Wyoming is a good place to retire."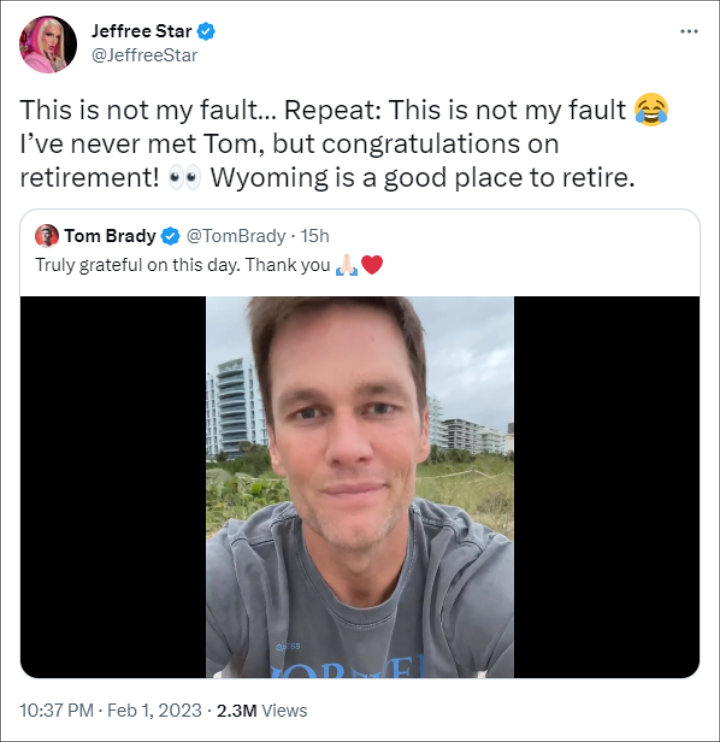 Jeffree Star joked about Tom Brady's retirement.
Fans found Jeffree's joke, which connected the big sports news to him, amusing, with one tweeting, "yeah that was weird timing after the speculation on your NFL guy. So funny." Another remarked, "What an interesting coincidence."
A third follower commented, "Jeffree, Jeffree, Jeffree…you are cracking me up with these tweets. Who cares who he's hooking up with as long as he's not breaking any laws or hurting himself or others… it's no one's business but theirs. All I have to say is do you hon, and be happy."
Some others, however, think that Jeffree was trying too hard to get himself into the Tom narrative. "No one thought you had anything to do with this," one critic snarkily reacted to the Jeffree Star Cosmetics founder's tweet. Another mocked him, "The desperation for attention is getting old Jeffree. Should just stick to dropping mediocre makeup collections that dont sell well."
Jeffree has been teasing about his new boyfriend, whom he has described as an NFL star, on social media. On January 27, he posted a photo of him and his boyfriend on a private plane. On Monday, January 30, he shared a bathroom selfie that captured the muscular man from the back. "His team didn't make it to the #SuperBowl but he's 6'6 and plays perfect in the bedroom," he gushed in the caption, while revealing that the photo was taken in Casper, Wyoming.
Most recently, Jeffree shared a suggestive tweet about his mystery boyfriend. "Throat goat," he posted along with a picture of his boo standing shirtless behind him.
Meanwhile, Tom announced on Wednesday that he's retiring "for good." He said in a video, "I'm retiring. For good. I know the process was a pretty big deal last time, so when I woke up this morning I figured I'd just press record, and let you guys know first."
"I won't be long-winded. You only get one super emotional retirement essay, and I used mine up last year, so really thank you guys so much," he added, referencing his previous retirement announcement. He later received support from his ex-wife Gisele Bundchen.
You can share this post!
Source: Read Full Article