Leonardo DiCaprio Is 'Not Dating' 19-Year-Old Israeli Model Eden Polani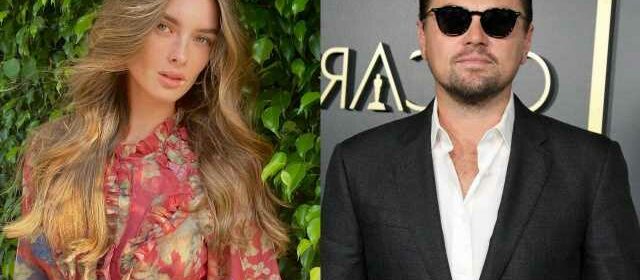 Meanwhile, the 48-year-old Oscar-winning actor has been dragged on social media for allegedly dating the young model, with some critics labeling him 'predator.'
AceShowbiz –Leonardo DiCaprio is apparently still single. If a new report is to be believed, the "Titanic" star is "not dating" 19-year-old Israeli model Eden Polani despite they were recently spotted at a party together.
Sources close to the Oscar-winning actor confirmed to Daily Mail that the pair are not in a relationship. "They were seated next to each other at a music-listening party. There were a number of people at that event," the insiders said. However, they did not comment on whether there had ever been any romantic connection between the two.
The dating rumors emerged after Leo was photographed getting close to Eden at Ebony Riley's release party for her new EP on January 31 in Los Angeles. In some pictures, the "Don't Look Up" actor could be seen showing off a soft smile next to the model as he appeared to enjoy himself at the packed party.
After photos of Leo and Eden made its way online, some Twitter critics called him out. "Leonardo DiCaprio's girlfriend is so young her high school experience was interrupted by COVID-19," one person wrote. Someone else commented, "Stop making jokes about Leonardo DiCaprio being a almost 50 dating literal teenagers and start calling him what he is – a predator."
The sighting arrived after Leo sparked romance rumors with Victoria Lamas. It is unclear if he is still with the 23-year-old beauty as he was apparently last seen in public with the model back in late December, when they celebrated New Year's Eve together.
Leo was rumored to be dating Victoria, the daughter of Lorenzo Lamas, after they were caught leaving a Los Angeles social club in December 2022. However, Lorenzo himself clarified that the two are "not in a serious relationship" though Victoria "likes him very much" and is "very smitten."
Prior to this, Leo was romantically linked to Gigi Hadid following the split from his girlfriend of four years Camila Morrone. As for the current nature of his relationship with Gigi, a source close to the twosome claimed that they "have respect" for one another.
"Leo and Gigi have enjoyed their time together when they're able to see each other, but when they're busy with various commitments, they're doing their own things," said the insider. "They have respect for one another and have always just been seeing where things go."
You can share this post!
Source: Read Full Article