Lil Nas X Teaches Nephews Not to Be Homophobic, See Kids' Funny Reactions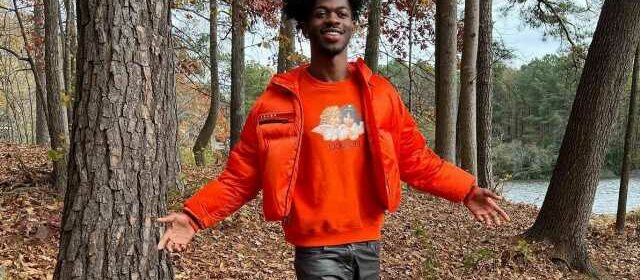 A TikTok video that sees the 'Old Town Road' hitmaker telling his two nephews to not be homophobic goes viral as many find the little boys' reactions hilarious.
AceShowbiz –Lil Nas X doesn't want to raise homophobic generation. The "MONTERO (Call Me By Your Name)" hitmaker teaches his nephews not to be homophobic. Instead of applauding his goodwill, social media users are more interested in the kids' reactions.
In a video that has since gone viral on TikTok, the "Industry Baby" artist recorded himself while sporting an orange cropped technical nylon down Prada jacket over an orange T-shirt with angel graphics. "Alright, TikTok, I'm gonna teach my nephews to not be homophobic," he said to the camera.
Lil Nas X then panned the camera to two little boys who were seemingly busy scrolling through Instagram in a car. "Hey, hey y'all," the "Old Town Road" singer tried to get their attention. After the kids turned to him, the 23-year-old star told them, "Don't..don't be homophobic." The boys appeared to be confused, before they both simply said, "Okay," and continued to look at the phone.
A bunch of TikTok users found the kids' reactions hilarious, with one commenting, "lol they are so unimpressed by you. [laughing with tears emojis] love it." Another quipped, "You're doing an awesome job teaching them bro they were so interested in what u said love that." A third hilariously mocked Lil Nas X, "they looked so invested into what you had to say."
"The way they ignored you, makes me think you're always doing stuff like this and they are over it [laughing with tears emoji]," another person posted. Someone else wrote, "They're like yah we already know, you interrupted our game for this??? [laughing with tears emojis]." A different user pointed out, "how can I be homophobic my uncle is gay."
Lil Nas X came out as gay in the summer of 2019. In an interview with GQ last November, the musician, whose real name is Montero Lamar Hill, said that he believes more gay rappers would appear in the future.
"The whole landscape is very hyper-masculine. I do feel like this newer generation of rappers who are coming in, and the ones who are here, are going to have to reshape their thoughts," he said. "Because change is happening."
The Grammy-winning musician continued, "There's going to be so many gay rappers. There's going to be more trans people in the industry and what not. Ten years from now, everything that I'm doing won't even seem like it was shocking."
You can share this post!
Source: Read Full Article