John Wick Producer Says Chapter 4 Ending Is Ambiguous: We Dont Have This Answer About [SPOILER]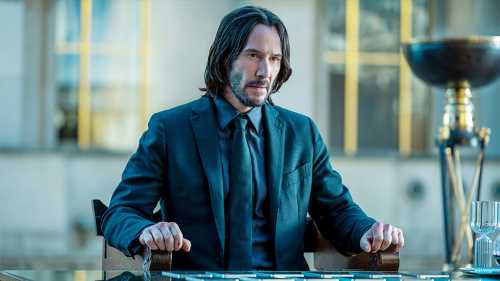 SPOILER ALERT: Spoilers are ahead for "John Wick: Chapter 4," now playing in theaters.
Is John Wick really dead? The end of "John Wick: Chapter 4" throws fans of the long-running action franchise a twist by seemingly killing off the eponymous assassin. John participates in a sunrise duel to free himself of the High Table, with his opponent, the Marquis Vincent de Gramont (Bill Skarsgard), nominating Caine (Donnie Yen) to take his place. Caine shoots John and John seemingly misses Caine during the third round of the duel, but John was merely saving his final bullet to kill the Marquis instead.
John sees a vision of his late wife, Helen, while on the steps of the Basilica of Sacré Coeur and seemingly succumbs to his gunshot wounds. Moviegoers see John hunched over on the steps, and then there's a scene of Winston (Ian McShane) and the Bowery King (Laurence Fishburne) visiting John's gravestone. But is John actually dead? Not even Keanu Reeves knows the definitive answer.
"I don't know, I guess I'm going to have to lean on 'never say never,'" Reeves told Entertainment Weekly when asked if John is dead or if he'll return for a fifth "John Wick" movie. "I mean, I wouldn't do a 'John Wick' film without [director] Chad Stahelski. We'd have to see what that looked like. For me, it feels really right that John Wick finds peace."
John Wick's potential death was the driving force behind Reeves' interest in making "John Wick: Chapter 4." As the actor said during a post-screening Q&A at the SXSW Film Festival, "When Chad and I were talking about it, the 'why' is death, and it was John Wick's dead. For him to get his peace or his freedom in a way, that was the reason to make the movie. You gotta have the 'why.'"
In an interview with IndieWire, franchise producer Basil Iwanyck said the finale of "John Wick: Chapter 4" is "an ambiguous ending." He added about Wick's death, "I'll put it that way. We don't have this answer."
"There are two characters, really," Iwanyck added. "There's John Wick, and John, the civilian. The question for all of us is, OK, if the audience embraces the story and the box office works, is there another story to be told? I don't know. But I don't think we've boxed ourselves into any corner, whether he's dead or alive, at the end of this movie."
Surely Lionsgate doesn't want to say goodbye to Reeves just yet. "John Wick: Chapter 4" broke franchise records with its huge $73.5 million opening. Whether or not a fifth movies come to fruition, the "John Wick" franchise will continue in 2024 with the Ana de Armas-starring spinoff "Ballerina," which features Reeves' assassin in a supporting role.
Read More About:
Source: Read Full Article