Kate Middleton 'wasn't always comfortable' in spotlight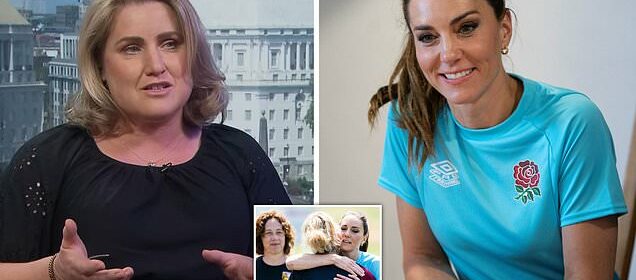 'She's come into her own': Princess of Wales 'wasn't always comfortable' during royal engagements but is now an 'impressive communicator', Rebecca English tells PALACE CONFIDENTIAL
The Princess of Wales, 41, visited Maidenhead Rugby Club earlier this week
Read More: Sarah Ferguson weighs in on Phillip Schofield scandal and says the disgraced presenter 'shouldn't be tried in court of public opinion
The Princess of Wales 'wasn't always comfortable' during royal engagements but is now an 'impressive communicator', a royal expert has claimed.
Appearing on the latest episode of Mail+'s Palace Confidential series, the Daily Mail's royal editor Rebecca English said it's clear that Kate, 41, has 'come into her own' recently.
Earlier this week, the mother-of-three visited Maidenhead Rugby Club to take part in a practice as part of her ongoing Shaping Us campaign.
After showing off her skills on the pitch, the Princess sat down to discuss how sport can play an important role in shaping the lives of children.
While watching Kate lead the discussion with a largely male group, Rebecca highlighted how far the Princess has come since first marrying into the Royal Family in 2011.
The Princess of Wales – who is Patron of the Rugby Football Union – meeting with local and national male players at Maidenhead Rugby Club on Wednesday
The Daily Mail's royal editor Rebecca English said she was 'really impressed' with Kate's communication skills at her recent engagement
The expert said: 'It was a discussion on fatherhood and what their experience as fathers has been like and what better support they could get […]
'I've always said about the Princess of Wales that I don't think she's always been the strongest communicator. 
'It's been a learning curve for her, I don't think she's necessarily always been comfortable with that.
'But she sat there as the only woman among this table of very successful sportsmen and she really held the floor – asking the right questions, directing them to different people, listening to their answers.' 
Although Rebecca said it was clear that Kate is 'very comfortable' discussing her area of expertise, the expert added: 'I could really see her come into her own. 
'I was really impressed with her.
What's more, Kate also shared an emotional moment with a grieving mother on the pitch on Wednesday.
After practice came to close, Kate was approached by Sarah Renton – whose 17-year-old daughter Issy Phipps sadly died just weeks ago after struggling with depression.
During her visit to Maidenhead RFC as part of her work on the Shaping Us campaign which focuses on early childhood, the Princess of Wales comforted Sarah Renton, a coach at the club who lost her daughter Issy to suicide at the end of April when she was just 17 years old
The grieving mother-of-three gave Kate a pair of made by her cousin in Issy's memory.
Kate was visibly moved by her interaction with Mrs Renton, who coaches the under-14 boys at the club, and put her arm around the mother before giving her a warm hug.
Mrs Renton later said the Princess had promised to wear the jewellery – which will raise money for a mental health charity – at a later date in Issy's memory.
Issy Phipps, a keen rugby player herself, had played for Maidenhead RFC from the age of four, before moving on to Reading RFC as she got older. 
The former chief executive of East Anglia's Children Hospices Graham Butland previously described how the Princess of Wales was 'so nervous' before delivering her first ever speech in her role as patron back in 2012.
The Princess gave her first ever public speech at The Treehouse Hospice, Ipswich, in 2012 (pictured during the visit) 
Confident Kate: The Princess, pictured at the openin of The Nook Children's Hospice in Norfolk in 2019, has grown comfortable in the limelight, but has not lost her 'common touch' 
Speaking to People magazine, he explained: 'In the very early days, I remember her coming into a room and her head would be slightly down and the long hair would be across. Now, she comes in with her head held high.
He added that the royal has 'comfortably grown into her new position', but has never lost her common touch or her ability to connect with people in a 'natural' way.
'This is not someone struggling to stay in character. That is her character,' he said, explaining that the royal has a great ability to empathise with patients and their loved ones.
He added that when the Princess comes to a hospice for a private visit, there is always 'tremendous feedback' from children and their families. 
Source: Read Full Article