One of Britain's oldest cats is looking for a retirement home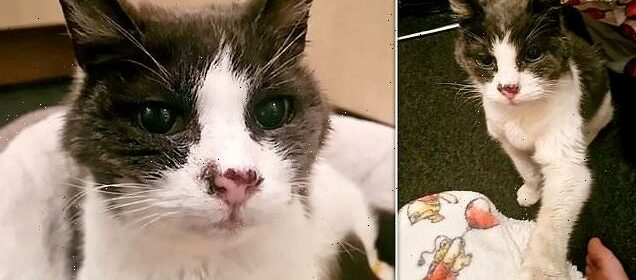 In search of a purr-fect ending! One of Britain's oldest cats is looking for a retirement home at the age of 20
Timmy is currently being cared for by the RSPCA while awaiting a new home
Must read:  Can you give Britain's loneliest dog a home after 500 days without?
One of Britain's oldest cats is looking for a retirement home – at the age of 20.
Timmy, who is aged the equivalent of 100 in human years, was taken in by the RSPCA in Burton-upon-Trent & District Branch, east Staffordshire, after his owner was no longer able to cope with him.
One of the oldest cats to come into their care, the animal charity is now seeking to re-home him. 
They are advertising for a 'special retirement home' in which  Timmy can spend his twilight years.
Georgia Coxon, from the Burton branch, described Timmy as a 'loving boy'.
Timmy the cat may be 20 but he is in relatively good health and simply needs a loving home to go to 
She said: 'He's a very special boy who as you can imagine at the age of 20, might not have long left but certainly has enough love to give in the meantime and deserves comfort in the time he has left.
'He's doing really well for his age, although he will be on hyperthyroid medication for the rest of his life and has a small cancer growth on his face.
'But this isn't currently affecting his quality of life and isn't in need for treatment.'
Timmy is believed to be one of the UK's oldest cats and is certainly the oldest staff at the RSPCA branch had seen.
But he has a long way to go before matching the record of the wold's oldest cat Flossie – currently the oldest in the world aged 27.
Timmy hasn't had the best few years recently.
While with his previous owner, he had kept sitting in the road which resulted in people repeatedly taking him to the vets and animal centres nearby worried for his wellbeing.
He is now safe and being kept indoors by the RSPCA. 
Timmy has a small cancerous growth on his face but it is being treated by medicine and he is fine otherwise
Timmy, from east Staffordshire, has been left homeless after his previous owner could no longer care for him 
Georgia added: 'Timmy is now kept as an indoor cat and has settled in well.
'His new owner would need to do the same and keep him indoors.
'Please do get in touch if you could provide a loving retirement home for the lovely Timmy.'
Anyone who thinks they can offer Timmy a new home can visit the branch for more information or contact the animal home via 01283 569165.
Source: Read Full Article