'Big Brother': Twitter Blasts Daniel Durston and Nicole Layog Over Treatment to Taylor Hale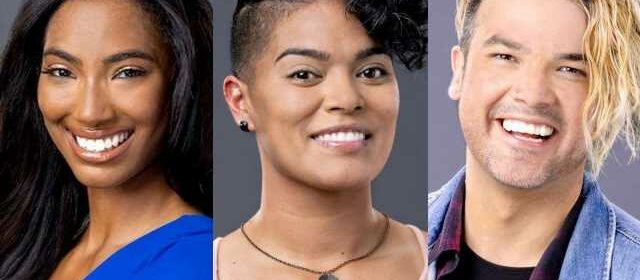 In a new episode of the reality TV show, Daniel angers viewers when he acts even more mean towards fellow houseguest Taylor Hale with one viewer even accuses him of racism.
AceShowbiz -"Big Brother" season 24 contestant Daniel Durston seemingly has established himself as the season's villain. In the Wednesday, July 27 episode of the reality TV show, Daniel angered viewers when he acted even more mean towards fellow houseguest Taylor Hale.
In the new outing, Daniel, who had been working with Nicole Layog to get Taylor evicted, confronted the latter. He went to Taylor after Nicole told him that she did a passive aggressive attack on her even though Taylor was only trying to show some support to her when they were coupled as for "Bestie Twist".
"Don't speak to me until the finale… the same s**t you did to Paloma, you're doing to her. You can f**k right off," Daniel yelled at Taylor in front of a bunch of other houseguests. He also blamed Taylor for Paloma having to leave the show earlier this season.
He shouted, "No, stop. I will never forget what you did to Paloma. You think she didn't spiral because of you? You didn't add to that? And now you're trying to do it to Nicole, the mind games?" As Nicole cried, Taylor tried to have a conversation with Nicole but she was coldly shot down instead. Not stopping there, Nicole then intentionally threw the Veto Competition as she believed that she could get Taylor evicted.
Upon watching the episode, fans took to Twitter to comment on the drama with many of them defending Taylor from Daniel and Nicole. "Daniel Durston and Nicole Layog are the worst big brother houseguests I've ever seen," a fan tweeted. "Their treatment of Taylor Hale has been so disgusting to witness."
Echoing the statement, someone else wrote, "The way many people in the house have treated Taylor is absolutely unacceptable, but Daniel has reached a different level of cruelty. It's gross watching him make sweeping, dramatic allegations."
"Nicole & Daniel accurately portrayed as bullying Taylor, the Leftovers getting all the screentime as the stars, Ameerah's delusional confidence, Taylor redemption storyline.. #bb24 One of my favorite episodes of Big Brother in a long time," another user opined. "i'm so close to breaking into that big brother house and humbling daniel myself," another comment read.
A fan, meanwhile, called for Daniel's eviction as saying, "Daniel should be removed from the house for that behavior… Taylor should be concerned about her health and safety." Accusing Daniel of racism, a user added, "No Daniel. What America is watching is the blatant racism and isolation towards Taylor in this house since day 1."
Source: Read Full Article