Tom Cruise Skips 2023 Oscars as Lady GaGa Is Set to Perform Top Gun: Maverick Soundtrack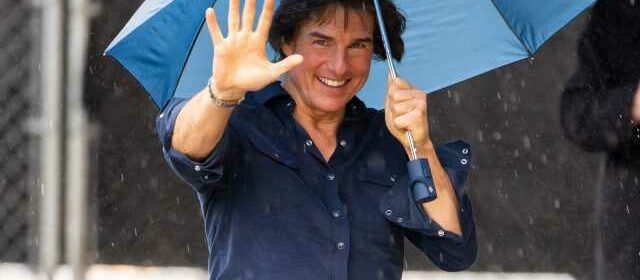 The 60-year-old actor reportedly won't be at the big ceremony as he is back on set overseas for 'Mission: Impossible – Dead Reckoning Part Two' in the U.K.
AceShowbiz –Tom Cruise is not attending this year's Oscars despite "Top Gun: Maverick" being nominated for six Academy Awards. Meanwhile, Lady GaGa has been confirmed to perform her single from the film at the ceremony.
The 60-year-old actor isn't going to be at the 95th Academy Awards on Sunday, March 12, as he has filming commitments. Entertainment Tonight confirmed he wouldn't be at the ceremony as he is back on set overseas for "Mission: Impossible – Dead Reckoning Part Two" in the U.K.. His absence means he won't see if "Top Gun: Maverick" scoops any of its six Oscar nominations – Best Picture, Writing (Adapted Screenplay), Film Editing, Sound, Music (Original Song) and Visual Effects.
It's understood the "Top Gun" sequel's producer Jerry Bruckheimer, 79, will accept its Best Picture award if it wins in the category. News Tom will not be in Hollywood for the event came hours after it was revealed Lady GaGa, 36, will perform her Oscar-nominated "Top Gun: Maverick" song "Hold My Hand" at the event. It had previously been reported she would not be able to make the event, but Entertainment Tonight also revealed the singer's plans had changed and she'll now not only attend but also sing the hit.
Oscars producer Glen Weiss had said GaGa was invited to perform but was unable to make the commitment at the time as she is shooting her role as Harley Quinn in "Joker: Folie a Deux", a sequel to 2019's "Joker" starring Joaquin Phoenix, which started production at the end of 2022. Glen, 61, had last week told Variety at a press conference, "We have a great relationship with Lady GaGa and her camp. She is in the middle of shooting a movie right now. Here, we are honouring the movie industry and what it takes to make a movie after a bunch of back and forth."
Glen added that due to her work on the "Joker" sequel "it didn't feel like she can get a performance to the calibre that we're used to with her and that she is used to… so, she is not going to perform on the show."
GaGa, born Stefani Germanotta, is nominated in the best song category alongside Rihanna (for "Lift Me Up" from "Black Panther: Wakanda Forever"), Diane Warren ("Applause" from "Tell It Like a Woman"), Stephanie Hsu, David Byrne and Son Lux ("This Is a Life" from "Everything Everywhere All at Once") and Rahul Sipligunj and Kaala Bhairava ("Naatu Naatu" from "RRR".) GaGa won an Oscar in 2019 for Best Original Song for the track "Shallow" from "Star Is Born", and went viral for her performance of the song with her co-star in the film Bradley Cooper.
And in 2022, she was at Liza Minelli's side onstage during the presentation of the award for Best Picture. GaGa said in January about her latest Oscar nomination, "Thank you so much to the Academy for nominating my song 'Hold My Hand' for an Oscar this year! Writing this song for the film 'Top Gun: Maverick' was a deep and powerful experience that I will never forget. So grateful for the magic of music and cinema. Love you my co-writer @bloodpop I'm on set filming now big love to little monsters!"
You can share this post!
Source: Read Full Article