Asylum seeker in Newquay hotel says coming to UK was 'worst decision'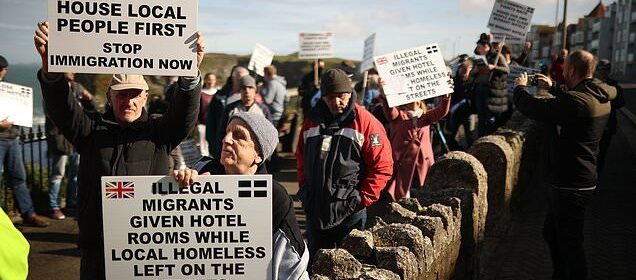 Gay asylum seeker who fled to escape family violence in country where homosexuality is illegal says coming to UK is the 'worst decision' he's ever made because he's forced to live in hotel 'prison'
Chris – not his real name – sought asylum at an airport due to his sexuality  
An asylum seeker says he regrets coming to the UK, describing it as 'one of the worst decisions' of his life. 
Chris – not his real name – sought asylum at an airport, telling officials he is gay and was escaping family violence as a result of his sexuality. 
He was transferred to Newquay, Cornwall in November and is staying in a hotel while waiting for his claim to be processed. 
Chris complained about experiencing hostility from local people, with protesters outside the hotel 'telling us to go back' and asking 'why didn't we go to France'. 
'I came looking, hoping to have a better life in terms of being who I am, being comfortable, not having to worry about anyone looking at me, not being threatened by my family,' he told the BBC. 
'But being here in the United Kingdom is like I'm living the same nightmare.'  
Anti-migrant protesters gather on the seafront in Newquay on Sunday
Chris said he chose to move to Britain 'to be me' because same-sex relationships are illegal in his home country, which was not named to avoid identifying him.   
'My step-dad wanted to kill me because of my sexuality,' he said.
The Newquay hotel where Chris is staying was the scene of a protest last month, with some campaigners opposing the decision to house asylum seekers there and others supporting them. 
He compared the hotel to a 'prison' and said he and other asylum seekers had been targeted with verbal abuse.  
'There were kids shouting F-words, they had flags telling us to go back, why we didn't go to France, showing us the middle finger. It feels humiliating,' he said. 
Another protest took place at a hotel in Newquay over the weekend.  
Chris claimed he and fellow residents had been suffering from boredom and poor mental health-.  
'I feel like I'm in a box and I'm just being pressed on – and I'm fighting to come out, but there is no alternative,' he said. 
'I feel like it is one of the worst decisions I've made. I should have just stayed there… instead of coming here and having to go through all this torture.' 
Ch Supt Ben Deer, from Devon and Cornwall Police, warned that a fake allegation that a man inside the hotel had been charged with rape has been fuelling tension.  
Pro-migrant demonstrators gather in Newquay counter the anti-asylum seeker protest
Currently 395 hotels in the UK are understood to be being used to accommodate more than 51,000 people at a reported cost of £6.8million a day – but the number is constantly increasing as the Government battles to start moving some asylum seekers to Rwanda while their applications to stay in the UK are processed.
The use of hotels continues to create controversy with residents of cities, towns and villages upset about local beds being turned over to refugees instead of paying guests.
Home Office figures have revealed how its contractors including Serco have taken over 363 hotels in England, 20 in Northern Ireland, ten in Scotland and two in Wales.
Many have been taken over at short notice, leading to the cancellation of weddings, parties and functions, as well as future bookings for paying guests.
Contractors involved in taking over and running hotels, providing meals and security for asylum seekers, have seen their profits surge.
Figures disclosed this week that the Home Office paid £20.6m to a Leeds-based firm called Calder Conferences to book hotels in 2021 which increased to £97m in 2022.
Its director Debbie Hoban has seen her annual remuneration increase from £230,000 to £2.2m – and now lives a luxury lifestyle from her £3m farmhouse home.  
A demonstration against asylum seekers being housed at the Novotel in Ipswich, Suffolk, was attended by around a dozen people last Saturday after inflammatory adverts for it on social media.
The demonstration was dwarfed by a counter-protest involving more than 100 people showing their support for asylum seekers, chanting slogans such as: 'Say it loud. Say it clear. Refugees are welcome here.'
The two groups faced each other across the road outside the hotel as asylum seekers peered out through windows in their rooms.
Scuffles broke out yesterday at a hotel housing asylum seekers in Newquay  
Ipswich's parliamentary Labour candidate Jack Abbott who joined the protest tweeted: 'Today the far right came to Ipswich. They sought to sow division and spread their hate.
'Instead, people in the town united, stood up to their bigotry and said: 'this is not who we are. Ipswich is a welcoming, diverse and inclusive town and hope will always defeat hatred.'
But Ipswich Conservative MP Tom Hunt accused counter-protesters of 'virtue signalling' and refusing to acknowledge whether there should be any 'cap' on migrants entering the country.
He said in a Facebook post: 'I'm strongly of the view that the majority of my constituents strongly oppose the Novotel for accommodating those who have illegally entered our country from France.
'I also believe strongly that the vast majority strongly believe in robust measures to tackle illegal immigration.'
The Home Office said: 'The use of hotels to house asylum seekers is unacceptable – we remain committed to making every effort to reduce hotel use and limit the burden on the taxpayer and the local communities.
'We continue to engage with local authorities as early as possible whenever sites are used for asylum accommodation and work to ensure arrangements are safe for hotel residents and local people.'
Source: Read Full Article