Beauty therapist paralysed after falling 60ft in Thailand returns home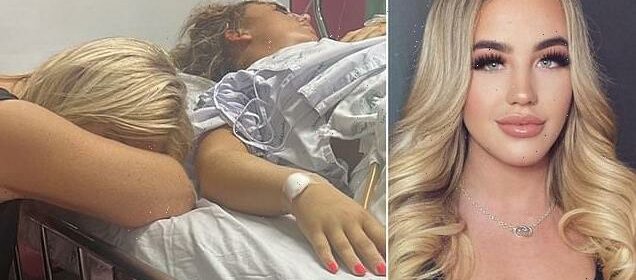 British beauty therapist, 21, who was left paralysed after falling 60ft from a balcony while on New Year's Eve holiday to Thailand has returned home to Coventry after family raised £75,000
Maddi Neale-Shankster fractured her spine and suffered two collapsed lungs
She was paralysed from the waist down after falling on the island of Ko Pha-Ngan
Family pleaded for donations after her travel insurance wouldn't cover her bill
A British beauty therapist who was left paralysed after falling 60ft from a balcony while on holiday in Thailand has returned home.
Maddi Neale-Shankster is back at her family's home in Coventry weeks after the incident in Ko Pha-Ngan island on New Year's Eve.
The 21-year-old was left paralysed after breaking her back, suffering two collapsed lungs and having ribs pierce her liver in the fall.
She faced being left stuck in Thailand after her travel insurance refused to pay the full bill, but has now come back after family raised £75,000 to cover the costs.
Maddi Neale-Shankster, pictured, fell 60ft from a hotel balcony on New Year's Eve in Thailand
The 21-year-old was left in hospital (pictured) after suffering a broken back, two collapsed lungs and damage to her liver
The beauty therapist, who is from Coventry, landed back in the UK on Monday, January 16, after spending more than two weeks in hospital, BBC reports.
She was accompanied by her parents Karen Moseley-Neale and Jamie Shankster, who had flown to Thailand to be with her following the incident, which has left her paralysed from the waist down.
The fundraiser set up by the family has so far brought in more than £76,000 in donations, which they say was used to cover 'all hospital fees, repatriation and transportation costs back to the UK'.
Now she is back in the UK she is expected to undertake further rehabilitation.
Speaking to the BBC last week, her mother said: 'Before the accident, I was on FaceTime to Maddi. An hour later, we got a phone call from her partner and all I could hear is Maddi screaming in the background and the sirens blaring.'
'Since the fall we are now coping with the realisation that potentially Maddi may never walk again,' her family said. 
'After the fall Maddi was left on the floor for 40 minutes helpless until an ambulance finally arrived.'
Maddi was rushed to hospital where surgeons performed surgery on the 21-year-old's back. Her condition has improved significantly over the past week.
Speaking about Maddi's condition, Karen said: 'She's really well in herself, she's sitting up, she's certainly found her sense of humour. She's actually lucky to be here only for the grace of God and the surgeons.'
'We can't thank everyone enough for their generosity, well wishes and support. We are eternally grateful,' Karen said.
The mother urged anyone travelling abroad to check their insurance cover carefully so that they don't end up in the same position.
Karen said: 'Maddi took holiday insurance while in Thailand for 10,000 baht (£247). She thought it was £10,000… I'd hate for anybody to be in this position.'
Maddi, pictured, was flown home on Monday, January 16, after more than £75,000 was raised to cover her hospital bills and transportation costs
The incident happened when she fell from a hotel balcony (pictured) on the Thai island of Ko Pha-Ngan
Maddi's family said money would be needed not only to cover her hospital bills, but to ensure she could be safely flown home.
The family wrote on the Go Fund Me page: 'To fly without ICD drains the nurses have advised us we will not be able to fly home for one whole year.
'This is not an option, every single minute here is time taken away from her rehabilitation at home and chance to get the right help to encourage walking again.
'To put it in black and white – ICD drains require a whole medical team at a high cost but no ICD drains means we can't fly home for 12 months. Any donations will only go on medication and transfer costs.'
Writing on the GoFundMe page after the money was raised, her family said: 'So today we wanted to make everyone aware that we have reached the target set and now have more than enough to cover all hospital fees, repatriation and transportation costs back to the UK. 
'We have decided to turn off the donations for this reason. 
'If you still wanted to help out directly there are several fundraisers taking place in Coventry which will go towards Maddi's rehabilitation and help towards her living costs until she is hopefully able to walk and return to work. 
'Once again we can not thank you all so very much for your generosity, we truly never expected this to happen so quickly and we are forever going to be eternally grateful.'
Source: Read Full Article