Entrepreneur on how she used MailOnline's Ad Manager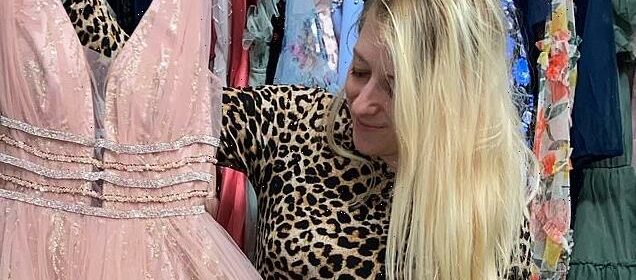 'I want everyone to know about us!' Entrepreneur who lends party outfits to kids in need on how she used MailOnline's Ad Manager to reach new customers
Advertising Feature
Picture the situation – you're weeks away from the party of the year that all your friends are going to and everyone's been discussing for ages… but you can't afford the cost of an outfit. 
With school proms becoming increasingly popular in the UK, this heartbreaking situation is all too familiar for thousands of children. 
It's something Ally Elouise, a 27-year-old from North Wales, set out to change by founding Prom Ally, which lends prom dresses and suits for free to school pupils and college students who otherwise couldn't afford one.  
Ally Elouise runs Prom Ally, a social enterprise which loans prom dresses for free to teenagers who could not otherwise afford them 
'Whether we like it or not, prom is becoming bigger and bigger each year and – alongside this growth – the price of dresses is also increasing drastically,' she says. 
'Some of the kids we work with have been bullied for not being able to afford outfits. Prom Ally helps them have the perfect night no matter what!'  
Prom Ally began in 2015 and began to receive donated dresses, suits, shirts and trousers from individuals and companies which it would then send out to teenagers who had been referred by schools, social services, food banks and charities. 
But as demand grew and grew Ally soon realised she would need to find more funding, so after registering Prom Ally as a Community Interest Company (CIC) she set up a new website called Eco Wardrobe in 2020. 
This allows members of the public to hire prom, bridesmaid, cocktail, or formal dresses for their special events, with all the profits going back to support Prom Ally. But before long the new site hit a major obstacle – Covid. 
Ad Manager: The results  
Type of campaign used: Contextual
Displayed to users reading: Shopping, TV and Showbiz articles
Specifically targeting women only, using high impact ad formats, the Double MPU and Billboard
This ensured the campaign was seen by 902,439 people within their target audience.
And the ads delivered 1,005 potential new customers to their website and helped to establish their new brand.  
'It wasn't a great time to launch an events business given we were in lockdown,' says Ally. 
'So, we put it on the back burner and instead did things like sewing masks to give out for free to people who needed them. Then, in 2021, we had a big relaunch and released a new website.'
Ally began loaning outfits through the website and selling others in the collection from her small shop in Llandudno, a coastal town not far from Anglesey. 
Even after lockdown eased and events started up again – leading to increased demand – she admits getting Eco Wardrobe going hasn't always been easy.
'Marketing a nationwide formalwear site from my small shop in Llandudno has been hard,' she says. 
It was with reaching new customers across the whole UK in mind that Ally jumped at the chance to try MailOnline's new advertising platform, Ad Manager. 
It's an easy-to-use system, which allows businesses to advertise to MailOnline's huge network of 25million readers, but without a huge price tag.
What's more, business owners can easily create their own campaign, set the budget and the target audience – and it can be live in less than 24 hours.
'Prom Ally and Eco Wardrobe are quite well known in North Wales but MailOnline has a big national audience, which was attractive to us,' Ally says. 
'Setting up our Ad Manager campaign was easy to do.
'We discussed our target audience and chose fonts, colours and a design that would match our website.' 
In just two weeks, ads for Eco Wardrobe have been viewed more than 900,000 times, with 1,105 clicks through to the website. 
'That's a lot!' says Ally. 
 Ally's latest venture, Eco Wardrobe, loans some of her outfits to paying customers to help fund Prom Ally
With Ad Manager, targeting a specific audience is easy, with hyper-local advertising for relevant customers.
Not only can you advertise to more people in your area than your local titles can reach – you can also target customers by postcode, interests, and life stage, ensuring you reach as many of our 25 million consumers as you choose.
To focus on readers who were most likely to become Eco Wardrobe customers, Ally chose to target mostly women with an interest in shopping, fashion and celebrities. 
'They're the people who are going to be interested in our website, so you're not wasting money on people who aren't interested in fashion,' she says. 
Ally hopes that promoting Eco Wardrobe to a much larger audience will grow brand awareness and drive sales. 
'We hope it gets more people knowing about what we do,' she says. 
'I want everyone to know that we're not just a fashion and rental business – ultimately everything we do is about helping teenagers.' 
Here's how you can advertise YOUR small business on MailOnline: 
Behind the business
Ally Elouise, a law graduate, first had the idea for Prom Ally at what seems like an unlikely time – while she was sitting watching the TV. 
'I watched a programme with my dad about families struggling financially,' she says. 
'I saw there were young people who couldn't afford a prom dress which really upset me.'
Ally, who'd previously worked as a teaching assistant, set up Prom Ally in 2015 – starting with 15 dresses bought from charity shops. 
Seven years on, she now has 3,000 dresses in storage which are loaned out to teenagers in financial need. 
Ally hopes that promoting Eco Wardrobe to a much larger audience through Ad Manager will grow brand awareness and drive sales
'We've loaned out hundreds of dresses since starting and are now able to offer out a range of suits too!' Ally says. 
'All our outfits are donations either from the public or from businesses and we currently accept dresses, suits, shirts and trousers. For quality purposes, every item is checked and freshly laundered before each loan.
'The loan of an outfit is free of charge, but we currently request £10.00 to cover the cost of delivery and return postage and packaging.' 
Ally realised she would need more money to keep on expanding, so in 2020 launched Eco Wardrobe to hire out outfits from the collection to paying customers for events like parties or weddings. 
That way people can avoid the waste and pollution involved in buying a new outfit while raising money for Prom Ally to help yet more young people. 
Providing an example of where some of the money goes, Ally says: 'Recently we sent 30 prom dresses to a teenage mental health hospital who put on their own prom. 
'They sent me a lovely card back and said they'd never had the opportunity to dress up and feel like a princess.'
Click here to find out how Ad Manager can help YOUR small business 
Source: Read Full Article