Gwyneth Paltrow ski collision trial set for family testimony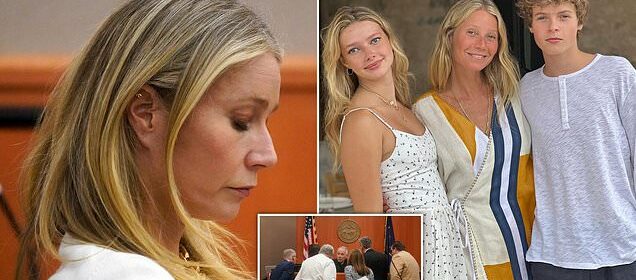 Gwyneth Paltrow's ski-slope smash trial will hear from alleged victim's daughters today – before Shakespeare in Love's own children Apple and Moses are also called as witnesses
Sanderson claims Paltrow crashed into the back of him while skiing in 2016

He is suing Paltrow for $300,000, claiming he sustained lasting injuries 
The daughters of the retired optometrist suing Gwyneth Paltrow are set to testify in court today ahead of Paltrow's own children taking the stand as witnesses.
The two daughters of the plaintiff will tell the court about the lasting effects of their father and Paltrow's 2016 ski collision as the trial takes on an increasingly personal note on the third day of proceedings.
Attorneys are expected to call Polly Grasham and Shae Herath to the stand and question them about the broken ribs and lasting brain damage that their father Terry Sanderson, 76, claims he sustained.
Sanderson claims Paltrow crashed into the back of him at the exclusive Deer Valley ski resort in Utah seven years ago. He sued the  Oscar-winning actress in January 2019 and alleged she abandoned him at the scene following the collision. 
The retired optometrist initially sought damages in excess of $3.1 million after the accident left him with a 'permanent traumatic brain injury, four broken ribs, pain, suffering, loss of enjoyment of life, emotional distress and disfigurement'. However, a judge dismissed the original claim and he is now suing Paltrow for £300,000.
Neurologist Richard Boehme and Paltrow herself could now be called to testify in court on either Thursday or Friday, with the actress' attorneys also planning to call on her husband Brad Falchuk and children, Moses and Apple. 
Gwyneth Paltrow sits in court in Park City, Utah on Wednesday. Paltrow is accused of injuring another skier, leaving him with a concussion and four broken ribs
Paltrow's attorneys are planning to call on her husband Brad Falchuk and children, Moses and Apple
Attorneys representing Gwyneth Paltrow and the man suing her over a 2016 ski collision huddle with Judge Kent Holmberg, Wednesday, March 22, 2023, in Park City, Utah
Sanderson's $300,000 claim against Paltrow is that she recklessly crashed into him while the two were skiing on a beginner run at the upscale ski-resort on February 26, 2016
In a counterclaim, Paltrow is seeking $1 and attorney fees. The amount of money at stake for both sides pales in comparison to the typical legal costs of a multiyear lawsuit and expert witness-heavy trial.
READ MORE: Gwyneth Paltrow trial RECAP: Second day of actress' 'hit-and-run' ski crash trial ends
During the first two days of trial, Sanderson's attorneys and expert medical witnesses have described how injuries were likely caused by someone crashing into him from behind. They attributed noticeable changes in Sanderson's mental acuity to that day's injuries.
Paltrow's attorneys have worked to paint Sanderson as a 76-year-old whose decline followed a normal course of aging rather than resulted from crashing into their celebrity client.
They have not yet called witnesses of their own to testify, but in opening statements previewed for jurors that they plan to call Paltrow's husband Brad Falchuk and her two children, Moses and Apple.
The actress' attorneys have thus far attempted to poke holes in testimony from Sanderson's team of experts and are expected to question his two daughters about their father mentioning Paltrow's fame and an email alluding to footage recorded on a Go Pro camera that hasn't been found or included in evidence.
Yesterday, on the second day of proceedings, medical experts told the court that Sanderson was left with significant physical and emotional challenges after the collision.
Gwyneth Paltrow sits in court on Wednesday in Park City, Utah. Paltrow is accused of injuring another skier, leaving him with a concussion and four broken ribs
Terry Sanderson arrives at court Tuesday, March 21, 2023, in Park City, Utah. The retired optometrist is suing actor Gwyneth Paltrow over a 2016 ski collision that took place at Deer Valley Resort
A neuropsychologist, Sam Goldstein, testified that Sanderson had significant mental problems after the collision and that he is 'obsessed' with what happened.
Dr Goldstein said yesterday: 'He obsessed about being abandoned on the slope and what drives [his mental state] at this point is probably a combination of things, not just he was skied into and that person lacked remorse.
'If the person who skied into him apologized, I don't think it would help him today. '
The neuropsychologist also testified that Sanderson suffered a 'mind injury' as a result of his brain injury that subsequently led to personality changes, anger issues and confused speech such as talking in circles.
Paltrow's legal team has previously accused Sanderson of suing to exploit Paltrow's wealth and celebrity.
Radiologist Wendell Gibby also provided expert evidence to the court on Wednesday.
Gibby, a University of California radiology professor, said: 'Terry had been a very high functioning, high energy person. He had been doing lots of things every day.
'After his accident, he deteriorated abruptly. His personal interaction with his children and grandchildren suffered. He had problems multitasking.
'He would go to Home Depot and forget why he was there. He also experienced a worsening of his depression. Those are very typical hallmarks of someone who has had a traumatic brain injury.'
Sam Goldstein, a neuropsychologist, testified on Wednesday afternoon that Sanderson complained he was struggling with everyday life after the crash, and suffered a 'frontal lobe injury'
Dr. Wendell Gibby testified on Wednesday that Sanderson's brain function 'deteriorated abruptly' following the 2016 ski crash
Dr Gibby showed X-rays and brain scans to the court Wednesday which he said indicated Sanderson's injuries were caused by Paltrow slamming into him 
Paltrow, 50, arrived for the second day of trial in Park City, Utah on Wednesday, dressed in a khaki coat, cream belted cardigan, tan corduroy pants, and gold bracelets
Dr Gibby continued: 'I think the ability to function at a high level was lost for Terry. Many of the things that gave him pleasure in life and friendships and relationships appear to have been abruptly diminished after the accident.'
The doctor denied that Sanderson's condition could be related to underlying conditions.
He said that even though images showed dilated ventricles in his brain back in 2009, Sanderson was not exhibiting any symptoms related to the issue — noting he did not have any issues with his gait or urinary issues at the time.
'I think it was just serendipity that these images found these dilated ventricles, but in Terry's case, I don't think they were causing symptoms,' he said, adding that he doesn't think they contributed to his condition now.
The trial will enter the third day as the court resumes today from 9:30 a.m. local Utah time.
Source: Read Full Article