Met Police officer, 37, bombarded ex with 23,000 calls and texts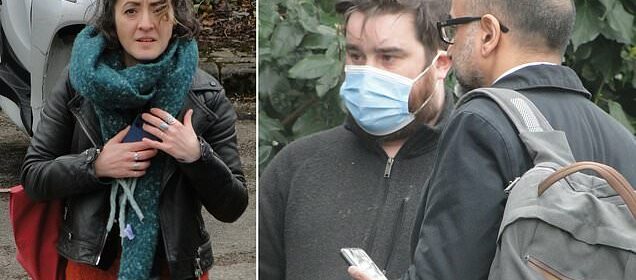 Heavy-drinking Met Police officer pushed his ex to the brink of suicide by bombarding her with 23,000 texts and calls after refusing to accept break-up
Kye Cole, 37, made calls over twelve-month period to former partner Lucy Selby
He received an eighteen-month Community Order and rehab requirement
A Met Police officer, who refused to accept the break-up of his relationship, harassed his ex-girlfriend with 23,000 calls and texts leaving her feeling suicidal.
Kye Cole, 37, bombarded his former partner Lucy Selby over a 12-month period. She was  forced to quit her job, move home and scrap her entire social life, the court heard.
Cole, from Putney, fought a charge of harassing social worker Ms Selby between April 7 and 27, last year, but was convicted after a trial at Wimbledon Magistrates Court in which the victim gave evidence.
He received an eighteen-month Community Order, which includes a three-month alcohol treatment requirement and thirty days of a rehabilitation activity requirement.
Cole must also complete 150 hours of community service; pay £2,500 compensation to his ex; £775 courts costs and a £95 victim surcharge.
Following his convicton, Cole now faces a the sack for gross misconduct. A Met Police disciplinary hearing will take place on March 27. 
The couple began dating in October 2020, before moving in together in April 2021, but the relationship was damaged by arguments and Cole's alcohol problem.
Kye Cole (left) made calls and texts over a twelve-month period to former partner Lucy Selby
Ms Selby left the police officer in April, last year, but complained: 'Kye does not take no for an answer,' and continued receiving harassing phone calls and texts from him.
She told the court: 'I have become accustomed to Kye sending me excessive amounts of text messages. When he drinks he would send approximately 200 messages a day along with 40 calls.
'None were threatening. At the most Kye would say that he will kill himself if I did not respond and I would usually respond to those messages'
She told court: 'I am concerned regarding Kye's professional commitment. The messages I saw included him booking massage appointments during work hours.
'All I want is for Kye to stop contacting me.'
Things came to a head when Cole sent her pictures of his supposed journey from London to Manchester, near the family home where she and her four siblings grew up and her parents still live.
'That incident left me feeling unnerved and uncomfortable. I live in a small village and wondered what would have happened had he found my address or bumped into anyone I knew.
'The people I live with have their own vulnerabilities and this would not have been fair on them. The relentless nature of Kye's behaviour made me feel helpless and filled with despair.'
District Judge Simon Heptonstall told him: 'I heard your trial and what you had done and even though the length of the charge is three weeks there was a lot happening over a longer period that was intense and caused by your drinking.
Ms Selby, pictured, left the police officer in April, last year, but complained: 'Kye does not take no for an answer,' and continued receiving harassing phone calls and texts from him
'You were not accepting of the end of the relationship and you attempted to exert control by threatening suicide and had a plan to go from London to her family's home, which you backed-up with photographs you sent her.
'She would have expected to feel safe in her childhood home as would her family and your behaviour effected her siblings and parents as well.
'When she saw someone who looked like you near the family home she felt despair and helplessness.
'She changed jobs and moved home and feared you could track her down.
'You realised fear would have been caused and said you would not have done it if you had not been drinking.
'This was very serious distress caused and Ms Selby changed how she goes out and socialises and had had to change her friendship group and how she relates to other people.
'It is an aggravating factor that you were in drink and caused serious harm.'
Cole's lawyer Kiera Oluwunmi told the court: 'He has lost his good character and a misconduct hearing is due that he knows will result in the loss off his career.
'He has had a fifty thousand pounds inheritance from his father that will allow him to keep his life on track until he finds a new job and put a deposit down on a home.
'He has addressed his alcohol use, which was triggered by the death of his father and lockdown and is extremely remorseful for his actions.'
The court heard there had been a recent relapse with his drinking.
'He does need to rebuild his life and is extremely sorry,' added the lawyer.
District Judge Heptonstall told Cole: 'You were of good character. You wouldn't have had the job that you had otherwise.
'In fact, you have positive good character and you have served in the police service for a number of years. You have served the community.
'Relating to this offence you did not abuse your position as a police officer to a significant extent.
'This is a case where I can draw back from custody, but there will be a significant Community Order. You need to be punished.'
In her victim impact statement Ms Selby said: 'The past nine months have been a process of me rebuilding my life, piece by piece in which every area of my life has been altered.'
She is in a new relationship, but finds the habits she developed to satisfy jealous and controlling Cole remain.
'I had been conditioned into a habit from when I was with Kye of working out in my mind how I could engineer a situation where I could take a photo, which would prove that there was a female friend present and I was not alone in a pub with a guy.
'There have been a couple of occasions in August and November when I felt suicidal,' she added, recalling an incident when an Apple store employee questioned why she had 23,000 calls in just twelve months.
'To conclude, despite everything I don't hold any kind of resentment or bitterness towards Kye.'
If you have been affected by the issues raised in this article, you can contact the Samaritans for free and completely anonymously on 116 123, or visit
Source: Read Full Article