Murder cops arrest three men and two women after mystery death of woman in her 40s in early hours | The Sun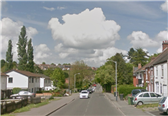 POLICE arrested five people today over the suspected murder of a woman found dead in the early hours.
Emergency services were scrambled to a house in Nuneaton, Warwickshire, shortly after 1am this morning.
A woman, believed to be in her 40s, was found dead inside.
A 34-year-old man, a 32-year-old man, a 40-year-old man, a 43-year-old woman and a 36-year-old woman have all been arrested on suspicion of murder.
They are all in police custody and murder cops remain at the scene while investigations continue.
Detective Superintendent Caroline Corfield, of Warwickshire Police, said: "An investigation has begun and we are working to establish the circumstances of the woman's death, which is unexplained at this time.
Read More
Thousands without water as families forced to queue for bottles amid drought
Watch as Salman Rushdie knifeman tackled moments after stabbing author
"We are currently exploring a number of lines of enquiry as we attempt to build a picture of what has happened.
"We would ask anyone who witnessed any suspicious activity in the area over Friday night and until about 1.15am this morning to please come forward.
"Equally, if anyone has any concerns or information that can help, we would advise them to approach and speak with one of our officers.
"There will be an increased policing presence in the area, and I would like to reassure the community that we are conducting a thorough investigation.
Most read in News
Watch as TUI tourists RACE for sunbeds – everyone's saying the same thing
Festival stage collapse chaos leaves at least one dead 'and 40 hurt'
Millionaire, 70, JAILED after refusing to tear down Britain's best man cave
Shooter who killed 10 in spree first targeted kids, 8 & 11, with hunting rifle
"Our thoughts are very much with the woman's family and friends at this difficult time."
The woman's family has been told about her death and a post-mortem will take place in due course.
Read More on The Sun
I live alone in 128 flats… the council offered £35k & free rent but I won't move
Little known 20p hack could help drivers save HUNDREDS on fuel
Anyone with information is urged to call 101 quoting incident number 41 of 13 August.
You can also contact Crimestoppers anonymously via their website or by calling 0800 555 111.
Source: Read Full Article