System lets students to identify as 'they', 'Zie', 'Sie', 'Ey' or 'E'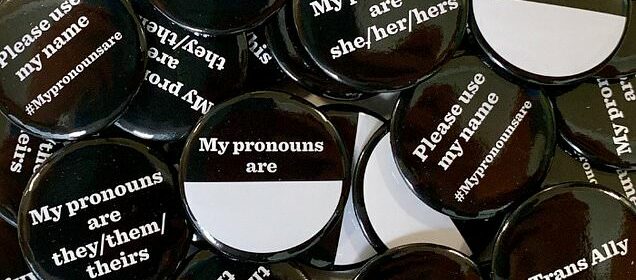 EXCLUSIVE: School record-keeping system now allows teachers to add pupils' pronouns – and students can choose to identify as 'they', 'Zie', 'Sie', 'Ey' or 'E'
Management system ESS SIMS is used in thousands of schools across England
One Conservative MP has hit out at the move, saying 'this nonsense has to stop' 
School record-keeping software now allows teachers to add pupils' pronouns, it can be revealed.
England's largest school management system, ESS SIMS, covers thousands of children.
The pronouns teachers can choose from include the traditional 'he' and 'she' but pupils also have the choice to identify as 'they', 'Zie', 'Sie', 'Ey', 'Ve', 'Tey' and 'E', the Mail can reveal.
The discovery has sparked fresh fears that the controversial 'gender identity' theory feared to be endangering child welfare is now being normalised in schools.
Released in the summer of last year, guidance for ESS SIMS users says pronouns can be chosen by 'pupil/students, applicants, contacts, staff members and agents'.
Students are being allowed to choose pronouns including 'they', 'Zie', 'Sie', 'Ey' or 'E' which can then be put into a school system. Pictured: Badges given out to children allowing them to write what their pronouns are
Campaigners and MPs have called for the 'nonsense' to be stopped. Pictured:  A child builds the LGBT flag using a jigsaw
Once applied to an individual on the system, their personal pronouns are then displayed in bold at the 'top of their record' for those who use the system to see.
The 'management information system' is the most widely used in UK schools and claims to be installed at '19,000 schools, with 1 million users from over 40 countries'.
Campaigners and MPs last night called for the 'nonsense' to be stopped.
Conservative MP Mark Jenkinson, who sits on the Women and Equalities Committee, told the Mail: 'This nonsense has to stop.
'The further we allow people to go down this gender-nonsense rabbit hole, the more damaging it becomes.'
It comes just days after a damning report revealed that parents are being kept in the dark over their children's gender preferences. Using the Freedom of Information Act, its researchers asked 304 secondary schools in England what their policies were on children who identify as the opposite sex and on changes of names, pronouns, hair and uniforms.
READ MORE HERE: Damning report exposes how children are being 'put at risk' by the gender ideology sweeping Britain's schools 
Of the 154 to reply, only 39 said they would inform parents as soon as a pupil expressed the wish to change gender while 87 said they would not.
Around 28 per cent of secondary schools were found to not be maintaining single-sex toilets and 19 per cent are not maintaining single-sex changing rooms.
Caroline Ffiske from Conservatives for Women told the Mail: 'In the wake of the Policy Exchange report some people are asking just how gender ideology has become so normalised and widespread in our schools. The fact that one of the major pupil data management systems used in our schools – SIMS – promotes gender ideology and normalises the use of made-up neo-pronouns for school children gives you an indication.'
She added: 'In the introduction to their YouTube training module, SIMs say the new pronoun option is 'based on customer demand'. Of course we know it is not. It is based on the demands of a small number of gender activists.
'Ideological demands are made – and another corporate falls into line, unable to ask itself some basic questions about science, safeguarding, free speech or to think through the harm done if you affirm the idea that children can be born in the wrong body.
'For schools, we urgently need the now long-promised new government guidance on these issues. But the private sector also needs to ask itself – will it defend science, reason, free speech – or continue to bow to harmful ideology?'
Heather Binning, of the Women's Rights Network, added: 'We have alerted MPs time and time again to the fact that schools and teachers are socially transitioning children without the knowledge or consent of parents.
'This is a serious risk to safeguarding. It usurps parental authority and responsibility.
'It is a direct breach of statutory duties as regulations require schools to register the name and sex of every child.'
ParentPay, the parent company of ESS SIMS, said: 'The design of MIS [management information systems] like SIMS are based on feedback from schools.
'A significant number of schools told us they wanted more flexibility in how pronouns can be recorded for pupils and staff, and we have updated the software in response to these requests.
'It is for schools and their governing bodies to determine their policy relating to if and how they record this information.'
The Department for Education was contacted for comment.
Source: Read Full Article