The 12 most bizarre moments from Gwyneth Paltrow's ski crash trial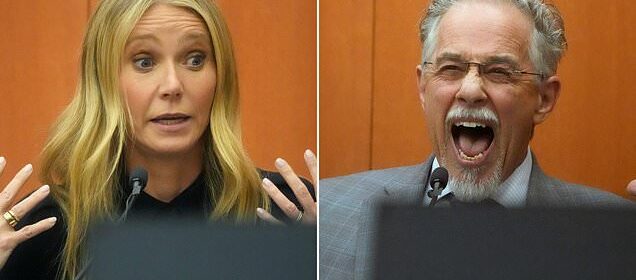 The 12 most bizarre moments from Gwyneth Paltrow's ski crash trial: Actress feared she'd been sexually assaulted, was forced to deny being 'good friends' with Taylor Swift and was compared to EPSTEIN!
Gwyneth Paltrow has been standing trial for allegedly causing a 76-year-old retired optometrist to suffer brain damage in a 2016 ski crash

Terry Sanderson claims Paltrow skied into him, but Paltrow says he actually slammed into her

Several moments from the trial have now gone viral online 
As Gwyneth Paltrow's ski trial comes to a close on Thursday, DailyMail.com is taking a look back at the most bizarre moments from the past eight days.
The Oscar-winning actress has turned heads with her outfits over the past two weeks as she stands trial for allegedly causing a 76-year-old retired optometrist, Terry Sanderson, to suffer from brain damage in a 2016 ski crash.
Sanderson claims Paltrow skied into him on the Bandana Run beginner slope at the Deer Valley Resort in Utah. He is suing for $300,000 worth of damages.
But Paltrow claims the retired doctor actually slammed into her, and is countersuing for $1 and the cost of her legal fees.
Both she and Sanderson have now taken the stand, resulting in several moments that have gone viral online.
Gwyneth Paltrow's trial over a 2016 ski crash has led to several viral moments, with the Oscar-winning actress claiming she lost half a day of skiing and the retired doctor who is suing her, Terry Sanderson, right, imitating a scream he heard 
1. Gwyneth Paltrow claims she lost half a day of skiing
 One of the most viral moments from the two-week long trial came when Gwyneth Paltrow took the stand, and spoke about how the February 2016 crash affected her.
'Well, we lost half a day of skiing,' she said.
That response — especially when compared to Sanderson's claims that the crash left him with broken ribs and brain damage — led to much mockery online, with even from fellow actress Busy Philips.
The White Chicks star, 43, posted a selfie on her Instagram account with fellow actress Jen Tullock and used Gwyneth's quote as her caption. 
For the photo, the two women leaned in front of the camera with deadpan faces, and both held up what looked like espresso martinis. 
Twitter also became a floodgate of reactions to Gwyneth's statement, with one user writing: 'I hate to tell you this but if you're only hitting the slopes now you've missed a half day of skiing which is the worst thing that can happen to anyone.'
Another said: 'He can earn more money—but Gwyneth will NEVER get back the half day of skiing she lost. So who's really the bad person here????'
2. The plaintiff's lawyers asking Paltrow about her height and saying she was 'jealous'
 As Paltrow continued to testify on Friday, viewers were left stunned by the plaintiff's lawyers asking the actress about her height — seeming more of a fan than a lawyer.
Kristin VanOrman, one of Sanderson's lawyers, began her questioning of the actress by asking: 'May I ask how tall you are?'
Paltrow then replied that she is 'just under 5'10", to which VanOrman said, 'OK, I am so jealous.'
In an apparent effort to reassure the female attorney, Paltrow insisted that she thinks she is shrinking, and VanOrman said she thinks she is too.
'You and me both,' VanOrman replies. 'I have to wear these four-inch heels just to make it to 5'5′.' 
Singer Taylor Swift was dragged into the court proceedings when the plaintiff's attorneys asked Paltrow if she is friends with the singer. Swift is pictured here at the iHeartRadio awards earlier this month
'Well, they're very nice,' Paltrow complimented the attorney, who quickly thanked her. 
3. The plaintiff's lawyers asking if she is good friends with Taylor Swift
In another odd exchange between VanOrman and Paltrow, the lawyer asked the Iron Man star whether she is good friends with Taylor Swift, who symbolically countersued former DJ Taylor Mueller, whom she accused of sexual assault.
'No,' Paltrow replied. 'I would not say we're good friends, we are friendly. I've taken my kids to one of her concerts before, but we don't talk anymore.'
VanOrman then asked Paltrow if she ever gave Swift presents, to which Paltrow's attorneys objected on the grounds of relevance.
The judge sustained his objection, saying VanOrman might as well 'ask her about Oprah,' because it would be equally as relevant.
 4. The plaintiff's lawyers asking Paltrow about her tipping habits
 As VanOrman continued her unique style of questioning the defendant, she decided to ask Paltrow about her tipping habits.
'Now I'm assuming — and you're under oath here — that you're a good tipper?' VanOrman asked.
Paltrow laughed at the question, and simply replied, 'Yes.'
'Fantastic,' VanOrman said. 'I wouldn't expect anything less.'
The exchange went viral on Twitter, being viewed over 2 million times. 
Sanderson's attorney Krisitn VanOrman seemed to be a fan of Paltrow as she questioned the actress on the stand
5. Paltrow's lawyers are told they cannot bring 'treats' to the bailiffs
Early on in the trial, Paltrow's security team wanted to thank the bailiffs for helping to shield her from paparazzi during the trial.
The bailiffs had apparently been helpful in accommodating the actress leaving her car and entering the court room, as her lawyers tried to fend off errant cameras in the courtroom and photographers outside trying to get a photo of the star.
'Private security for my client wanted to bring in treats for the bailiffs for how helpful they've been,' her attorney Stephen Owens told Jude Kent Holmberg on just the second day.
'So I wanted to do that transparently, and see if there are any objections.'
But Sanderson's attorneys objected, and Holmberg responded: 'OK, there's an objection, so thank you, but no thank you.
'If the parties decide to do that later, that's fine too,' he added. 
Attorney Stephen Owens asked Judge Kent R Holmberg if they could bring treats to the bailiffs
 6. Paltrow claimed she thought she was being sexually assaulted during crash
In her testimony on Friday, Paltrow said she initially feared she was being sexually assaulted when she was hit from behind on a ski slope, saying she felt legs between her legs as she and Terry Sanderson toppled to the ground.
Paltrow, 50, said she screamed 'You skied directly into my f***ing back' at the retiree who has accused her of leaving him brain damaged in a ski crash.
The actress, who was one of the first to accuse Harvey Weinstein of sexual harassment, said she was momentarily frightened that Terry Sanderson could be an attacker.
Gwyneth Paltrow took the stand in court in Utah Friday for the fourth day of her ski crash trial
She said she thought: 'Is this someone doing something perverted?'
She added: 'I was trying to put together what was happening behind me.' 
She swiftly realized, she said, that it was not a sexual attack, but rather someone had crashed into her from behind. 
7.  Retired doctor re-creates the 'blood-curdling scream' he says he heard
When Sanderson took the stand, he recreated the 'blood-curdling scream' he claims he heard just before Paltrow allegedly slammed into him on the ski slope. in injury.
Mimicking the sound: 'Everything was great and than I heard a bloodcurdling scream. Then boom! It was like somebody was out of control, was going to hit a tree and going to die.'
Sanderson recounted the moment of the crash in his testimony on Monday
Sanderson also said that he remembered a man in a Deer Valley Resort ski suit come up afterward and instead of offering help, angrily blaming him for the collision.
That man, said to be Gwyneth Paltrow's ski instructor, took the stand after lunch after being accused by Sanderson of refusing to help him and described the ski instructor as 'a bully' in court this morning.
Asked directly if he had shouted at Sanderson while he was knocked out, Christiansen said 'no one was unconscious'.
8. Sanderson says he can no longer enjoy wine tastings following crash
A doctor testifying on Sanderson's behalf, Dr. Wendell Gibby, claimed that the retired optometrist can no longer enjoy wine tastings following the crash.
Gibby said that prior to the February 2016 crash, 'Terry had been a high-functioning active person. Every day he was doing lots of things. Meeting groups, wine tasting, skiing, volunteering.
'After the accident, he deteriorated abruptly and many of the activities he loved to do, he stopped doing.'
Paltrow gave a stunned look at Sanderson before looking over at her attorney who called the testimony 'ridiculous.' The judge then told the jury to disregard Sanderson's words
9.  Sanderson compares Paltrow to sex offender Jeffrey Epstein
In his testimony Sanderson compared Paltrow to sex offender Jeffrey Epstein, before the judge ruled to strike the comments from the record.
'What is going on here?' Sanderson asked about what he says is Paltrow's refusal to take accountability. 'This is obviously an issue someone needs to be held accountable for.
'And if they're never accountable, they're going to do it again,' he continued. 'Now, we have the molesting of young children on an island.'
But Paltrow's attorneys objected to that testimony, noting he was referring to Jeffrey Epstein — a completely separate case, and the judge sustained the objection on the grounds of relevance.
10. Sanderson was seen traveling across the world following the crash
Sanderson was seen traveling extensively after the crash, despite his alleged brain injury.
Paltrow's attorneys recalled Sanderson to the stand on Wednesday to ask him questions about his extensive travels after the crash.
They introduced photos into evidence of Sanderson riding a camel in Morocco, trekking up to Machu Picchu in Peru.
While on holiday, he was also pictured taking part in activities like skiing and cycling. 
He also took a continent-wide loop around Europe with stops in the Netherlands, Germany, Switzerland, Italy, France and Belgium.
While on a vacation, Sanderson was pictured taking part in activities like skiing and cycling
A pictured, dated 2018, appears to show Sanderson rafting with a group
11. Sanderson compared Paltrow to King Kong and Godzilla
Terry Sanderson did not deny on Wednesday that he compared Paltrow 'to King Kong coming out of the jungle.'
He simply said he disputes his intentions when making the comment, and said: 'I meant to say King Kong just chased someone out of the jungle.'
The defense then said Sanderson's daughter testified to him referring to Paltrow as 'Godzilla' – something Sanderson says he does not remember but also does not dispute.
'She hit and ran me,' he claimed.  
12.  Paltrow's lawyer is forced to apologize to Sanderson's daughter
 At one point during the trial, Paltrow's attorney was forced to apologize to Sanderson's daughter.
'I need to apologize, I was being an a** earlier,' he told Polly Grasham before he continued his cross-examination, saying he 'triangulated' her, her mother and her father. 
Source: Read Full Article