Winter Squash Every Which Way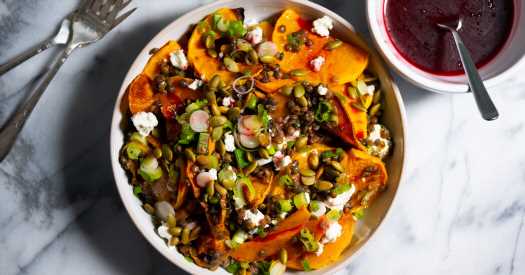 As well as a how-to for making your own pumpkin spice blend.
Send any friend a story
As a subscriber, you have 10 gift articles to give each month. Anyone can read what you share.
By Tejal Rao
One of the first dishes I learned to make when I moved to Los Angeles a few years ago was Minh Phan's rice porridge with squash and brown butter. I'd fallen in love with it at her restaurant Porridge + Puffs, where she served the soft, comforting rice — somewhere between risotto and congee — under little dabs of savory jams, herbs and colorful, translucent, homemade pickles.
To make a simpler version of her dish at home, I cook rice in a bit more water than usual, then mix plain roasted squash, browned butter and a glug of half-and-half in a blender. That purée, made from just three ingredients, is unbelievably luxurious and delicious, even on its own. But it's even better folded into hot rice.
I always look forward to winter squash like butternut, delicata, acorn and starchy kabocha (my favorite!), with their floral, melonlike aromas and range of satisfying textures. Squash is endlessly versatile, and I love that it can usually keep in any cool, dark corner of the kitchen for, well, however long it takes me to get around to cooking it. Here are some other ideas:
Steam squash in sake. Peel and thinly slice kabocha squash, then simmer and steam in sake until cooked through. Drizzle a mix of miso, sake and sesame oil over the top.
Boil squash with pasta in salted water, then drain together and combine with reserved pasta water, sautéed shallots and garlic. Top squash pasta with sage leaves and bread crumbs fried in brown butter.
Bake squash in a savory bread pudding. Layer slices of butternut squash with pieces of stale (or toasted!) bread, caramelized onion and grated Gruyère, then soak well with vegetable broth and cook until the top is brown.
Roast squash slices and toss with green lentils, feta and pumpkin seeds, in a dressing of pomegranate molasses, honey, cumin and chile to build a nourishing and warm squash salad.
Simmer squash in coconut milk with some sautéed aromatics and then purée it all to make green curry soup. Garnish with peanuts roasted with coconut, chiles and lime leaves. (Use vegan fish sauce.)
Roast squash seeds to include in a dukkah. Toast delicata seeds until lightly brown, then whiz in a food processor with sesame seeds, peanuts and spices. Sprinkle over roast vegetables.
Roasted Butternut Squash With Lentils and Feta
Go to the recipe.
Butternut Squash and Green Curry Soup
Go to the recipe.
Roasted Squash With Peanut, Sesame and Squash Seed Dukkah
Go to the recipe.
One More Thing!
Canned pumpkin displays at the grocery store signal the official start to fall baking season. If you'd like to try making your own pumpkin spice blend, get a mixing bowl and some measuring spoons and follow Yossy Arefi's simple recipe. Combine the following:
2 tablespoons ground cinnamon, 1 tablespoon ground ginger, 1 teaspoon freshly grated nutmeg, 1 teaspoon ground cardamom, ½ teaspoon ground allspice and ¼ teaspoon ground cloves.
You can adjust it to your taste, making it a bit hotter with more ginger or a touch sweeter with more cinnamon. But I'd advise against increasing nutmeg — it has a strong flavor and can easily overpower the blend.
Thanks for reading The Veggie, and see you next week!
Get in touch
Email us at [email protected]. Newsletters will be archived here. Reach out to my colleagues at [email protected] if you have questions about your account.
Site Information Navigation
Source: Read Full Article