LaKeith Stanfield Married Kasmere Trice and Welcomed a Baby Months After 'Secret' Child Scandal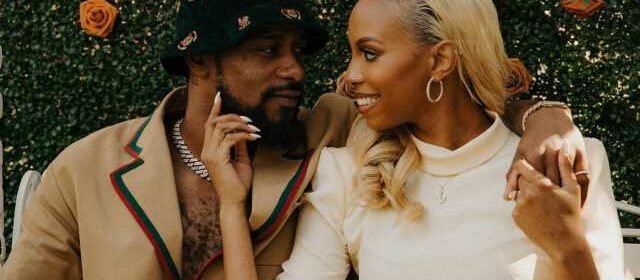 The 'Straight Outta Compton' actor gushes about having his 'wildest imaginations manifested' as he and his wife are ready to open up about their romance and baby news after getting engaged in late 2022.
AceShowbiz -LaKeith Stanfield is a married man with a new baby now. The actor has quietly built a new family with model Kasmere Trice for months now after tying the knot in a private ceremony and welcoming their first child together.
Confirming the news to PEOPLE, the pair have shared first pictures of their newborn baby, whose name and sex they've chosen to withhold. "There's life before being a parent, and then there's life being a parent. It completely changes," LaKeith said in an interview published on Wednesday, July 26. He gushed about his life as a husband and a father, "We've manifested this beautiful family. I want to spend the rest of my life with her."
While LaKeith and Kasmere finally opened up about their marriage and their baby, they still keep things about their child private. "We decided early on we wanted to protect our baby as much as we can for as long as possible," the model explained.
LaKeith added, "Being in the public eye can be something that's amazing, but it can also be something that is very hard on you. There needs to be things that exist that are sacred and not for consumption for everybody." As to why they spoke out on their relationship now, he claimed, "We want to be the ones to tell our story. We're bringing our family forward so we may inspire others."
LaKeith has two other children from previous relationships and it only made Kasmere convinced that he's going to be a great father to her child. "I'm really honored that I got to see the father in [him] before I was even having our baby," she shared.
Meanwhile, LaKeith, who said his daughters are "so fun and so smart," admitted that navigating parenting relationships in the spotlight isn't easy. "Sometimes, when things can get difficult, you have to remember that what's most important is the child," he confessed, "and that we're pushing ourselves to grow, so we can reflect back to them the good things."
LaKeith then took to his social media page to share never-before-seen pictures of him and Kasmere during her pregnancy. "If you're fortunate enough in this life, you get to see your wildest imaginations manifested before your eyes," he wrote in the caption. "I am endlessly grateful to God for being able to achieve some of those things. The best part of it all was being gifted by the most high, a gorgeously intelligent and spiritually magnetic person to share life with."
"You too, can also turn those hopes into reality and work (and I do mean work) to bring about great things in this challenging, wonderful, terrifying, hilarious, painful, pleasure-filled experience called life," he told his followers. "In any storm we stand unified and work to create conditions for the perfect breeze within ourselves." Paying tribute to his wife, he added, "I love you and congratulations on motherhood."
Sharing similar photos, which were seemingly taken from a baby shower, Kasmere penned on her own Instagram post, "when i think upon this life, this love, our special and intentionally crafted blessing, i conjure an omnipresent feeling of gratitude. true, delicate gratitude and joy granted from the most high to us and from us to the universe."
The 29-year-old gushed over the 31-year-old actor, "to love and be loved by someone so magical, majestical, outwardly expressive and caring, my lakeith, is amazing. amazing is an understatement here. this is truly god's dream, a god dream. you are the perfect one, baby. ushering in life, with the perfect partner. most loving and perfect husband. at the perfect time. i am thankful. and i know we are all meant to love and enjoy like this. thankful for my family. congratulations mr. stanfield. i love you, our union and i love our baby."
LaKeith and Kasmere got engaged in December 2022. Following their engagement announcement, his ex and baby mama Tylor Hurd unveiled that the "Judas and the Black Messiah" star is the father of her baby girl named Apollo. "decided to leave being someone's secret family in 2022," the artist threw shade at the actor on Instagram.
LaKeith then hit back at Tylor for posting their daughter. "Thanks for respecting my not wanting to blast my child out to the internet. Very considerate of you," he sarcastically wrote, to which the 24-year-old artist responded, "value your privacy is why you lied to people saying she wasn't your baby or that I was just a random? you value your privacy but your gf post (sic) everything y'all do lol okay."
You can share this post!
Source: Read Full Article