Holby City icon Sacha is heading to Casualty and all is right in the world again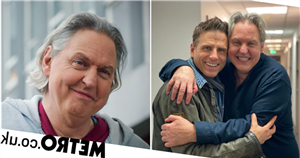 Metro.co.uk can confirm Holby City's Sacha Levy will make an appearance in Casualty.
Bob, who played Sacha Levy in the BBC One medical drama, hasn't been seen on our screens since March of this year, following Holby City's final ever episode.
However, the joy of Casualty and Holby City being set in the same hospital means characters often appear in each other's shows.
When Holby first went off air, Fletch (Alex Walkinshaw) made a brief appearance in Casualty, chatting to Charlie (Derek Thompson) about Jac's (Rosie Marcel) memorial following her death.
Now, we will be seeing another familiar face very soon.
Jason Durr, who plays David Hide, posted two wonderful pictures on his Twitter alongside Bob.
'Had a lot of fun with the lovely #BobBarrett on set @BBCCasualty recently #holby', he wrote alongside the images, which featured Jason and Bob smiling and hugging.
'I'm gutted more for the people still in there because they lost their jobs,' the 49-year-old told Loose Women presenters Kaye Adams, Linda Robson, Judi Love and Carol McGiffin.
'The audience that were with us for 23 years… it was such a beautiful show and I loved it and I hope another channel might pick it up, because it's such a good show.'
Source: Read Full Article