Cheltenham revellers caught short spark fury by urinating in street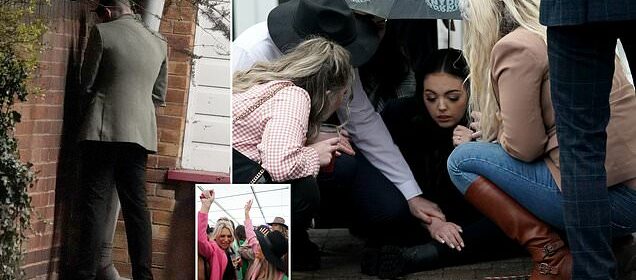 Cheltenham revellers caught short spark fury by urinating in the street – as police and council launch 'war on wee' by warning race-goers 'our town isn't your toilet'
READ MORE: Everything you need to know about the final day of Cheltenham  
Cheltenham looks to be losing its 'war on wee' as punters were seen relieving themselves in the town's streets despite a crackdown by the police and local council. 
Dozens of extra marshals have been recruited to prevent people from taking the al fresco option as part of a wider war on antisocial behaviour, which spikes during the annual festival. 
Photographers snapped one desperate racegoer urinating against a wall outside a busy shop.
While his six friends went into the bustling convenience store, the man, in his early 20s, walked over to the wall a few feet away, undid his flies and answered the call of nature in front of dozens of people.
Shocked onlookers turned their heads away in disgust. One, a woman in her mid-30s, told MailOnline: 'He had clearly had a skinful at the races and couldn't hold it in any longer.
A Cheltenham racegoer relieves himself in the town despite the local council's 'war on wee' 
Racegoers at Cheltenham: Local businesses say the town is quieter this year amid the cost of living crisis 
'But we shouldn't have to put up with having to watch men who have drunk too much urinating in the street, in full view of everybody. It's disgusting.'
Cheltenham council's 'war on wee' this year includes unveiling poster telling visitors 'our town isn't your toilet' and offering businesses hydrophobic paint designed to make urine splash back onto the legs of wrongdoers. 
However, the cost of living crisis appears to have contributed to a less raucous environment at this year's races, with many of the town's restaurants emptier than usual and taxi ranks quiet by 2am. 
Sayed, 38, who works at the Kashmir Indian restaurant, said at 7pm there were only 10 people in a space that could accommodate 38. 
'It's the cost of living. We would expect to be busy but what can you do?' he told The Times. 
'Race week usually helps all the business in Cheltenham but it's already been a disastrous six months. I think by April or May a lot of places are going to go down.'
Civic leaders have previously spoken out on the issue of antisocial behaviour surrounding the races, with a council survey last year revealing 75 per cent of local women 'did not feel safe at night' during race week. 
Just under a third said they were frequently sexually harassed.
Racegoers enjoying themselves in one of the tents at the Cheltenham Festival 
Guests pictured enjoying a few drinks at the bar on day two of Cheltenham Festival yesterday afternoon
Maggie Stewart, director of the Gloucestershire Rape and Sexual Abuse Centre, said women were forced to 'change their behaviours' during the festival to avoid harassment.
'Women tell us they have to change their days of work, get taxis home instead of getting on to a bus,' she said. 
The clampdown on antisocial behaviour has also seen the town council ban e-scooters throughout the week.
The decision was made after police raised concerns of drunk people riding them after dark.
As a result, the council agreed to suspend the vehicles much to the disappointment of e-scooter operator Zwings.
The controversial bikes are available for hire in more than 30 towns and cities, where they are allowed on roads and pathways by local authorities. 
Come on boys! Another group of lads were quick to get into the spirit yesterday
This is in line with a government experiment to see if they are suitable enough for a wider rollout as green transport.
Gloucestershire Police raised concerns of 'clearly intoxicated' people speeding about town in the evenings during last year's festival, saying they could 'create all sorts of accidents'.
The force's commissioner Chris Nelson said: 'I saw people and they were clearly intoxicated getting on these things, more than one person, and then scooting down Evesham Road, weaving in and out of the public.
'What I saw last November was a whole load of e-scooters parked up outside the entrance to the racecourse and I think that was a hostage to fortune.'
Despite these criticisms, Zwings, which operates the e-scooters, has stressed there were no accidents during the event last year.
The Chelthanham Festival is one of the highlights in the horse racing calendar and brings 250,000 visitors to the Cotswolds town every years.
Source: Read Full Article