Grammy Awards: Kacey Musgraves wins album of the year as Dolly Parton, Michelle Obama have big moments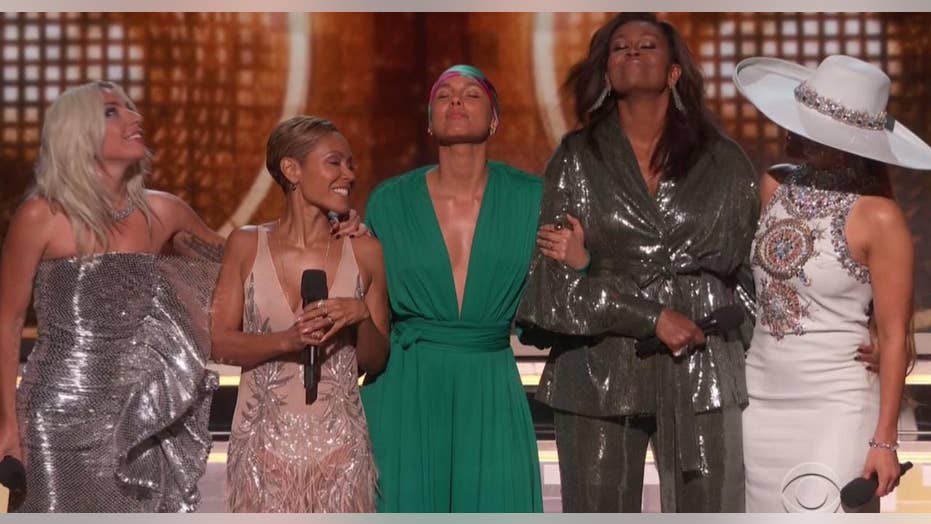 Grammy Awards 2019: Former First Lady Michelle Obama gets a standing ovation
Grammy Awards 2019: Grammy crowd gives Former First Lady Michelle Obama standing ovation.
Michelle Obama, Dolly Parton and Kacey Musgraves were the biggest winners at the 2019 Grammys — even though Musgraves was the only one of the three to take home a trophy.
Musgraves was visibly shocked when she was announced as the night's biggest winner for album of the year for her record "Golden Hour" which won earlier in the evening for best country album.
ALL THE WINNERS OF THE 2019 GRAMMYS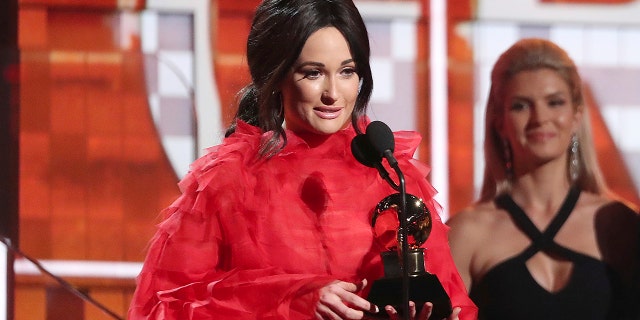 Kacey Musgraves accepts the award for best country album for "Golden Hour" at the 61st annual Grammy Awards on Sunday, Feb. 10, 2019, in Los Angeles.
(AP)
"I don't even know what to say," Musgraves said. "I am very thankful. Winning doesn't make my album any better than anybody else in that category."
While Musgraves' win finished off the three-and-a-half-hour star-studded affair, host Alicia Keys set the tone for the show with a somewhat rambling opening speech about music being our "global language" before shocking the audience by bringing Michelle Obama, Lady Gaga, Jennifer Lopez and Jada Pinkett Smith on stage.
"Music has always helped me tell my story," said Obama, whose appearance had the crowd roaring. "Whether we like country or rap or rock, music helps us share ourselves. It allows us to hear one another."
MILEY CYRUS RISKS WARDROBE MALFUNCTION ON GRAMMYS RED CARPET
Gaga told the crowd: "They said I was weird, that my look, that my choices, that my sound wouldn't work. But music told me not to listen to them." She had several other big moments during the show, taking home three awards and performing "Shallow" from "A Star Is Born."
ARIANA GRANDE A NO-SHOW AS SHE WINS FIRST GRAMMY
The opening contrasted with last year's Grammys, where male acts dominated in nominations and the only woman competing for the top award, Lorde, didn't get a chance to perform onstage.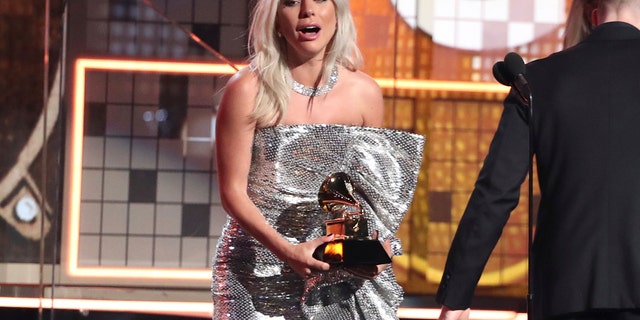 Lady Gaga reacts before accepting the award for best pop duo or group performance for "Shallow" at the 61st annual Grammy Awards on Sunday, Feb. 10, 2019, in Los Angeles.
(AP)
Cardi B made history as the first solo female to win best rap album (Lauryn Hill won as a member of the Fugees at the 1997 Grammys).
She was shaking onstage as she tried to give a thank-you speech with her rapper-husband Offset holding her arm.
DOLLY PARTON HONORED, PERFORMS WITH MILEY CYRUS, MAREN MORRIS, KACEY MUSGRAVES AND KATY PERRY
"The nerves are so bad. Maybe I need to start smoking weed," she said as the audience laughed. "I just want to say thank you everybody that was involved … I want to thank my daughter."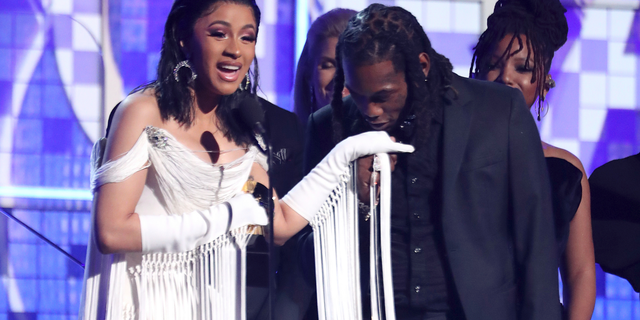 Cardi B accepts her award as husband Offset kisses her hand.
(AP)
COUNTRY MUSIC STAR'S NAME MISSPELLED DURING GRAMMY AWARDS
Perhaps the biggest moment of the night was when Katy Perry, Miley Cyrus, Maren Morris, Kacey Musgraves and Little Big Town all performed with MusiCares Person of the Year Dolly Parton. The crowd went wild while Parton and her fellow artists ticked through a medley of the country legend's greatest hits.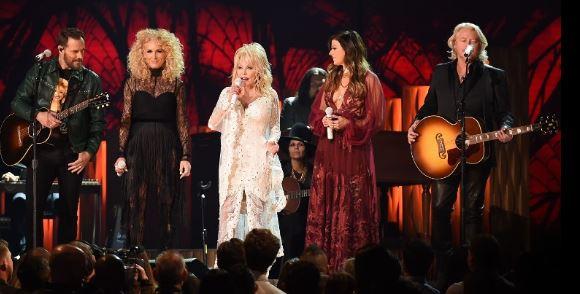 Lopez also had the crowd on their feet when she performed a Motown tribute inserting her energetic dance-pop flavor into memorable Motown melodies such as "Dancing Machine" and "Dancing in the Street."
She faced backlash on social media for her lead participation in a tribute recognizing an historic African-American record label.
GRAMMYS CUT OFF DRAKE'S ACCEPTANCE SPEECH BEFORE RAPPER FINISHES AFTER HE REPORTEDLY DECLINED TO PERFORM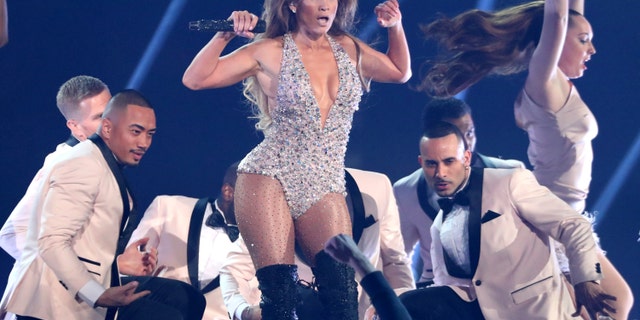 Jennifer Lopez performs a medley during a tribute to Motown's 60th anniversary at the 61st annual Grammy Awards on Sunday, Feb. 10, 2019, in Los Angeles.
(AP)
Some online questioned why a black artist wasn't chosen instead of Lopez, but she did receive support from Smokey Robinson, who joined her in a duet to perform "My Girl," a song he co-wrote.
She then briefly teamed up with Alicia Keys on "Papa Was a Rollin' Stone" and sang "Another Star" with Ne-Yo, who played the piano.
HOST ALICIA KEYS UNAWARE SHOW RETURNS FROM COMMERCIAL BREAK
Another shining moment for female artists came as British singer Dua Lipa won the best new artist Grammy Award after performing a sultry duet with St. Vincent. Earlier in the show, H.E.R. wong the best R&B album for her self-titled album.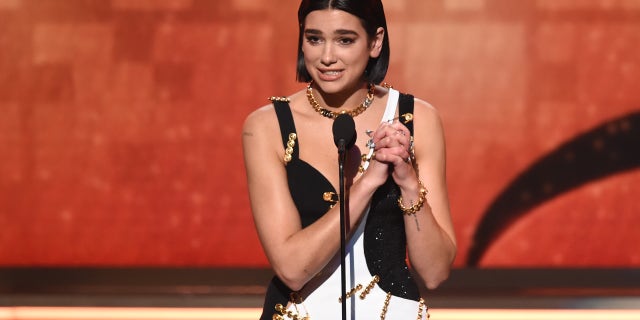 Dua Lipa, who won the Grammy for Best New Artist on Sunday, spoke to reporters backstage about Ariana Grande and 21 Savage.
(Kevin Winter/Getty Images for The Recording Academy)
Ariana Grande also had a big reason to celebrate when she won best pop vocal album for "Sweetener." But the singer, who this week publicly clashed with a Grammys producer, did not attend the show despite having won her first Grammy.
The superstar accused Grammy producer Ken Ehrlich of lying about discussions with Grande about performing at Sunday's ceremony. Ehrlich told The Associated Press on Thursday that Grande had told producers that she said she didn't have adequate time to prepare.
JOY VILLA DRESSES AS A BORDER WALL, RICKY REBEL ROCKS PRO-TRUMP MAGA MERCH
Grande blasted the comments in a social media post, saying she could have prepared a performance overnight.
Another artist who won an award but did not attend the show was Childish Gambino, who is the alter ego of singer-actor Donald Glover. His song "This Is America" won the Grammy Award for record of the year.
Rapper Drake, who was rumored to not attend the show, surprised audiences when he did show up to accept best rap song for "God's Plan."
TAYLOR SWIFT FANS CALL FOR GRAMMYS BOYCOTT, SAY POP STAR WAS WRONGLY SHUT OUT OF AWARD SHOW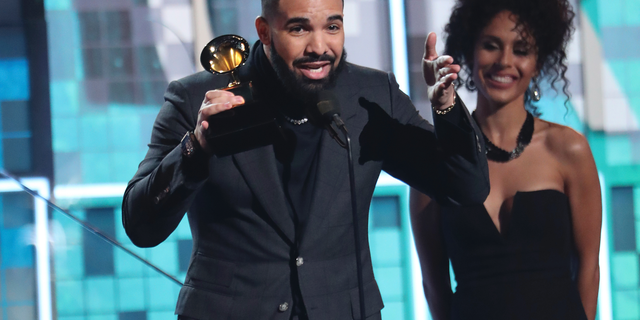 Drake accepts the award for best rap song for "God's Plan" at the 61st annual Grammy Awards on Sunday, Feb. 10, 2019, in Los Angeles.
(AP)
Another memorable moment came when Diana Ross took the stage in an uplifting performance of a pair of her classics in honor of her forthcoming 75th birthday.
Introduced by her grandson and wearing a dress of flowing bright red chiffon, Ross told the audience Sunday night that "when I was a little girl, I felt the joy of singing. It made me happy, it made my parents happy, and it led to this day."
JENNIFER LOPEZ TURNS HEADS WITH MOTOWN TRIBUTE AT 2019 GRAMMYS FOLLOWING BACKLASH
She sang "The Best Years of My Life" followed by "Reach Out And Touch (Somebody's Hand)" and strode out into an audience at the Staples Center in Los Angeles that included her fellow Motown star Smokey Robinson and Motown founder Berry Gordy.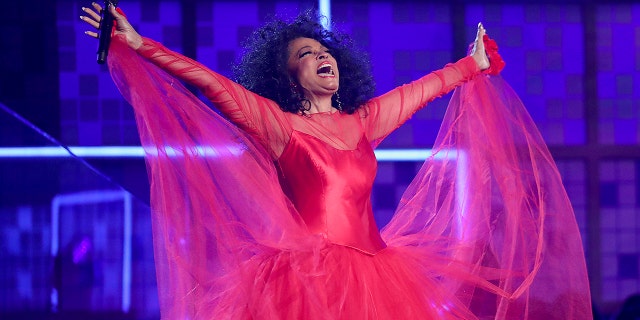 Diana Ross performs a medley at the 61st annual Grammy Awards on Sunday, Feb. 10, 2019, in Los Angeles. (Photo by Matt Sayles/Invision/AP)
(AP)
Other performances including Miley Cyrus with Shawn Mendes, country duo Dan + Shay, Camila Cabello with Ricky Martin, Young Thug, and J Balvin, Brandi Carlile among others.
The Associated Press contributed to this report.
Source: Read Full Article