#TheLIST: 20 Chic Nail Art Ideas For Your Wedding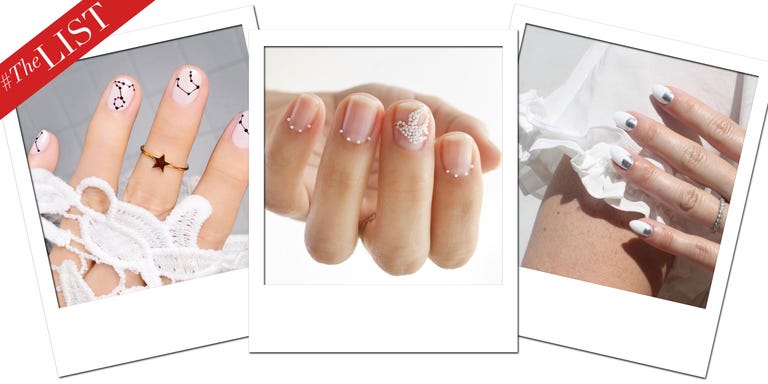 They say you should feel like yourself on your wedding day. And if your everyday self loves to get designs intricately painted on your nails, then your wedding day should be no different—just a little more elegant. Here, 20 chic ideas for a non-traditional, nail-art bridal manicure.
The spring summer constellations ??✨ . . #Chanel: blanc white #Opi : black onyx #handdrawn #welovecoco #constellations #constellationnails #gethang #ipsy #abstract #nailpolish #instanails #pasadena #la #beauty #manimonday #nailblogger #nailsmag #nailitdaily #minimalnailart #nails?? #nails2inspire #weekendvibes
A post shared by ❤ Hang Nguyen ❤ (@thehangedit) on
If you're a bride obsessed with all things zodiac, try upgrading a pale pink manicure with elegant doodles of the constellations.
? A crisp, white mani finds new elegance with silver-foil moons. @paintboxnails #paintboxmani #manibyelenag … … … … … #nailsmag #nailstudio #whitenails #handmodel #beautyphotographer #makeupinsta #nails_page #celebritymanicurist #nycmanicurist #moonmanicure #silverfoil #foilnails #chromenails #allwhiteoutfit #allwhiteparty #allwhitewedding #weddingnails #bridalnails #eternityband #almondnails
A post shared by Julie K ? Beauty & Travel (@julieknailsnyc) on
If metallic is an accent color at your wedding or on your wedding dress, use the opportunity to bring some flair to a crisp white manicure.
Starburst foil??
A post shared by ROSE B. (@rosebnails) on
A pinky nude base with impossibly fine lines traced in abstract lines and starburst patterns, then finished off with a three-dimensional gold appliqué .
Here is the same design without my hidden message of bitter profanity. ?✨
A post shared by Betina R. Goldstein (@betina_goldstein) on
Hand-painted white flowers couldn't be prettier—or easier—to wear on your wedding day.
Swooning over this @paintboxnails client's Good Vibes mani in milky pink and champagne glitter.✨? #manibyheleny #paintboxmani
A post shared by Julie K ? Beauty & Travel (@julieknailsnyc) on
If rose gold is your favorite color, work a little bit into your bridal manicure at the tip. For an extra-graphic design, stack two pale pink polishes over one another.
. ???? Flowers inspired by @mynameiskana . お花?たくさんのシェルと 金沢の本金箔でつやつやてかてか✨ . #福岡 #高砂 #佐賀 #ZEROnailart
A post shared by Maco Kawasaki (@macokwsk) on
Bring your bouquet to your nails by having your nail artist hand paint delicate vintage-inspired takes of your favorite florals.
Pastel + Gold confetti using all @jessicacosmetics polishes from their spring collection ?
A post shared by Cassandre Marie (@cassmariebeauty) on
Cass Marie Beauty took confetti to the second dimension with a minimalist pattern of random white triangles on a sheer nude base.
NEXT WEEKS $40 #VPGelSpecial Choose ANY 2 colors on a natural nail!! Book online or call 646.410.2928 #vanityprojectsnyc #vpofficialig @nailfumi inspired
A post shared by Vanity Projects (@vanityprojects) on
Might we suggest you skip the classic French manicure for this version instead: a peachy pink base with a stripe of rose gold glitter so thin on the tip that only your partner-to-be can see it.
Our children deserve peace. #everytownusa #endgunviolence
A post shared by Betina R. Goldstein (@betina_goldstein) on
Miniature pearls are a perfect addition to any bridal manicure, but we particularly love this message of peace from nail artist Betina Goldstein.
Wedding nails for Alexandra ??? Congrats! ?Color is On Sundays We Brunch by @shopncla #gelous #ncla #nails #nailart #bride #weddingnails #sparklesf
A post shared by Mia at Sparkle SF Nail Studio (@superflynails) on
Add a little flair to a traditional pink base color with a stripe of metallic glitter polish traced solely across your cuticles.
These are based on the beautiful botanical tattoos of @onholliday #nailart #flowers #notd
A post shared by @ladycrappo on
The perfect manicure for a vintage-inspired wedding.
#inspired pale colorblocks on @karenmliang using @sundays_studio colors. #ovalnails #colorstoinspire #simplenailart #shadesofpurple #lavendernails #linedup #nontoxicbeauty #newyorknailartist #nailpolishonly
A post shared by Frances Liang (@purplenailbox) on
A pale lilac polish with diagonal white colorblocking is as unexpected as it is pretty.
White lines by @miakinails ??
A post shared by WAH Nails London (@wahnails) on
Arguably the easiest pattern to DIY, white strips painted across a nude nail is a classic ail art design.
#metgala #nailart for @olivebitties ?
A post shared by Eda & Anna Levenson | LFN (@ladyfancynails) on
A French manicure gets a cool-girl upgrade with the addition of squiggly black lines.
An old fav: overgrown nails ?
A post shared by @ladycrappo on
A floral manicure is groundbreaking when it extends beyond its normal limits.
Vintage florals for @greta_anne ??? @fingerbangportland
A post shared by Nails by Sarah Kane (@topknotnails) on
A matte nude base and elongated almond shape are the perfect canvas for a vintage pressed flower design.
I'M GOING TO NASHVILLE !!! Gonna be teaching the lovely people of the brand new (and VERY cute) Salon @thelacquerlounge.nashville ! I'm here for a very quick time but if you have any recommendations let me know!! Trying to see some music tonight and eat all the foods!!!! ? PS pray my nail shit doesn't get lost ? I'm very panicked about it but trying to keep it cool for the gram, ya know? #coolasacucumber
A post shared by KATIE MASTERS (@nailthoughts) on
If you're looking for a nude manicure with a little personality, try adding dainty polka dots.
You're really spe-shell to me ? _________ ✌️️TAG YOUR FRIENDS!? _________ ?Book your appointment today @blackfilenails : ? Please call/text Blackfile Front Desk 714.924.4040 or email [email protected] _________ ?‍♀️Hand Model: Keli @kelguoz ? _________ ??Nail Design by @ricekittynails _________ ?French Vanilla from @tammytaylornails _________ #ricekittynails #blackfilenails #beach #seashell #summer #summernails #seashellnails #mermaidnails #pearl #pearlnails
A post shared by ?Diana Nguyen ?#iloveboba (@ricekittynails) on
If you don't want to stray too far from the expected bridal manicure colors (white, nude, pink)—try them in a different texture or finish. We love this iridescent seashell-inspired manicure from Rice Kitty Nails.
Porcelain flowers for @brookewilen ???
A post shared by Bel Fountain-Townsend (@sohotrightnail) on
A more modern take on flowers, we love this matte-on-matte raised floral look.
Soft ombré nails for @sally_hansen @cosmopolitan on @mari_handmodel ?
A post shared by Alicia Torello (@aliciatnails) on
If you're struggling to find a something blue, just work blue nail polish into your bridal manicure. This white-blue-gold ombré iteration looks best when there's space for each color to transition, so it's ideal for longer nail beds.
Source: Read Full Article