Wolven Leggings Review: \u2018These Are The Next Best Thing To Being Naked\u2019
The search for the perfect pair of leggings is endless. Even when I find a pair I do like, it's hard to stay loyal with the abundance of options that exist. For me, the perfect pair of leggings supplies comfort and pockets while being sustainably made. Nothing really ticked all these boxes till I tried Wolven's Pocket Leggings ($98, Wolven).
It's a tale as old as time: My discovery of Wolven all began with a brightly-hued Instagram ad. I was first drawn to the brand by their sustainable manufacturing practices, fun patterns, and bright colors. But when I finally tried their leggings, I became an instant customer for life.
Here's why these are some of my favorite leggings: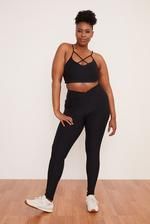 They're the softest leggings I've ever worn.
I've probably tried hundreds of pairs of leggings, and while they all differ in small ways, with different designs and varying levels of comfort, they've all paled in comparison to the soft feel of Wolven leggings.
Made with a vegan suede finish, these feel the same way a velvet luxury couch does. And even though they're really soft and almost fur-like, they're still extremely breathable and even odor resistant. They're my go-to for long afternoon walks in the sweaty summertime (or even hot yoga).
They have a lot of stretch to them.
Don't get me wrong—I love a good pair of compression leggings for times I want a bit more support, but these don't have a waistband that pinches my stomach or seams that uncomfortably rub against my skin. Honestly, they feel as close to being naked as you can get without actually being naked. These are my favorite leggings to wear for yoga because they move with my body seamlessly.
Nothing ruins a good downward dog like feeling your leggings rolling down your waist, and I never feel that with these.
It's a brand I love to support.
I'm always happy to support a brand that makes products I really, genuinely love, but Wolven goes beyond just good quality activewear. They also do good.
You'd never know it because of how comfortable they are, but these leggings are made with post-consumer recycled plastic. And, for every purchase you make, Wolven will remove one pound of waste from the ocean. I've come to love the brand so much that I own three of their sets in different colors and prints, and can't wait to get more.
If you're a little hesitant about the $98 price tag, I don't blame you. These are definitely an investment. But they're high quality and bound to stay in your closet forever. If that still doesn't convince you, try their super cute Pyramid top ($46, Wolven) to get a feel for the silky, stretchy fabric for a lower price tag. Either way, you'll likely become a loyal fan—don't say I didn't warn. you.
Source: Read Full Article