For $95, You Can Get Bella Thorne to Send You a Selfie Video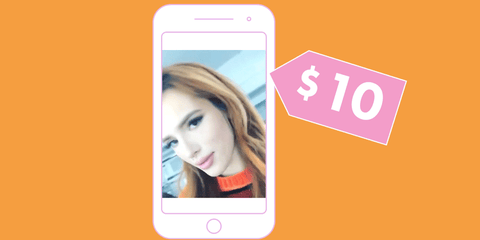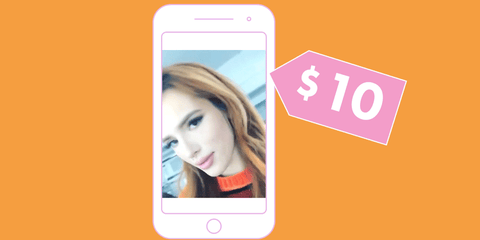 The bride and groom hadn't invited Lance Bass to their elegant, outdoor wedding, but there he was, offering his best wishes to the newlyweds—in a selfie video played as a surprise during the reception. "Congratulations from your first love," the former *NSYNC heartthrob told the freshly minted Mrs. Married. The bride covered her face with her hands in delight and disbelief; the groom banged on the sweetheart table in front of them, a wide, dumbfounded grin on his face.
Awesome reaction to a @LanceBass Cameo – looks like the Groom was more surprised than the Bride! @BookCameo pic.twitter.com/hRI4m7M8O0
Elsewhere along the celebrity space-time continuum, Bella Thorne takes a big puff of what looks to be a joint, as specifically requested by two fans, Kaleb and Kyle. "You are guys are fucking awesome," she tells them, recording herself in a 50-second selfie video as she strolls through a room with vivid purple walls, decorated with psychedelic art and plastered with Polaroids. "I love that you drive a Smart car. I think that's sick. Is that realistic, though? Does it get hard having to charge it?"
Meanwhile, RuPaul's Drag Race alum Shangela, in full glam and a pink gown dripping with luminous sequins, congratulates a high school student on his nomination for prom king "wearing a suit and the pumps, bitch!" Somewhere in the great outdoors (literally, in a field), Bravolebrity Dorinda Medley, a Real Housewife of New York, and her daughter Hannah dance together to 50 Cent's "In Da Club" in honor of someone named Kelly's 30th birthday.
This isn't fan fiction. These endearing, surreal, priceless (well, they range from $1 to $1,000) vignettes are made possible with Cameo, a service that intends to redefine celebrity-fan interaction through personalized self-made video shout-outs.
Here's how it works: Visit Cameo's website, browse their "talent" (are you having a UFC Hall of Famer Forrest Griffin kind of day, or is Bachelorette runner-up Robby Hayes more your vibe?), and book a Cameo from the celeb of your choice. You'll have 250 characters to explain your request (it's your Mom's 50th birthday!), specify how names should be pronounced (she's a Caro-lynn, not a Caro-line), and provide any other information you want the talent to know (she cried for days when JoJo gave Jordan the final rose).
Once your request is accepted, the talent will have seven days to complete your video, which you can then download, post, re-watch, and re-re-watch to your fast-beating heart's content. (Cameo also has apps for both iOs and Android, but as of now, you can only book videos via the latter.)
As Cameo's 30-year-old CEO Steven Galanis tells it, the company's origin story began when his friend and co-founder Martin Blencowe, a former NFL agent, asked then-Seattle Seahawk Cassius Marsh to record a video for a buddy to congratulate him on the birth of his son. The new dad was blown away, posting it all over social media. "Everyone kept asking the same question: How did you get that?'" Galanis recalls in a phone interview.
It wasn't long before Galanis, Blencowe, and co-founder Devon Townsend (a former Vine star himself) realized they could build a business connecting fans, if only for a half minute at a time, to their own personal Cassius Marshes, be they musicians, comedians, reality stars, vloggers, and other objects of pop culture fandom.
The then-three-person company, headquartered in Chicago, sold their first video in February 2017, also starring Marsh. Besides him, the platform had just three more bookable personalities at launch: fashion blogger Jena Gambaccini, English rugby player Maro Itoje, and Major League Soccer player Andrew Wenger, all of whom the cofounders knew personally (Wenger was Blencowe and Townsend's fraternity brother). They've grown to an army of more than 3,000 today. To date, 56,000 Cameo videos—which are an average of 25 seconds in length—have been requested (90% of requests are fulfilled).
Between 350 and 400 Cameos are booked in a typical day. Galanis declined to share financial information about Cameo, which now numbers 14 full-time employees, but cited "consistent double-digit, month-over-month growth." The startup, initially boot-strapped by Galanis and Blencowe, has since taken on venture capital and other investors. Should you be so inclined, you can request a video shout-out from one of the company's team members, including the CEO, who have their own pages on Cameo. (Most, but not quite all of them, will do it for free.)
Cameo videos are typically a low-fi, Snapchat-like affair, taped via the talent's front-facing phone camera. Production value, it seems, is irrelevant: In reaction videos shared by fans and featured on Cameo's homepage, just the mere mention of a fan's name by, say, Todrick Hall is enough to have the lucky recipient screaming, shaking, or even crying. Galanis believes that he offers the "ultimate fan experience," a fourth wall-breaking "collaboration" between requester and requestee. "It's you as the fan having this script in your head and getting your favorite influencer to actually make it, or do it, or say it," he said. (Cameo talent, it's worth noting here, can decline requests that make them uncomfortable.)
Per Galanis, 90% of Cameos are booked as gifts, and 24% of Cameo requests contain the word "birthday." Father's Day, Mother's Day, Christmas, Valentine's Day, and graduations have proven to be popular occasions for requests, which have also taken the form of roasts of friends, podcast endorsements, gender reveals, coming out announcements, and greetings to military members returning from overseas.
Cameo's head of talent relations Abbie Sheppard, 22, moved from London to Chicago to intern for Cameo in September. In October, she became head of talent relations. Her job is to keep customers, and talent, happy. That means checking in with the company's personalities about pending requests and offering advice on pricing and promoting their Cameos. And no, she doesn't ever get star struck. "I wouldn't be very good at my job if I was obsessing over the people that we get on," she said, although—as a huge *NSYNC fan in her youth—having Lance Bass join the platform was "absolutely amazing."
For celebs, Sheppard explains, Cameo represents an efficient way to monetize their downtime. She's seen videos recorded in bed, on tour, in airports, in the backseats of cars, at the beach ("Our talent seem to be on holiday all the time," she joked), backstage, in dressing rooms, and immediately before taking the field at an NFL game. "Everywhere, anywhere they have free time," Sheppard said. "You can even have them in the bathroom."
Every Cameo personality sets his or her own price, which they can freely adjust. The average across the site is $40. Sounds cheap, right? Look closer. As part of his sell, Galanis poses this math problem: Let's say a professional basketball player makes $25 million a year. Divide that by 2,000 (that's 50 40-hour work weeks annually) and divide that by 60, and he's making $208 per minute. If he charges $100 per Cameo video—and makes two videos a minute—recording shout-outs to his fans could be just as profitable, per minute, as his NBA day job.
Among the most expensive celebrities to book on Cameo is NFL star Kam Chancellor, who charges $1,000. Regardless of how massive their personal followings may be, every celeb gets the same deal with Cameo: They take home 75% of their video fees (via good-old direct deposit), the company gets a 25% cut. Some personalities donate their proceeds to charity–HQ Trivia host Scott Rogowsky, for instance, has raised more than $10,000 for the National Multiple Sclerosis Society on Cameo.
Celebrities are frequently recruited for Cameo via (where else?) Instagram DM, as well as talent referrals. Cameo has a dedicated talent acquisition team—before Cameo's official Twitter and Instagram profiles became verified, staff members would DM potential new personalities from their personal accounts. If you have more than 20,000 Instagram followers, you can request to join Cameo yourself. (Today, the company says, one in five of their personalities signs up for the platform this way.)
Instagram comedian Nick Colletti was introduced to Cameo by his friend, YouTuber Cody Ko. He was initially skeptical, but now, he's all in: Colletti, 24, has recorded more than 2,000 videos, the second most of any celebrity on the platform. "Personal interaction [with fans] can sometimes be a little jarring, and then I'm shy in some of those scenarios," he said. "This is a cool way to interact with the fans, and it's actually been really good for both parties.
Many of Colletti's requesters ask him to say his Vine catchphrases "Suh, dude?" and "What the fuck is up, Kyle?" He is more than happy to oblige. Colletti's Cameos currently cost $27, of which he takes home approximately $20. "If I do 100, I get $2,000, and that's rent for three months," he said. For a Christmas sale, he dropped the price to $10 a video, and ended up recording 300 in the span of two days. Once, Colletti recorded Cameos for every guest attending a bachelor party.
In Colletti's experience, Cameo is "definitely filling a need." Fans had previously reached out to him asking to record personal videos, leaving him unsure how to respond. "I was like, well, I want to get compensated for my time, but I don't really know how I should go about asking for that," he said. "Because if it's a kid who wants a little video for their friend's birthday, it's not like I'm like, 'Yeah, well, give me $5,000.'" But through Cameo, Colletti says, "everybody wins."
Cameo sees it that way, too. Every Cameo video—pretty much inevitably shared throughout a happy customer's social network—is effectively an advertisement for both the talent featured therein and the company itself. "We say all the time that every Cameo is the commercial for the next one," Galanis says. "That's how we've been able to scale up without really spending any money on marketing."
The top five most booked Cameo personalities are former Vine star and Instagram comedian Evan Breen, Colletti, Ko, Real Housewives of New York star Sonja Morgan, and Instagram comedian Chelcie Lynn. "The great thing about Cameo is you get that insight into their lives that you just don't really get on camera," Sheppard says. "Especially for the Real Housewives—they're on camera all the time, and you can see pretty much every single part of their day-to-day lives, but this is the part that you don't see on Bravo. Inside their house, or Uber-ing to their shoot, that kind of thing. That's what fans love, because they get to see the extra, uncut snippets." It's like deleted scenes from your favorite show, to be seen only by you, and in which you have effectively become a part of the storyline yourself.
Dorothy Kadar, a 28-year-old non-profit program officer who lives in Queens, New York first heard of Cameo on the Real Housewives recap podcast Bitch Sesh. When she wanted to surprise her friend Anna with a "ridiculous, outlandish" gift to hype her up for a new job and a pending move from London to New York, one name came to mind: Sonja Morgan. (It also helped that, at $79 a pop, Morgan's videos are more affordable than those of her fellow RHONY castmates Ramona Singer and Dorinda Medley, who charge $100 and $125, respectively.)
The video was a big hit: Anna "totally freaked out." In her 44-second Cameo, Sonja Morgan is reclining on a couch, with not one, but two cushions wedged below her head, wearing what appears to be a pink snake-print dress. (Kadar aptly described the outfit as "sexy pajamas.") "Change is good," Morgan purrs. "As you know, I'm light on my feet and ready to go! I love to travel, love to grow!" The mini-monologue is peak Sonja, in every way. "We've been sending it to all of our friends," Kadar said. "It's just so good. It's fabulous."
Unfamiliar with Cameo, Anna initially assumed that her pal had somehow managed to track down Morgan herself—for that reason, Kadar says, she suspects the novelty of Cameo could wear off once people grow accustomed to its celebrity-summoning magic powers. And though she was thrilled with the video she was sent, Kadar was nevertheless surprised when a follow-up email offered the option to tip Morgan. She left her a five-star rating, but declined the gratuity.
"I obviously want to pay her for her services, tweet at her that I loved it, but the idea of tipping these people who are so wildly wealthier than you are just seemed crazy to me," Kadar said. (Tipping was introduced to Cameo eight weeks ago. According to Galanis, 15% of Cameo videos are now met with a gratuity, with an average tip of 55.5% of the Cameo price.)
Cameo personalities are encouraged to be their (weed-smoking, field-dancing) selves, with no requirements of them except for two community standards they must abide by: no nudity, no violence. (Only one video of tens of thousands has been pulled from Cameo. "It got a little bit too close to the line on nudity," Galanis explains, though he declined to share more information.)
"What's so powerful about Cameo is the authenticity and the rawness, especially in a post-Instagram world where everybody's filtering themselves," Galanis says. "The fan actually feels like they really know [the celebrity]." Regardless of what a given famous face might be known for, Sheppard maintains the keys to a successful video are the talent being as personal as possible in addressing the fan and as true as possible to themselves.
Social media has given us unprecedented access to the daily lives of celebrities, but Cameo, at least in theory, elevates that apparent intimacy to another level entirely: no captions ghostwritten by interns or personal assistants, no clumsily executed #sponcon, and—at least so far that I've seen—no puppy-face filters (Sonja Morgan has been known to bedazzle her videos with her own Bitmoji, but that, as you know if you watch her on TV each week, is Sonja being Sonja). And the results can indeed be disarmingly unguarded, as in one Cameo in which YouTuber Tana Mongeau—lying in bed, with no makeup on and her glasses pushed up over her head—gives an emotional pep talk to a fan named Ally: "I want you to save this shit to your camera roll, and if you're having a bad day, or you feel like shit, I want you to know that you've got this and you're awesome and one of a kind."
I hate to disappoint you, if this is the kind of thing you'll get disappointed about, but you won't find a Drake or Bieber for hire here. In fact, it's a fair bet that most of the names on the talent roster will mean nothing to you. Rather than setting its sights on poaching stars teetering off the A+++ end of A-list, Cameo instead aspires to offer a personality that every single potential customer would be excited to hear from on their platform. "Justin Bieber and Drake are not everybody's favorite person," said Galanis. "They might be more famous, but Cody Ko's fans, or Evan Breen's fans, or Chelcie Lynn's fans, they care more about her than anyone else in the world."
I think there's something else to it, too. In the course of researching this story, I watched a lot of Cameos. A lot. Videos recorded for people I'll never meet and, in plenty of cases, recorded by celebrities I'd never heard of. They're oddly engrossing: Just watching someone offer up their full, face-to-face attention in a (seemingly) unfiltered way is kind of riveting. You feel seen, even though you know they literally can't see you, even if you're sitting alone in the dark.
Lead art photo credit: Instagram. All videos courtesy of Cameo.
Source: Read Full Article