Bet You Didn't Know You Wanted to See the Backstreet Boys in Drag as the Spice Girls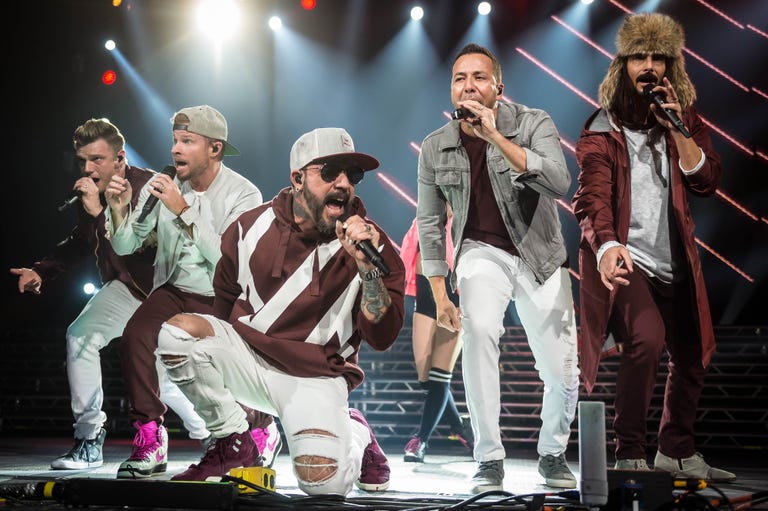 The dream of the '90s is alive…on the ocean! While on their official BSB cruise (an event which I have never attended but would really love to, if anyone is wondering what I want for Christmas this year), the Backstreet Boys decided to lip-sync to their fellow pop icons the Spice Girls. They didn't just dance to a Spice Girls song and call it a day, though, because these men are professionals. They don't do anything in half measures. Full measures only! And in this case, the full measures included "dressing in Spice Girls drag."
That's Nick as Baby, AJ as Scary, Brian as Sporty, Kevin as Posh, and Howie as Ginger. What's truly special about this is that they clearly thought hard about which Spice Girl they each wanted to be — Nick is the youngest BSB, AJ was always the "bad boy," and Kevin, in this writer's opinion, was always the most fashionable. It's truly a masterwork.
"Celebrating all the girl power that's kept us going for 25 years," the guys wrote on their Instagram, with the delightful hashtag "#SpiceBoys." As mentioned, they're kind of mostly lip-syncing rather than covering the songs, but as you can see in fan videos, everything about this is perfection. Now if only they would do a cruise together and make the Backstreet Girls a thing.
Follow Eliza on Twitter.
Source: Read Full Article