Chris Evans' dog, Dodger, had his second hip replacement
https://www.instagram.com/p/CE6mqspFa6p/
A post shared by Chris Evans (@chrisevans)
Let me start this post by saying Dodger is okay! Now that we can all breathe again, we can piece together what happened. According to a recent post on Chris Evans Instagram, his faithful puppers, Dodger, has been recovering from his second hip surgery. I missed the first one, but Chris did post about it back in July of last year. At first, he didn't mention why Dodger needed surgery but follow up IG pics showed the laid-out pup with a Cone of Shame and bandage on his right hip. A few days later, Chris posted this shot of Dodger and his favorite lion toy that Dodger likes to sing along to, lying side by side to recuperate.
For his second procedure, Chris posted a shot of Dodger's other hip with the same tell-tale bandage, along with an update on Lion who apparently had his own procedure. Chris updated us on both:
Hip replacement #2completed! Such a trooper. He'll be back in action in no time.

Yesterday while he was in surgery, so was his favorite lion(which had been on IR since November after a nasty tear). I've never sewn anything before but I'm pretty proud of my hack job.

They're both happily recovering in each other's company.
[From Chris Evan Instagram via Lainey Gossip]
I have to believe that two hip surgeries eight months apart is probably a genetic degenerative disorder with the breed. If Dodger had been in an accident, Chris would have told us. Plus there are plenty of photos of a happy Dodger going about his business. I know human hip replacements are one of the easier procedures, I hope the same is true for dogs and that Dodger is back on his feet, dogging about Boston. I am almost equally relieved to know Lion has been restored without ever having known he was out of commission. Pets take their toys as seriously as humans. I got the ducks we suggested for my dogs and they are practically part of our family. I washed them recently and my dogs kept checking on the washing machine like Calvin waiting for Hobbes to get out of the dryer. Those ducks go everywhere with my dogs. I'm so thrilled both Lion and Dodger are recovering and can't wait for their future adventures.
For those of you with or considering adopting pets but don't happen to have Marvel money in the bank, here are two pretty good articles about pet insurance for you to consider. Surgeries like the ones Chris got for Dodger can make a world of difference in the quality of life of your pet but they can also cost a fortune so it's not a bad idea to consider all your options before you need to make that choice.
Now, how about some more pics of Dodger?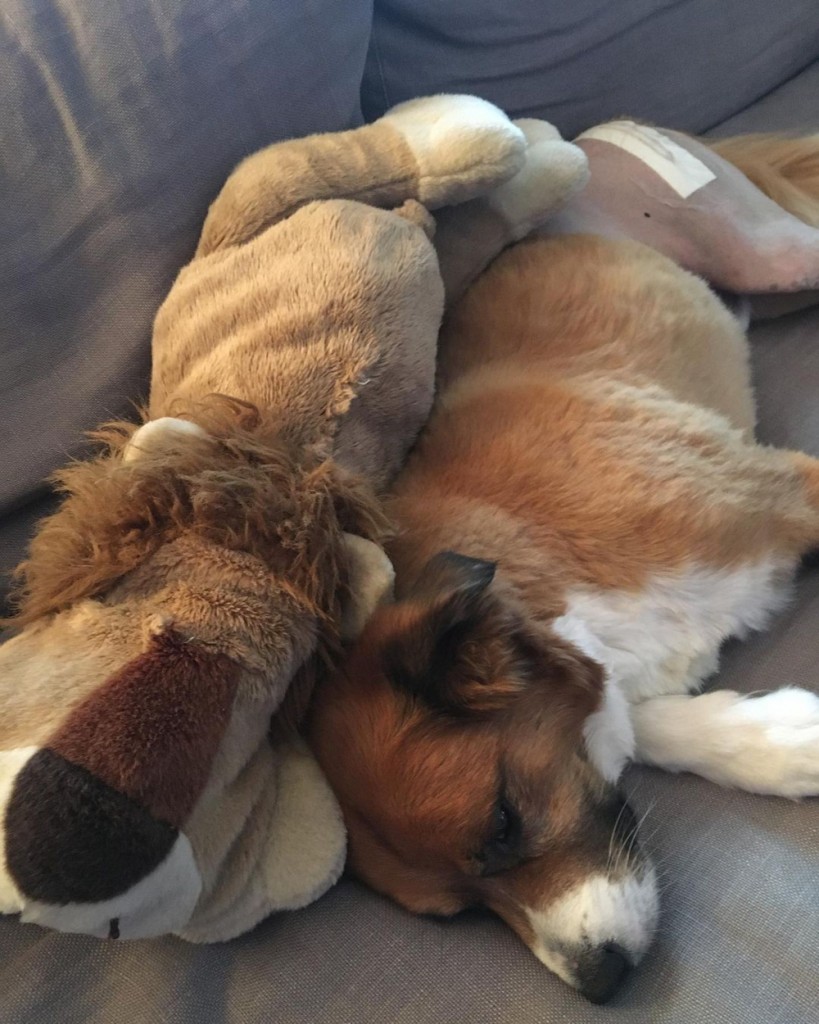 https://www.instagram.com/p/CKmotCLFkiy/
A post shared by Chris Evans (@chrisevans)
https://www.instagram.com/p/CDZKZ0LFg10/
A post shared by Chris Evans (@chrisevans)
If today is any indication, I'm going to be a VERY nervous parent. 😂 pic.twitter.com/960bwIkPYL
— Chris Evans (@ChrisEvans) July 23, 2020
https://www.instagram.com/p/CKPK_2tlpjv/
A post shared by Chris Evans (@chrisevans)
Photo credit: Instagram and Twitter
Source: Read Full Article