This Clue The Royal Baby's Name Was Going To Be Louis Seems So Obvious Now
Prince William and Kate Middleton finally revealed the name of their baby boy! On Friday, April 27, Kensington Palace announced the baby's name is Louis Arthur Charles. Aside from making One Direction jokes, people have noticed that the baby's name has a huge thing in common with the names of the other men in his family, and this clue the royal baby's name was Louis seems so obvious now. I'm honestly shocked I didn't piece this puzzle together sooner.
The tweet announcing the little prince's name said, "The Duke and Duchess of Cambridge are delighted to announce that they have named their son Louis Arthur Charles. The baby will be known as His Royal Highness Prince Louis of Cambridge." HRH Prince Louis of Cambridge isn't his only title, however. Just like his siblings, he has a second title that's obnoxiously long. Louis' second title is His Royal Highness Prince Louis of the United Kingdom of Great Britain and Northern Ireland.
Louis and George's names have more in common than just their titles, though. You see, while Prince Charles, Prince William, Prince Harry, and Prince George don't all have the same first names, their middle names (they each have more than one) all pull from the same pool of options. Louis was basically the only one out of this pool of names that hasn't been used as a first name yet, so in hindsight, we should've seen this name choice coming all along.
Let's break these names down, shall we?
Prince Charles' full name is Charles Philip Arthur George. Prince William's full name is William Arthur Philip Louis. Prince Harry's full name is Henry Charles Albert David, and Prince George's full name is George Alexander Louis. Do you see where I'm getting at here? The royal family seems to just rotate around the same names for their sons, so whenever a new royal baby comes along, they're like, "OK, grab the list. Which middle name haven't we used as a first name yet?" For this particular baby, they were basically like, "Louis hasn't been used yet? Great. Louis it is. What middle names should we give him that are pretty much in all of our names? No need to get creative here. Arthur and Charles? Great. Tell Kensington Palace to tweet it now." Apparently, the royal family hates any name that's not already in their names. I respect the consistency!
People on Twitter noticed the trend pretty quickly.
Who needs individuality when you could just have the same name as everyone in your family! I honestly don't mean any shade here, I just think this name recycling is hilarious. And kind of weird? I would feel very weird if my parents chose my middle name to be my younger sister's first name. People already share last names, right? Why share other names too?
What I do love about this name recycling, though, is that it's the literal polar opposite of celebrity kids' names. Hell will freeze over before we see a royal baby named HRH Princess Apple of Cambridge, HRH Prince Saint of Cambridge, and HRH Princess Stormi of Cambridge. OMG, I'm cracking up at just the thought of that. Imagine how Queen Elizabeth would react if her great-grandchildren were given weird celebrity names. It wouldn't be good, guys. Not good at all.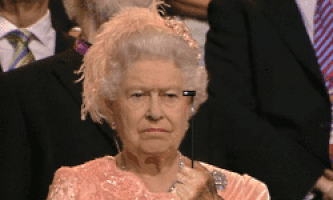 Kate Middleton gave birth to little Louis on Monday, April 23, and he has the most British birthday ever. The announcement of his birth said,
April 23 is William Shakespeare's birthday (well, it's the day he was believed to be born on. The actual date isn't known), and it's also St. George's Day — a centuries-old holiday in England celebrating the country's patron saint. It's a shame Louis couldn't be named George given that, but honestly, given their habit for recycling names, I wouldn't put it past the royal family to have considered giving George and Louis the same first name. Welcome to the world, Louis!
Source: Read Full Article