Demi Lovato's "Vote" Message Was Censored by NBC at the Billboard Music Awards
Last night, Demi Lovato performed (and absolutely crushed) her new song "Commander in Chief" at the 2020 Billboard Music Awards—which, in case ya didn't notice—is fully about President Trump.
This is probably her most political song to date, and in it she speaks to Trump directly, saying "We're in a state of crisis, people are dying / While you line your pockets deep / Commander in Chief, how does it feel to still / Be able to breathe?"
But here's the thing. During the performance, Demi had the word VOTE splashed behind her. See?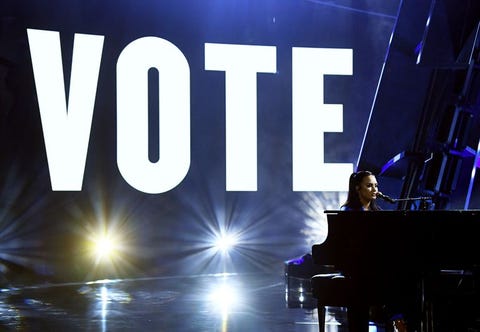 And according to TMZ, it was removed for broadcast by NBC, with sources telling the outlet that "the network pulled the plug on the 'VOTE' message because the song itself was a slam on Trump and the 'VOTE' message was a call to vote against him."
Um…this seems kinda f*cked up?
Here's footage of what the performance reportedly should have looked like from TMZ:
Demi doesn't appear to have commented on NBC censoring her, probably because she was too busy putting out a new music video last night and actually using her platform to encourage people to vote.

Source: Read Full Article