Elon Musk and Grimes Had to Change X Æ A-12's Name Because of California Law
Kay, so you know how Elon Musk and Grimes just welcomed their baby son into the world and named him X Æ A-12 for reasons I have yet to fully understand? Cool. There's one problem: the name is apparently semi "illegal" in California, and they've had to change it.
Grimes was asked by a fan on Insta if she and Elon switched up lil' X Æ A-12's name due to California state law, and she seemingly confirmed that yup, they did. At least that's that's the vibe I'm getting from her responding with the new name "X Æ A-Xii" in the comments of this post:
Grimes added that "one dash is allowed" in California, and that Roman numerals "Looks better tbh."
BTW, if you still have no idea what any of this means, here's Grimes' explanation of her son's unusual name:
Meanwhile, Elon explained how to pronounce the name during an appearance on the Joe Rogan Experience, saying "I mean, it's just X, the letter X. And then the Æ is, like, pronounced 'Ash'…yeah…and then A-12 is my contribution."
Helpful!
That said, Grimes seems to be pronouncing the name differently: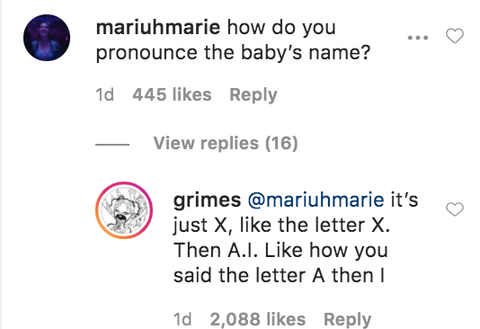 So basically this bb's name is either pronounced "Ecks Ash Archangel [A-12] Musk" or "Ecks Ay Eye Archangel [A-12] Musk."
Shouldn't be confusing at all for his elementary school teachers during roll call!

Source: Read Full Article